I broke the grouping below into three parts:
1)Main Street
2)Portage Avenue/Downtown from Main Street to Portage Avenue West
3)Neighbourhood/ your local neighborhood theatre
acknowledgements to other websites below


Main Street
Arcade Theatre 688 Main Street (circa 1906)


Henderson Directory capture from 1906


Strand/Beacon 559 Main at Rupert
(Strand 1914 - 1930)(Beacon 1930 - 1961)
The Beacon was the home of The Manitoba Theatre Centre for half of the 1959/60 season.
The Royal Alexander Hotel is north centre of this Photo, and on the right further down the street is the,
Cornwall Hotel at 567 Main Street, and further yet is the Brunswick Hotel at 571 Main Street.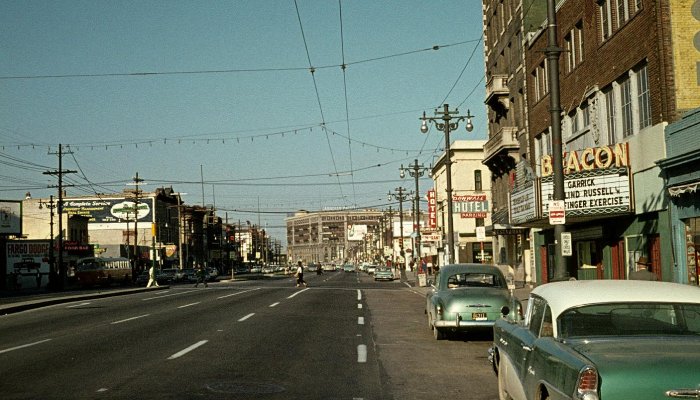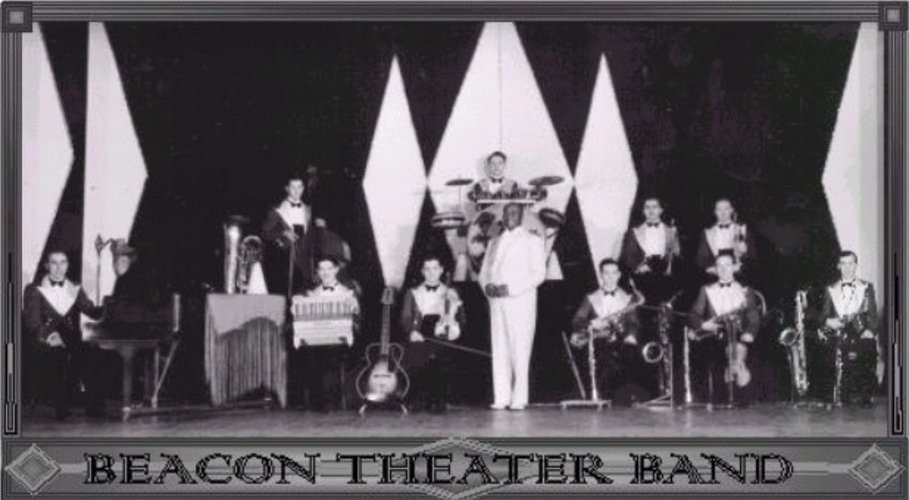 photo courtsey of James W. Lake (Roldo) photo circa 1930
Here's the names of the musicians ... as best my father could remember them:
Bill Moore, band leader
front row: Bill Rouse, piano / Hank Alaser, accordian / Max Bobbit, violin / Jack Sorin, sax / Stan Crackston, sax / Tom Nazer, sax
Back row: ...... Cordepal, bass / Jimmy Lake, drums / Pete Dumont, trumpet / Cliff Walker, trumpet
My mother, Angela Lake (nee Petroni), was also a regular at the Beacon as a tap-dancer and singer.




Bijou 498 Main at William (1904 - 1956) The Clements Block (built in 1884)(aka Bijou Theatre Block)
Another vaudeville playhouse in Winnipeg was a new theatre named the Bijou, which opened on 15 January 1906.
Its owners had a large circuit of vaudeville houses in the United States. The initial performances - three shows daily -
for the opening week of this "family theatre" for "refined vaudeville" consisted of comedy acrobats, a wire act, stunts,
and a one-act comedy, The Silk Stockings, featuring the Four Ellsworth's.
For a popularly priced playhouse it was unusual for the interior to be decorated with plaster relief figures
and trimmed with gold. The solid brick building had an interior fireproof wall and was heated by steam.
The theatre was considered to be one of the best-conducted and most popular amusement places in the city.
Later it became one of Winnipeg's first movie theatres.
The Bijou and adjoining buildings in "The Clements Block" burned to the ground 1979.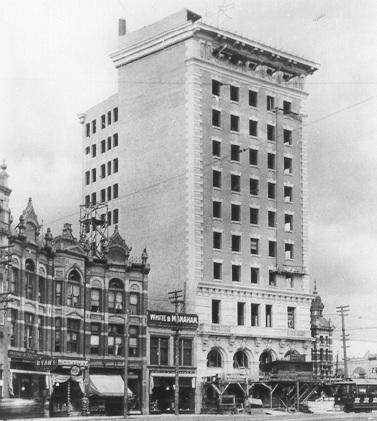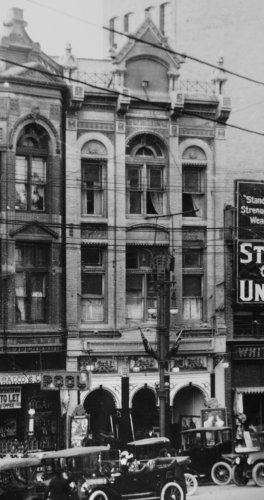 The photo on the left is from 1904 when the Union Bank Tower at 504 Main Street, (later Royal Bank Tower) is under construction, with the second City Hall (1886-1962), visible to the right.
The centre photo is from 1919. The White & Manahan store, is torn down and becomes "The Annex" of the Royal Bank with an address of 500 Main Street, as shown in the 1930 photo far right.
It appears that the building to the left of The Bijou can't decide whether it's a pool hall, tobacco shop, or a barber shop, or maybe it's all of them, or just older signs not taken down.
The Bank Tower and The Annex barely escape the fire of April 24th, 1979, but the "Clements Block" to the south is lost.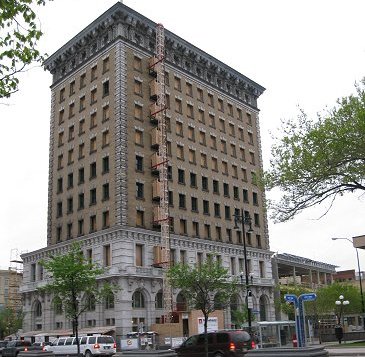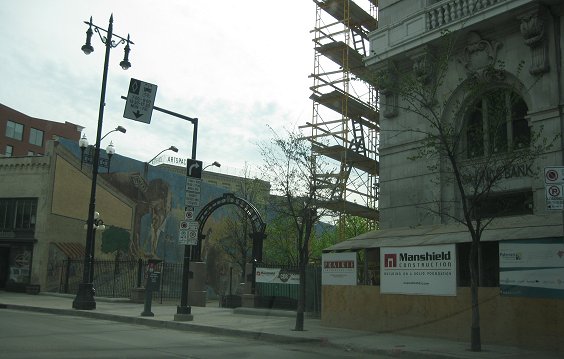 The Bank Tower and The Annex still exist today, and has undergone some repair/cleaning on the outside and inside,
as Red River Community College moved in here in 2011 ... with a Culinary School, and a Student Residence.



Cinema Main 243 Main (1993 - 1994)



Cinematheque 425 - 100 Arthur Street (2002 - present)
Cinematheque is devoted to screening the very best in Canadian and World Cinema.
This theatre is part of the Artspace location in the Winnipeg Exchange District, in the Gault Building,
which was a large masonry warehouse, built in 1900, and expanded in 1903.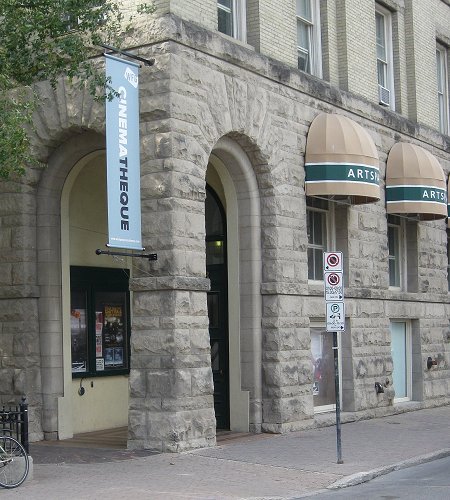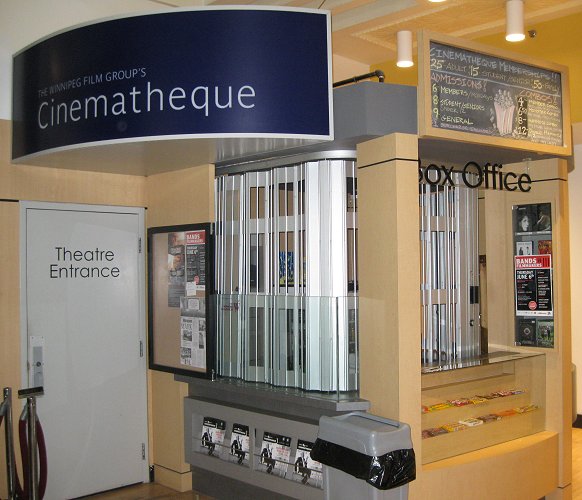 College Theatre 1296 Main at Church (1921 - 1965)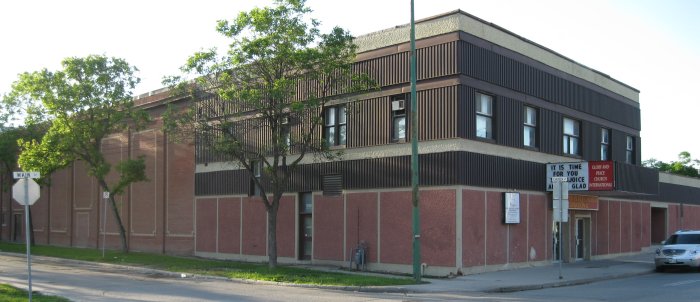 Colonial/State 634 Main (634-638 Main) ( ~1910 - 1974)


State Theatre (1951-1956) other info



Columbia/Fox 606 Main (604-606 Main) (1910 - 1961)
Fox Theatre (1935-1961) other info


This photo from 1921 shows the Columbia, next door to the McKerchar Building which is still there, and way down the
street you can barely make out the Starland Theatre's huge sign.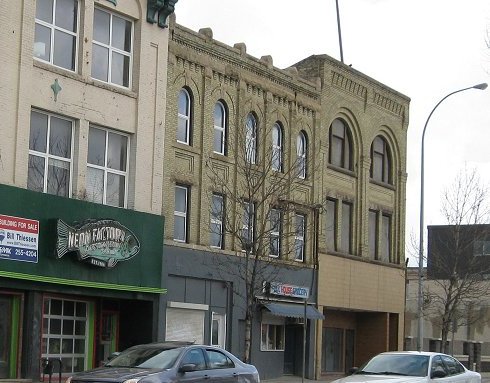 The McKerchar Building hasn't change much in 90 years ... compare the windows to the 1921 photo above.



Elite/Unique 529 Main Street at Market Street (c. 1903 - 1912)
Another Internet site suggests the theatre owner moved into the Thomson (Funeral) Building,
and that is possible because Thomson added a new building with a new funeral home in 1900 at 499 Main Street.
Thomson's website history says they left the newer building in 1917, to go to their present location.




This photo shot across from City Hall, must have been shot prior to the 1903 theatre date, as the building to the north of the Clements Block is still Thomson Funeral Home.
The Henderson Directory capture from 1906 explains it a bit better ... Thomson's new building was at 499 Main, and the owners of The Unique moved into the building shown
above at 529 Main Street with the Clement's Block just to the south (right side of photo) at 527 Main Street.



Grand Opera House 818 Main Street (circa 1911 - 1918)



Oak Theatre 635 Main at Logan (1938 - 1962)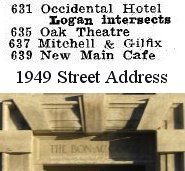 The Oak Theatre was part of the building which now houses Mitchell Fabrics at 637 Main Street.
It occupied part of the main floor of which was once part of the 5 Storey The Bon Accord Building (1906), which burned in 1945,
and was dismantled except for the main floor.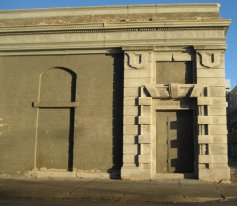 Pastime/Magnet 804 Main Street (circa ~1911 - ~1913)





Rex/Regent/Epic 646 Main St (642-646 Main) (1912 - 1986)
(Rex 1912-1923)(Regent 1923-1978)(Epic 1978-1986)
The Epic Theatre and the Starland Theatre were both torn down in May 2008.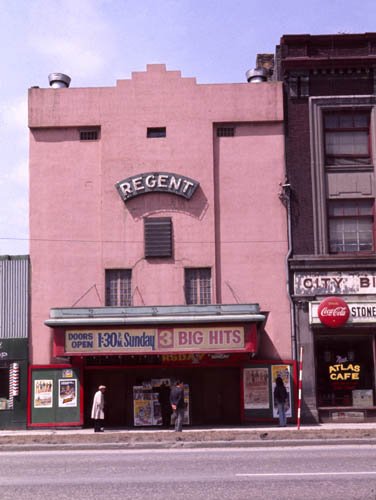 Regent Theatre in 1973, courtesy of Kenneth George Godwin,
with credit for the photo going to George Luit.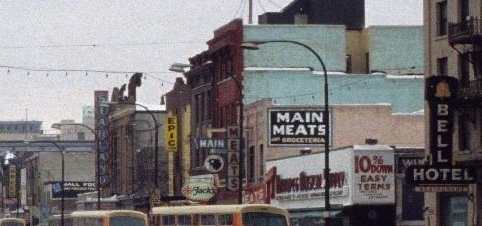 As The Rex, it was one of the first movie houses only (no vaudeville) in CANADA.



Royal Theatre 496 Main Street (1882 - 1884)
Winnipeg's first police court at 496 Main St. was sold in 1882 to Henry Brown and Dan Rogers,
with its cellar then converted into the Hub Hotel and its upstairs portion becoming the Royal Theatre.
The building was demolished in 1884 to make way for the Clements Block.



The Star/Dreamland 530 Main Street (c. 1903 - c. 1919)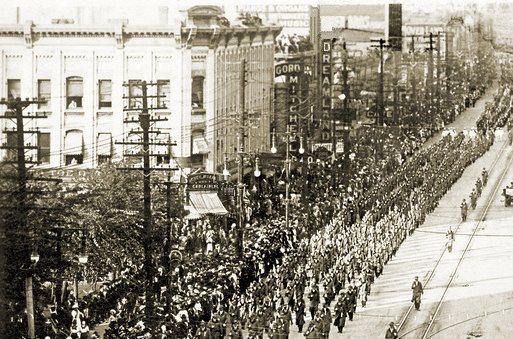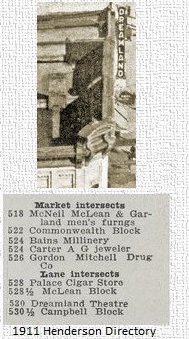 This 1912 parade photo clearly shows The Dreamland marquee just down the street from what I believe is the
Commonwealth Block on the corner of Main and Market Street. The Commonwealth Block has two addresses
of 522 Main & 205 Market and is just north of City Hall no. 2.



The Royal/Starland 630 Main St (626-632 Main) (1909 - c. 1967)
1349 seats (between Henry & Logan) 1955 Photo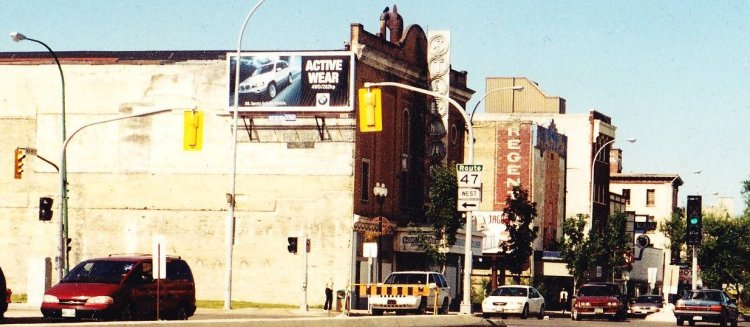 The Starland stopped being a theatre after a small fire in 1967.
The Royal/Starland Theatre and the Regent/Epic Theatre were both torn down in May 2008.


By approximately 1924 there were at least 37 theatres in Winnipeg showing motion Pictures:
Metropolitan, Arlington, Baddow, Bijou, Capitol, Classic, College, Colonial, Columbia, Community, Corona, Crescent,
Dominion, Elm, Furby, Gaiety, Garden, Garrick, Karnack, King's, Leland, Lyceum, Mac's, Monarch, National, Orpheum,
Osborne, Palace, Park, Parkview, Province, Queen's, Regent, Rialto, Star, Starland and Strand.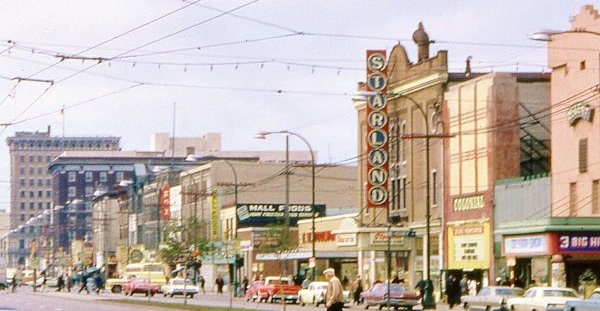 From right to left in this pre 60's photo you can see The Regent, The Colonial, The Starland,
and way down the street, about half way into the next block, you can see The Fox.

Originally this stretch of Main Street in Winnipeg contained 8 theatres in a five block area that included:
The Elite/Unique (1903), The Bijou (1905), The Star/Dreamland (1907) The Royal/Starland (1909),
The Columbia/Fox (1910), The Rex/Regent/Epic (1912), The Colonial, and The Strand/Beacon (1914).



Pantages is to the south of the Elite ..... .... and The Oak wasn't there until c.a. 1938

1913 Henderson Theatre Listings 1919 Henderson Theatre Listings 1932 Henderson Theatre Listings 1953 Henderson Theatre Listings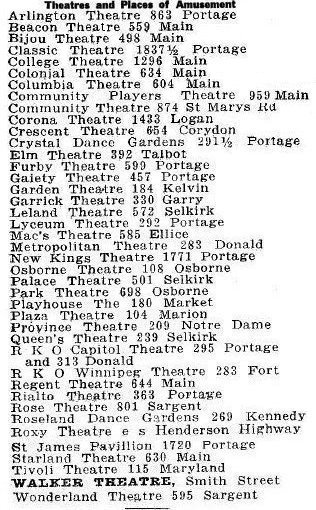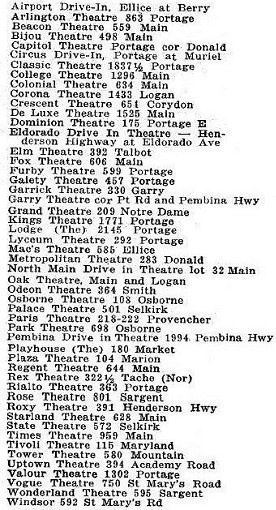 Pantages/Playhouse 180 Market Avenue E. (February 8th, 1914 - 1923) (Playhouse 1923 - present)
On February 8th, 1914 Alexander Pantages, the wealthy American promoter from Los Angeles,
opened the newest theatre of his continental chain of theatres, also devoted to vaudeville.
He hoped that this would be one of several he planned to acquire through Western Canada to expand his circuit.
Initially the Pantages Theatre presented three performances each day, trying to outdo the two-a-day schedule at the Orpheum Theatre,
which turned out to be a profitable tactic. Actor Spencer Tracy and comedians Stan Laurel and Buster Keaton were among those that played there.
The heavyweight fighter Jack Dempsey challenged members of the audience to go a few rounds with him on stage.
The theatre survived for nine years before closing in June 1923, opening again in the fall as the Playhouse for stock performances.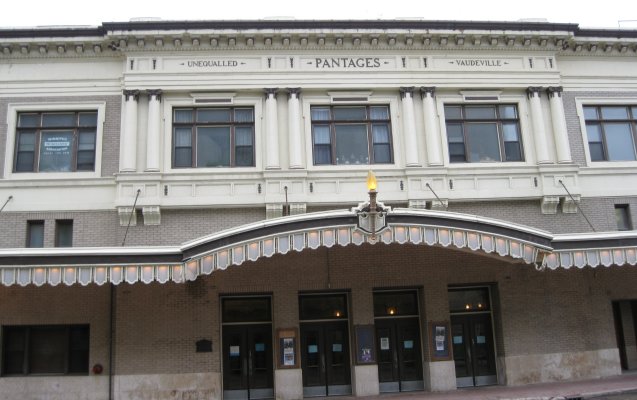 Pantages Interiors



Manitoba Theatre Centre (MTC) 174 Market Avenue E. (November 2nd, 1970 - Present)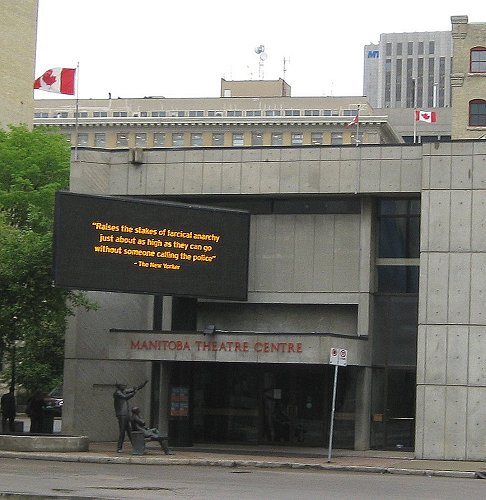 The following info was stolen from the Manitoba Theatre Centre Website
When John Hirsch and Tom Hendry founded the Manitoba Theatre Centre in 1958,
their goal was to create great professional theatre with mass appeal.
Hirsch and Hendry met while studying at the University of Manitoba.
They first joined forces to form a children's theatre company and then later founded Theatre 77.
In 1958, Theatre 77 merged with Winnipeg Little Theatre to become Canada's first regional theatre, the Manitoba Theatre Centre.
The Theatre Centre spent its first decade in the Dominion Theatre, until the Dominion Theatre was demolished in 1968
to make way for the Richardson Building/Lombard Hotel complex.
(except for half of the 1959/60 season when it was forced to relocate to the Beacon Theatre while the Dominion's roof was repaired),
During construction of the new theatre, MTC presented two seasons at the Centennial Concert Hall.
On November 2, 1970, the Manitoba Theatre Centre opened at its present location.



Royal Theatre/Von's Theatre/Times Theatre 959 Main at Selkirk (1908 - 1957)
(Royal/Von's/Royal 1908-1937) (Times 1937-1957)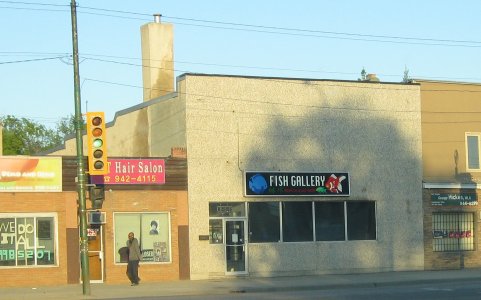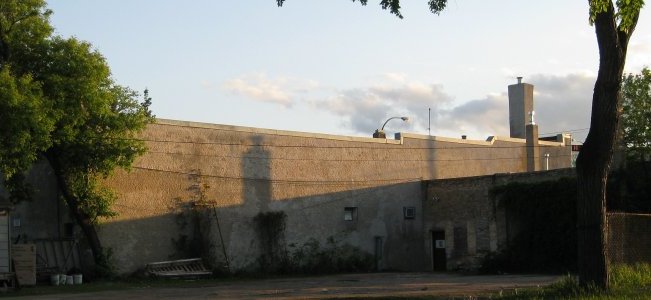 Google Maps puts this address as the location of the current "Fish Gallery", and the shot from behind, shows a long skinny building, typical of a theatre.



Winnipeg Theatre (& Opera House) 34 Adelaide Street (1883 - 1926)
Victoria Hall 1883 - Bijou Opera House 1890 - Winnipeg Theatre & Opera House 1897 - destroyed by fire in 1926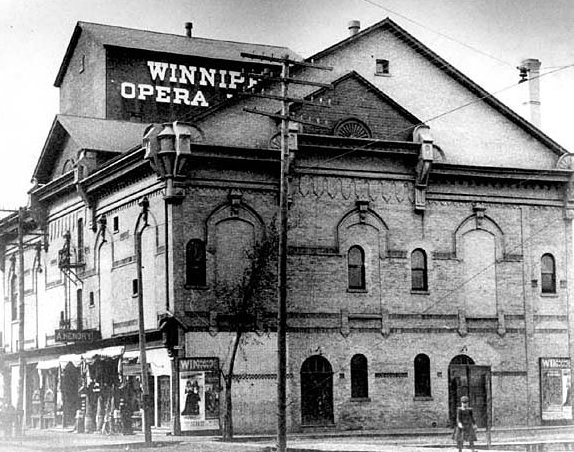 The Ukrainian Labour Temple 591 Pritchard Avenue (1918 - present)


The Ukrainian Labour Temple's spacious theatre allowed the Association's executive to rent their
facility to Ukrainian organizations in order to pay off construction debts which exceeded $47,000
in 1920. As a result, in 1919-20, every Ukrainian drama circle in the city performed in the new
theatre. Although this practice ended early in 1921, shortly after Labour Temple officials banned
the staging of Volodymyr Vynnychenko's Mizh dvokh syl (Between Two Powers), which was set
during the bloody Bolshevik occupation of Kyiv in early 1918 and demonstrated that Russian
Bolshevism was incompatible with the Ukrainian national cause, plays staged by the Ukrainian
Labour Temple Dramatic and Choral Circle remained the Association's most popular cultural
activity throughout the 1920s. In large measure, this was attributable to émigré journalist, critic,
playwright and short story writer Myroslav Irchan, the Ukrainian Labour Temple's writer-in residence
between November 1923 and June 1929. Irchan and Mathew Shatulsky established a
Workers' Theatre Studio and their productions consistently attracted enthusiastic, sell-out crowds.





Portage Avenue:


Arlington Theatre 863 Portage at Arlington (1920 - 1956)






Avenue Theatre 349 Portage Avenue (1911 - 1921)






Capitol Theatre (RKO) 295 Portage and 313 Donald (Feb. 14th, 1921 - 1991) (1979 Cinema 1 & 2) The Capitol was demolished in 2003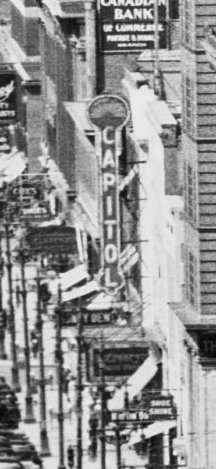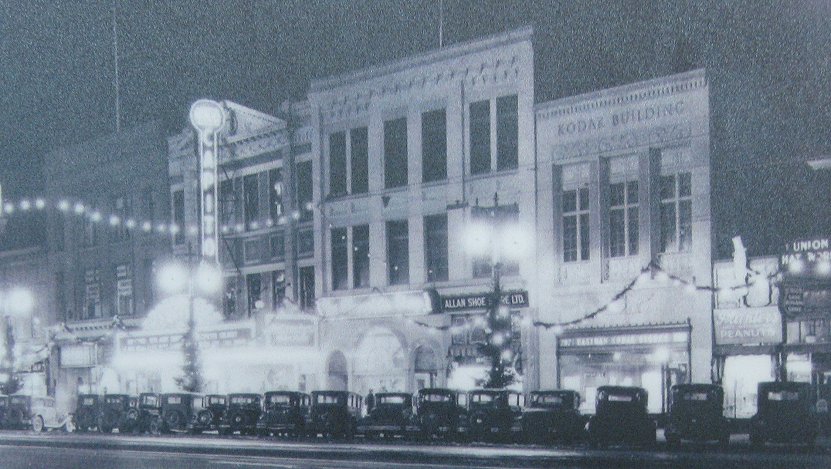 Portage Avenue Entrance which disappeared for the already existing Donald Street Entrance in 1964.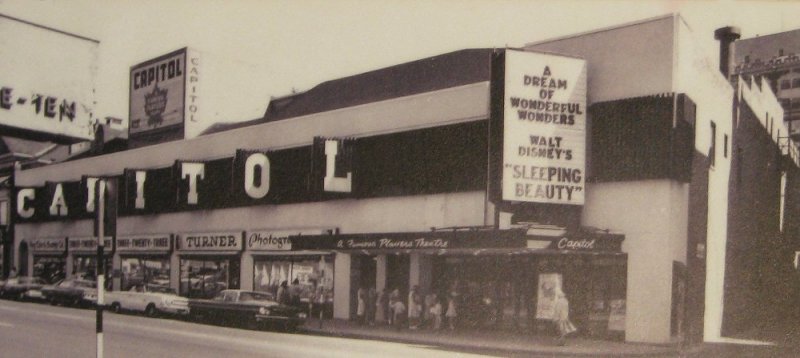 Donald Street Entrance (1959)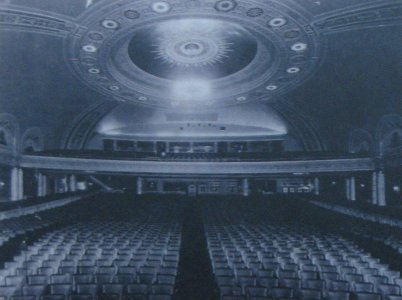 Ramp Way Entrance Off Portage Avenue Interior Seating




Convention Centre Cinema 375 York (1975 - 1996)




Dominion Theatre 175 Portage Ave. East at Main (1904 - 1957)
1904 Dominion Theatre - 1911 becomes the Empress Theatre - 1915 becomes again, the Dominion Theatre other source
The Dominion Theatre opened on 12 December 1904; it was intended for "high-class" vaudeville "such as ladies and children may properly patronize."
The solid brick building had a 1,100-seat auditorium on the main floor, and both its balcony and gallery were equipped with steel fire escapes.
It had a self-contained electric lighting system and a steam heating apparatus, features that complied with new public safety regulations.
The theatre was home to the Permanent Players, a stock company that was popular in the period 1910-1912.
Soon after it opened the theatre joined an extensive circuit of vaudeville theatres in the United States.
Over the years it also sponsored many amateur performances; it hosted a musical stock company and the John Holden Players.
The Dominion also served as a movie theatre and eventually became the home of the Manitoba Theatre Centre from 1958 - 1968.
In 1968 it was demolished to make room for the Richardson Building/Lombard Hotel complex.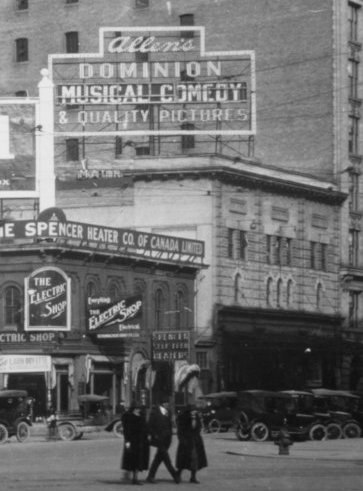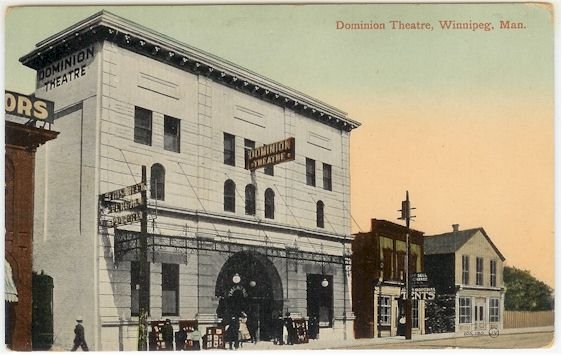 Postcard image from the personal collection of Rob McInnes. Used with permission.




Elite/Eldorado/Globe 285 Portage Avenue (~1909 - 1917)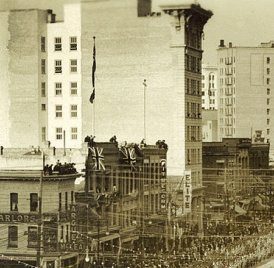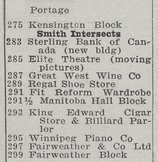 1912 photo 1911 Henderson Directory



Portage Place/Globe Cinema 393 Portage Avenue (1987 - 2014)
(Portage Place 1987 - 2001)(Globe Cinema June, 2002 - June 15th, 2014)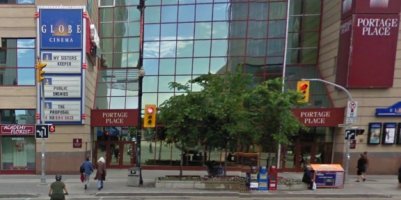 Majestic/Imperial//Majestic/Rialto/Carlton/Rialto/Downtown 363 Portage Avenue at Carlton
Majestic (1911-1917) Imperial (1918) Majestic (1919-1920) Rialto (1921-1926) Carlton (1926-1929) Rialto (1929-1968) Downtown (1968 - 1984)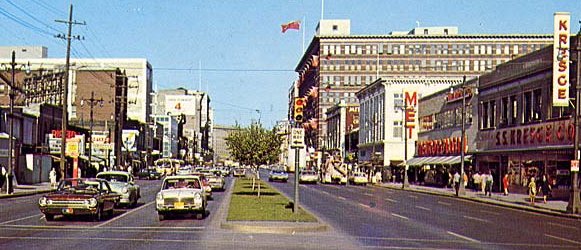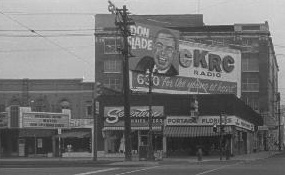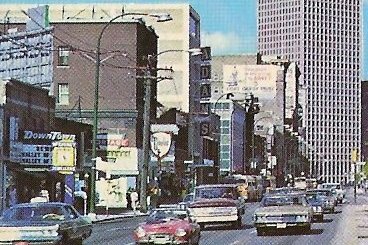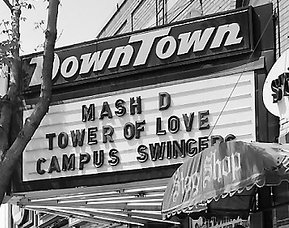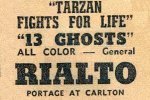 From the age of 10 and up we used to go to the Rialto for triple Horror, Sword & Sandal, and Tarzan Movies,
during the Christmas and Easter breaks from school. One of the projectors always seemed blurrier to me.
The Free Press newspaper ad should have read ... "Tarzan's Fight For Life".



Eaton Place 7 234 Donald (1981 - 1991)
(demolished to expand the food court)



Furby Theatre 597 Portage at Furby (1929 - Feb 28th, 1952)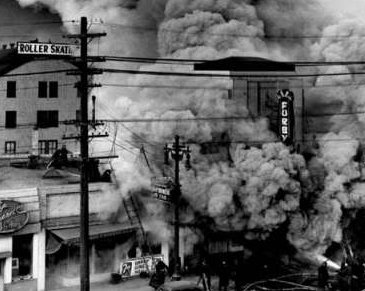 Gaiety Theatre / Eve / Colony 459 Portage Avenue (457-459)
(Gaiety 1912-1973)(Eve 1973-1975)(Colony 1975-1985)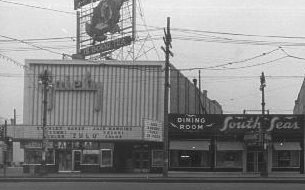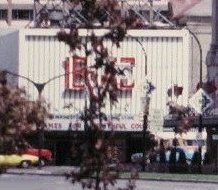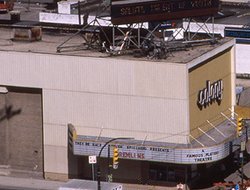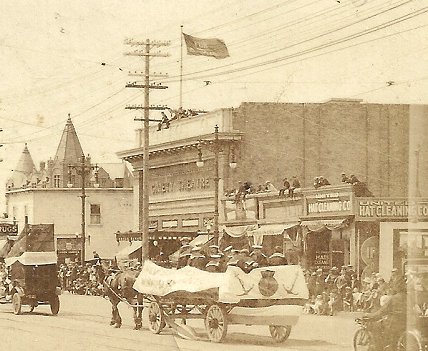 1915 photo 1924 photo (courtesy of Rob McInnes)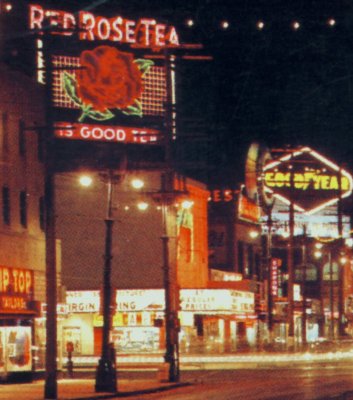 1960's photo



Garrick Theatre 330 Garry St. (1921 - 2002) (twin screened in 1967)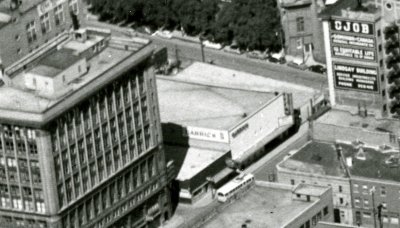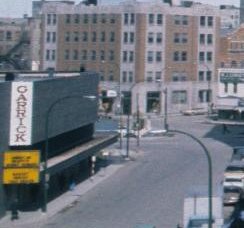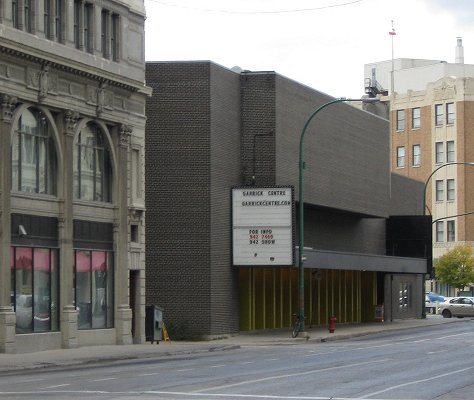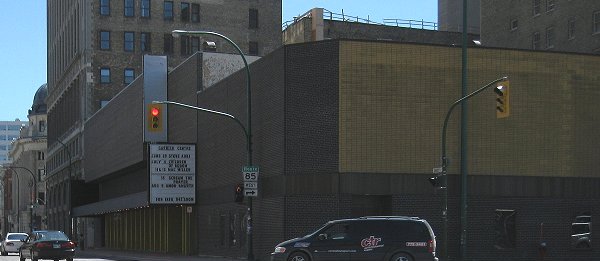 Province Theatre/Rio Theatre/Grand Theatre 209 Notre Dame Ave (1915 - 1961)
Opened about 1915 as the Province Theatre offering vaudeville and films.
The Province closed in 1937. The interior was remodeled in the art deco style
and included a new marquee and signage outlined in neon to replace the original 'Province' lettering
which had been outlined in individual bulbs on the building's pediment.
The theater was renamed the Rio, reopening in 1938. Sub run double features were the normal fare
until it closed once again in 1950.
A further minor remodeling, mostly to the marquee and signage was carried out and it reopened
in the same year with yet another (and final) name change to the Grand.
It operated in it's last years as a grind house leaning heavily on double and triple features consisting of westerns and 'B' movies.
The Grand closed in 1961 and was demolished along with surrounding buildings to make way for The Bank Tower Plaza.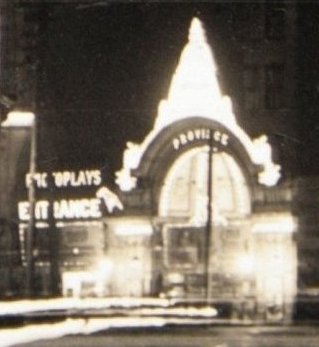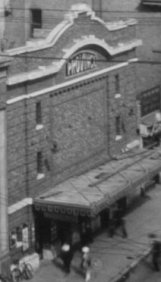 Earlier years still as the Province (circa 1915) By 1921 the Province had already removed the tower of lights.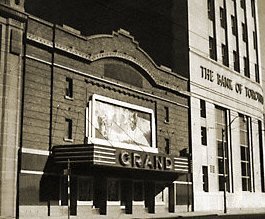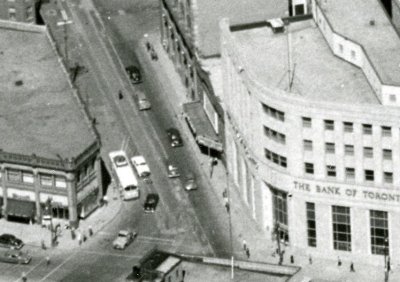 The GRAND in the 1950's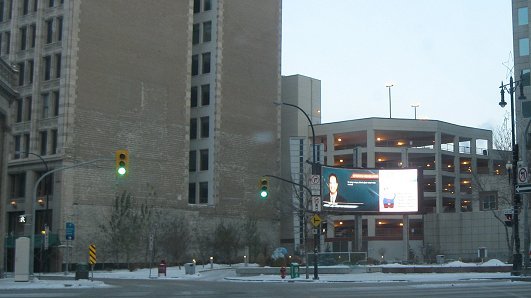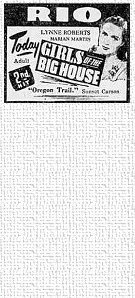 The Province/Rio/Grand would have been right in front of the giant videotron on Notre Dame, on the parking lot entrance.
The Theatre's neighbour on Notre Dame is the Electric Railway Chambers Bldg. at 213-219 Notre Dame, which still exists today.



IMAX Theatre 393 Portage Ave (September, 1987 - March 31st, 2013)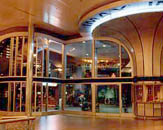 Lyceum      292 Portage Ave (c.1912 - 1968) (now Radisson Hotel location)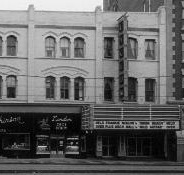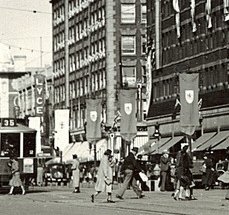 Eaton's is on the far right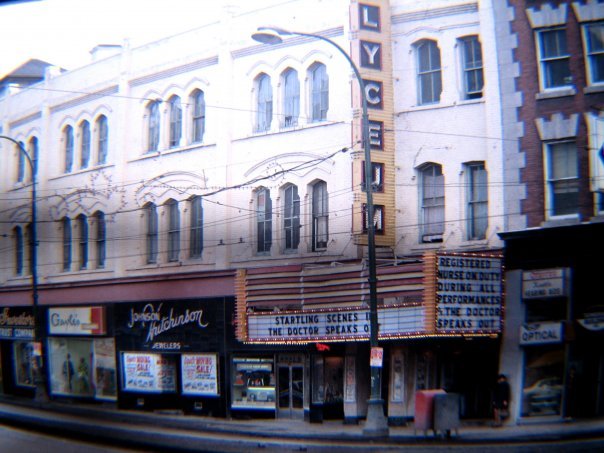 Photo Credit to Cecil P. Sheane (1968)



Metropolitan/Allen 283 Donald (281-285) near Portage Ave (1920 - 1987)
The Metropolitan Theatre opened as the Allen Theatre on January 2, 1920.
The Allen Family was in financial difficulty, and they were bought out by Famous Players theatre chain,
and the name was changed to the Metropolitan Theatre and had its grand re-opening in 1923.
The first sound-synchronized "talkies" were screened in Winnipeg's Metropolitan Theatre on 26 October 1928.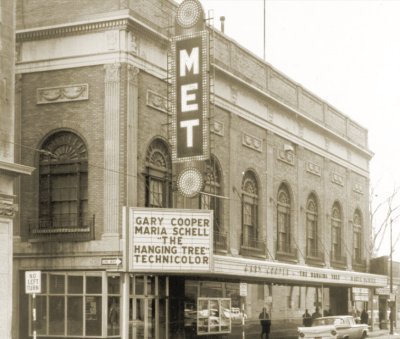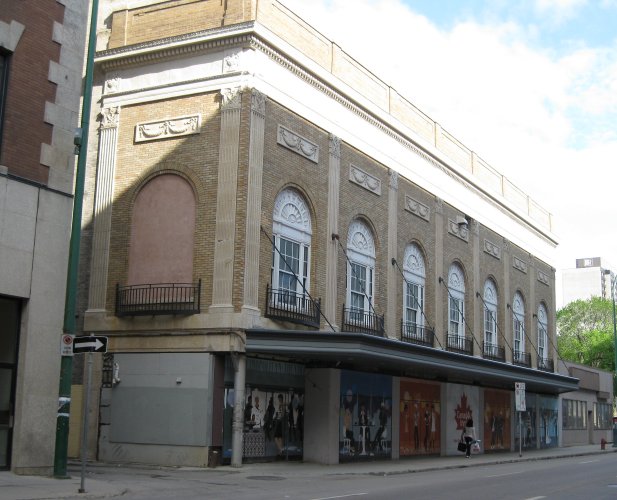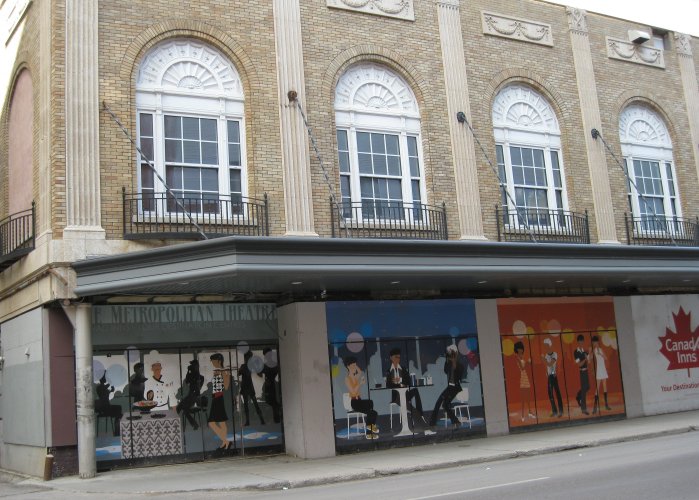 It Appears That Canad Inns Have Taken Their Commitment Seriously ... very nice clean up. It is now the "Met Entertainment Centre".

The following was stolen from The Winnipeg Sun : After nearly 25 years sitting vacant, the historic Metropolitan Theatre will finally be brought back to life.
Canad Inns president Leo Ledohowski unveiled plans to transform the 92-year-old landmark on Donald Street into a "vibrant downtown venue."
"It will be a food and beverage emporium of the highest calibre."
Canad Inns will invest more than $13 million in the project, while the city and province will provide $1.5 million each.
Plans include a banquet facility to accommodate about 1,000 people. The slopes in the theatre will be converted into tiers,
where each level will have an unobstructed view of the stage, Ledohowski said.
The Met was built in 1919 and began as an Allen Theatre and later operated as a Famous Players Movie Theatre.
The theatre closed its doors in 1987 and has been sitting vacant ever since.
Canad Inns purchased the Met from Centre Venture, a downtown development agency, in 2006 for $100,000.
The only structural change will be a new wing where a kitchen and washrooms will be located.




Monarch Theatre 351 Portage Avenue (~1912 - 1932)






Princess Theatre 226 Notre Dame Avenue (circa 1911)





Victoria Theatre/National Theatre 300-302 Fort Street (1912 - 1926)
(Victoria 1912 - 1915) (National 1915 - 1926)
In the awesome night time photo you can actually see three (3) theatres - The Victoria, The Orpheum, and The Province on Notre Dame.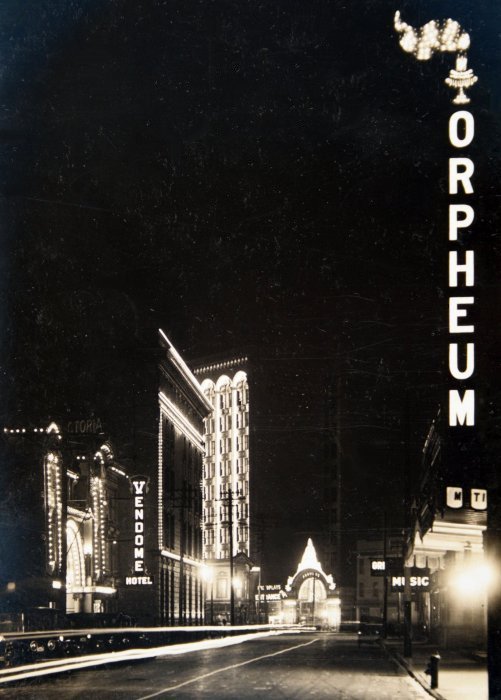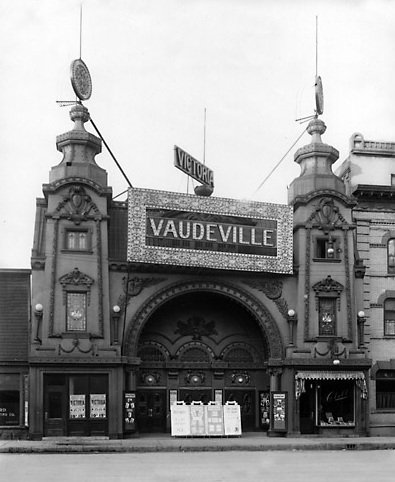 This photo is attributed to 1913, advertising vaudeville.



Walker/Odeon/Burton Cummings 364 Smith Street at Ellice (Feb 18th, 1907 - present) (Odeon 1945 - 1990)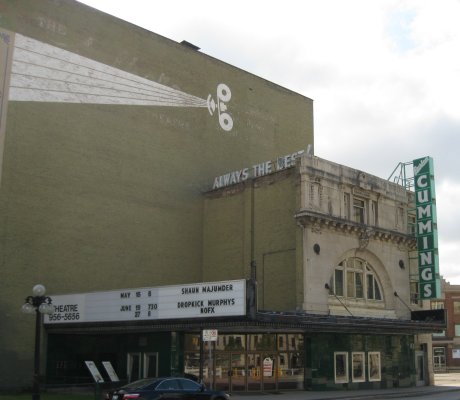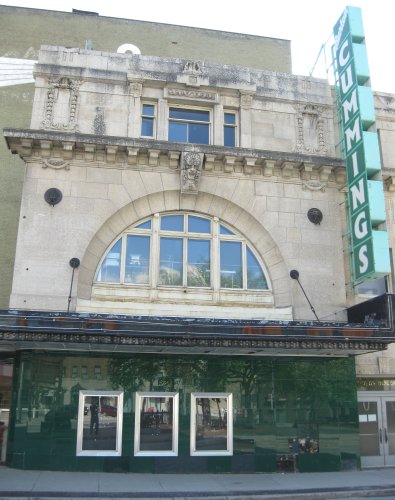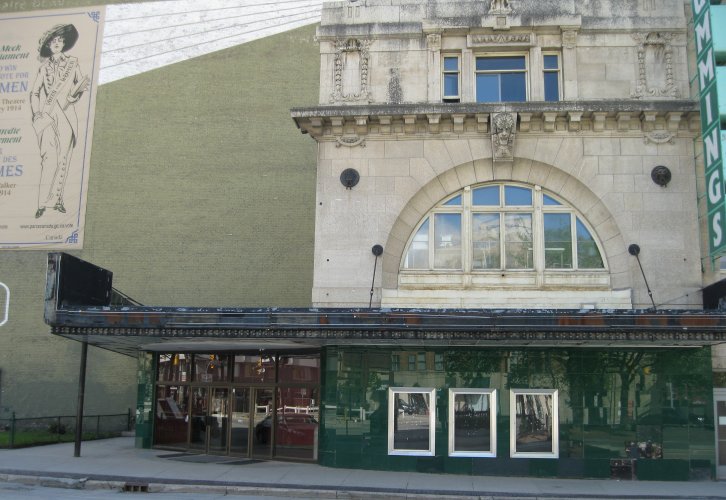 Postcard image from the personal collection of Rob McInnes. Used with permission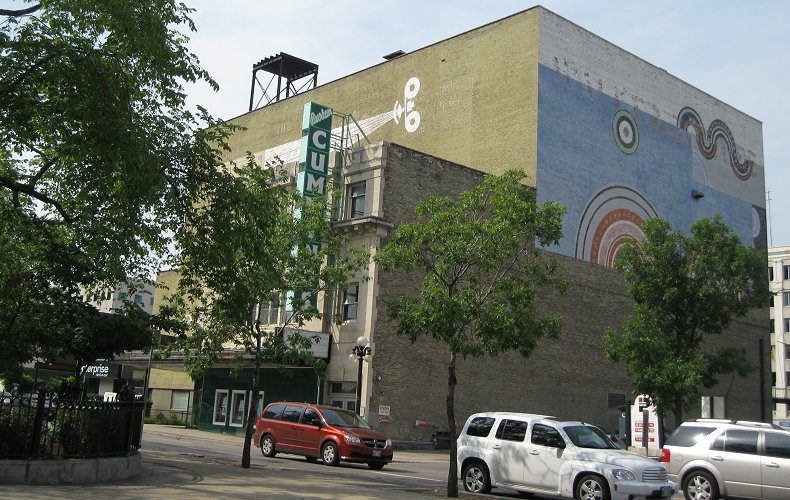 Orpheum Theatre / RKO Winnipeg Theatre 283 Fort Street (1911 - 1946)
(Orpheum Theatre 1911 - 1930) (RKO Winnipeg Theatre 1930 - 1946) (The Orpheum was demolished in 1948 - other source)
The Orpheum Theatre, one of the chain of Orpheum Theatres in the United States, opened on 13 March 1911,
with the Lieutenant Governor and his party in the audience. The opulently decorated and furnished auditorium could seat 2,000 people.
Audiences paid from $1 to $5 for afternoon shows and from $1.50 to $7.50 for evening performances
and they enthusiastically welcomed the twice-daily shows.
The Orpheum became one of the leading vaudeville stages in Winnipeg, along with The Dominion, The Walker, and The Pantages.
Among the top American entertainers that performed there were Ed Wynn, W. C. Fields, the Marx Brothers, Fannie Brice,
Harry Houdini, Jack Benny, and Eddie Cantor; foreign performers included actress Sarah Bernhardt and British music hall star Marie Lloyd.
Performances continued for thirty-five years.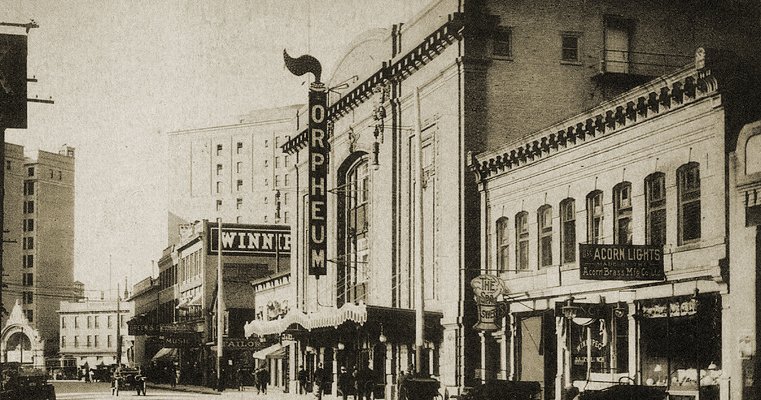 This long shot down Fort Street, besides "The Orpheum", also shows "The Province" way down on Notre Dame.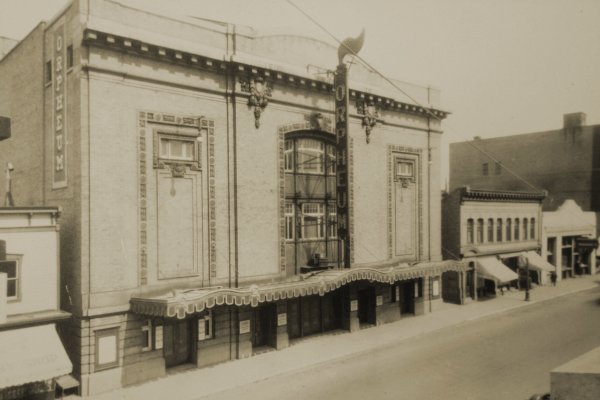 Orpheum July 8th, 1925



Northstar Cinema 1 & 2 286 Portage Avenue (1969 - 2001)



Neighbourhood Theatres


Baddow Theatre 322

Tache Avenue (Norwood) (circa 1914 - 1940's)
The Henderson Directory shows the Baddow open in 1930, but closed in 1931 & 1932)
The Baddow later becomes "The Rex Theatre" (1946-1953) shown further down the page.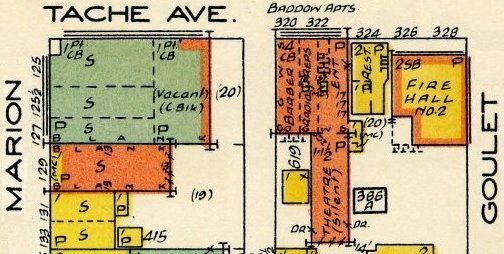 1922, 1923, 1924 versions of the Henderson Directory shows the Baddow Theatre address as
260

Tache Avenue, but still in between Marion & Goulet ... The street numbers must have
changed between 1924 - 1925, because, there after, the address is as shown above.



Community Theatre/Onyx Theatre 874 St. Mary's Rd. at Barrington (St. Vital)
Community Theatre (1925 - 1932) Onyx (1932-1938)
This address under today's standards, brings you nowhere close to Berrydale Avenue.
1925 Henderson Directory


The Onyx is then split into 3 pieces and moved to 750 St. Mary's Road,
in 1938/1939, where it later becomes The Vogue in 1945. See Onyx/Vogue below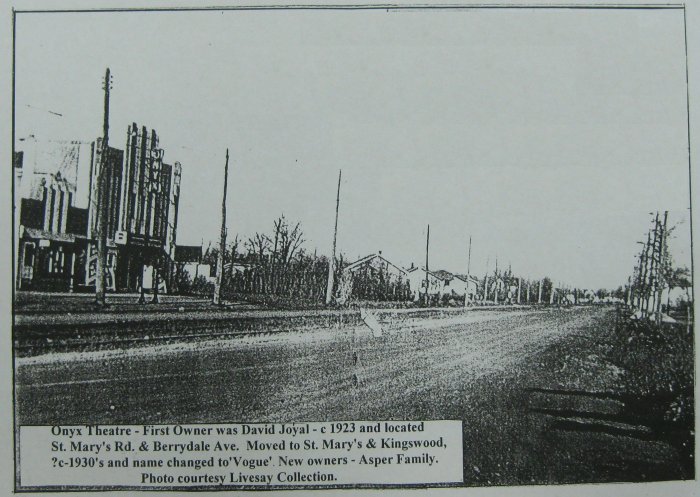 Photo courtesy of the St. Vital Museum



Classic 1837 Portage Ave (1926-1957)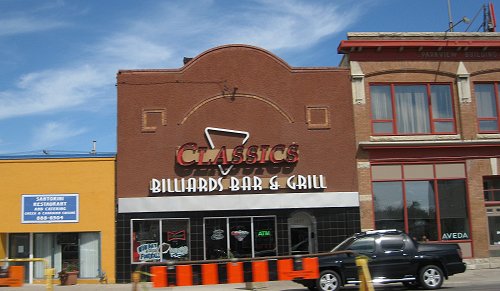 The Henderson Directory captures from 1918 & 1925 show another Classic Theatre at 203 Roseberry St.,
which is very close to the Portage Avenue location, which makes me think the owners of "The Classic"
had an older building on the Roseberry Street site prior to 1926. The two locations are very close and if you
"google map" 203 Roseberry, it keeps you on the north side of Portage Avenue, but the two screen captures
from the Henderson Directory puts the Roseberry Street address on the south side of Portage Avenue.



Corona Theatre 1433 Logan at Quelch (1942 - 1957)



Crescent Theatre 654 Corydon Ave at Hugo (1917 - 1955)
1917






Elm Theatre 392 Talbot at Allan (1938 - 1957)



Ft. Rouge Theatre 248 Osborne at Jessie (S. of Crazy Corner) (1912 - 1922) (closed 1924 another source)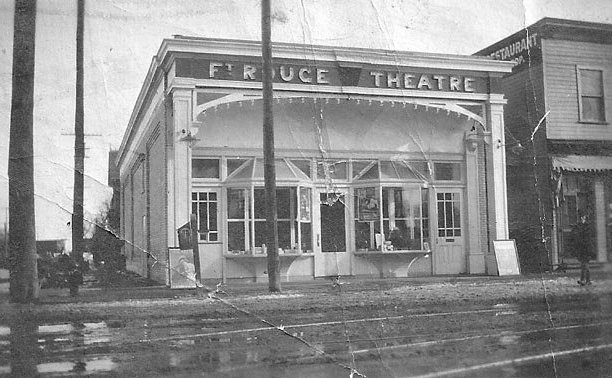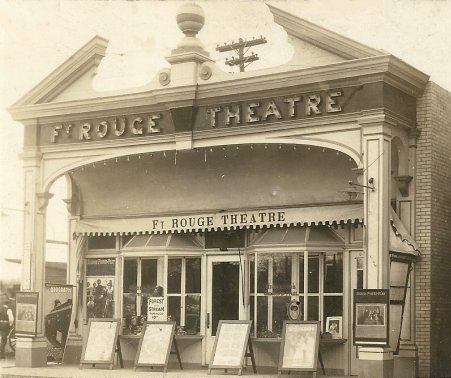 Photo courtesy Donna Fumerton ... via George Godwin's "Rough Cut" website. Postcard image from the personal collection of Rob McInnes. Used with permission.
Rob's photo was on the Manitoba Historical Society website.



Garden Theatre 184 Kelvin at Hespeler (~1916 - 1932)



Garden City Cinema (2 in 1979) 2305 McPhillips Street (1970-2010) Marquee sign is gone, but they left the 1 & 2






Garry Theatre 1118 Pembina Highway at Point Road (???? - 1960's) (info from Rob McInnes)
(in the 1960's became Garry Lanes & Billiards) (current location is the Shoppers Drug Mart)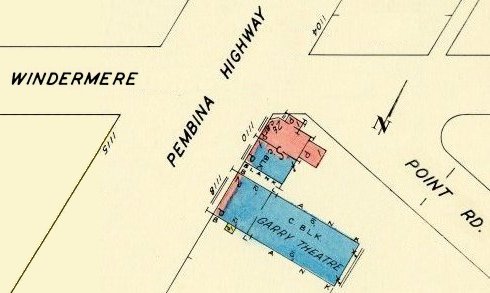 De Luxe/Hyland Theatre 1525 Main Street at Matheson (1936 - ?)
renamed Hyland in 1966 ... now a synagogue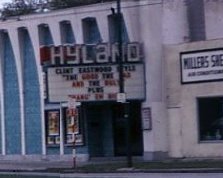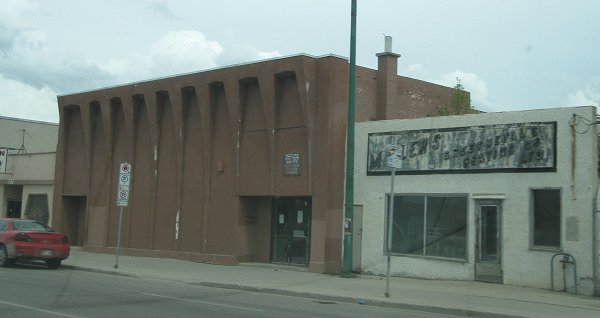 yesteryear today



Karnack Theatre 334 Roseberry Street near Ness (~1915 - ~1925)

1918 Henderson Directory



Grant Park Cinemas 1120 Grant Avenue (1969 - present)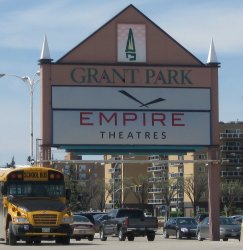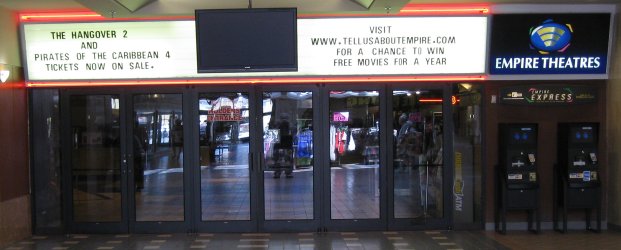 Kings Theatre 1771 Portage Ave at Berry (1929 - 1990)(1993 - 1996)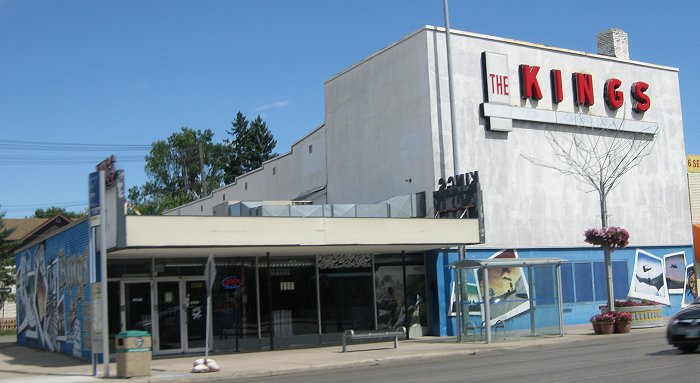 Kildonan Place 6 1555 Regent Avenue West (1989 - present)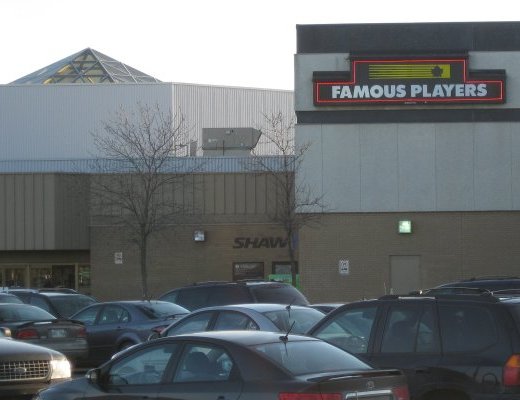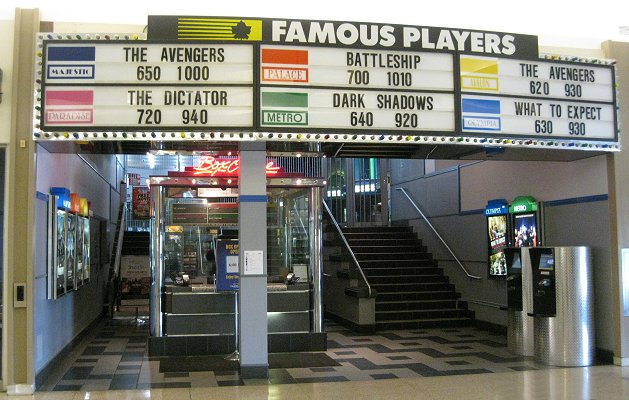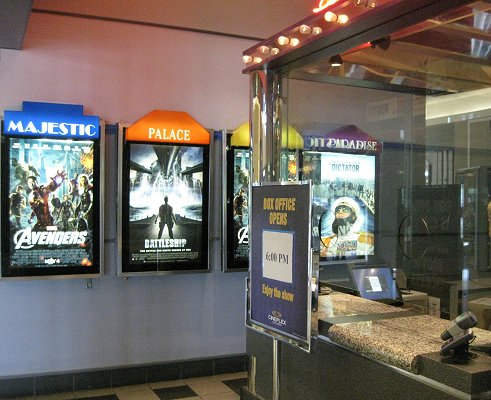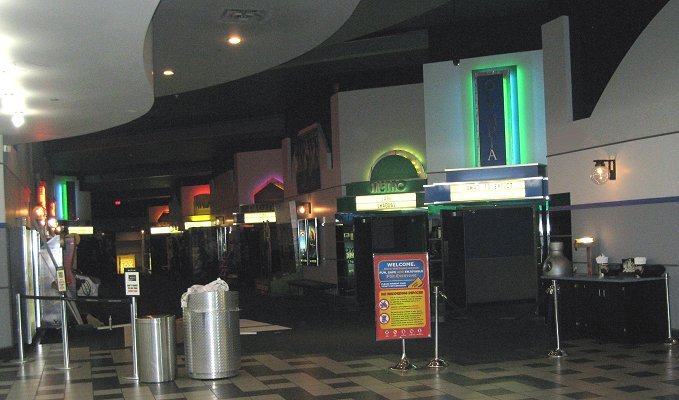 Leland/Acadia/State 572 Selkirk near McGregor Avenue (~1912- ~1958) (Ukrainian Owned) (currently vacant lot)
Rob McInnes found a reference in a 1938 issue of the Free Press that renovations were being done to the Leland,
at 572 Selkirk, and it was to be renamed the State.



Lodge Theatre 2145 Portage Avenue (1953 - 1958)



Mac's Theatre/Cinema 3/Ellice Theatre & Cafe 585 Ellice at Sherbrook
(Mac's 1933-1966)(Cinema 3 1969-1994)(closed 2002 after showing East Indian movies-another source)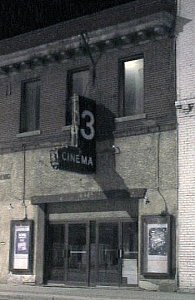 In 1960, when I was 10, on a dark stormy night, I went to the Mac's on the bus,
by myself, to see "Tarzan and the Moon Men", as it was advertised in the paper.
Well there was No Tarzan ... No Jungle Jim ... It was Johnny Weissmuller playing
himself in "Jungle Moon Men" (1955). The surprising part was that once inside,
The Mac's was identical in every way to the Windsor Theatre.



Northstar Cinema II (1970 - 2001)



Cinema City 8 Pembina (1995 - 2004) 1910 Pembina Hwy at Bishop Grandin Blvd
Pembina Cinema City (aka), this theatre was around in the 90's, at the end of the strip mall,
where Future Shop and Staples exist today. It has been replaced by a Dollarama.



Cinema City 8 Northgate 1399 McPhillips Street (1998 - present)






Cinema City 12 McGillivray 2190 McGillivray (2005 - present)







Osborne Theatre 108 Osborne Street South at River (c.1920 - 1956)



Park 698 Osborne St. South at Rathgar (1914 - 1986) (reopened in 2006 as Park Theatre & Movie Cafe)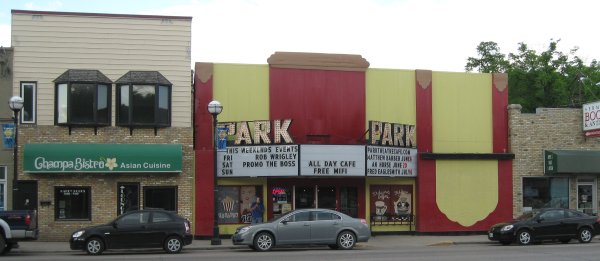 Parkview 1825 Portage Avenue (1923 - 1924) (destroyed by fire)



Palace Theatre 501 Selkirk Avenue at Powers/Andrews (1926 - 1964)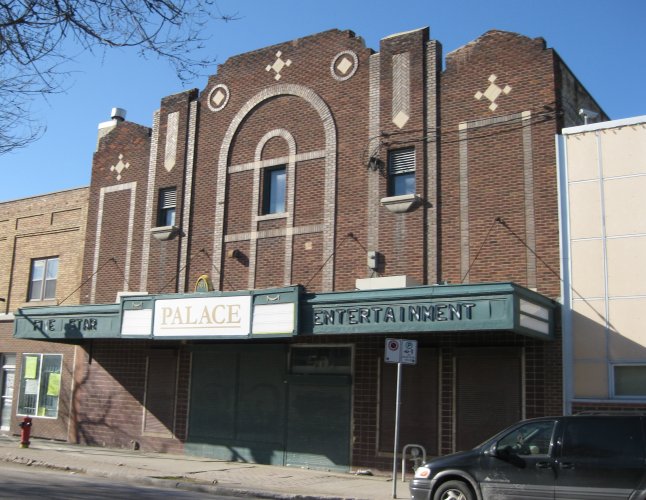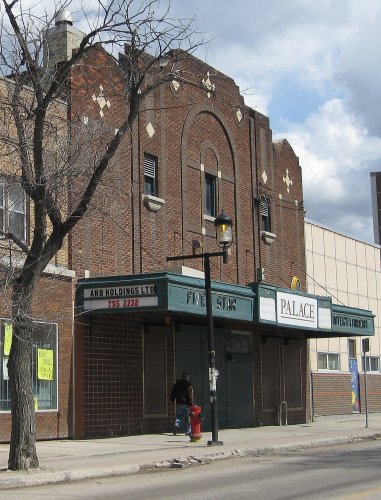 Paris Theatre 218 (220) Provencher Avenue at Aulneau (1939-1959)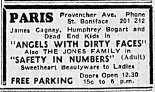 Plaza Theatre 104 Marion St at Tache (1926 - 1962) (822 Seats) (Norwood Hotel)



In the 1920's & 1930's the Norwood Hotel location at 112 Marion was the
Dominion Apartment Block, that my grand-mother managed. The Plaza Theatre was next door.
Where the bar in the Norwood Hotel is now, was my grand-mother's kitchen.
My mother went missing one Saturday afternoon, when she was five years old,
and my grandmother had the police from across the street, looking for her everywhere.
At 4:30 she walked out of the show. The owner had seen her outside, at 1:00 o'clock,
ushered her in for free and gave her a drink and a popcorn. She had a great time.
It normally cost my mother Florence 5 cents to go to a Saturday Matinee.
With this address, and the current address of the Norwood Hotel being 112 Marion Street,
The Plaza must have been where the newer part of Norwood Hotel is now.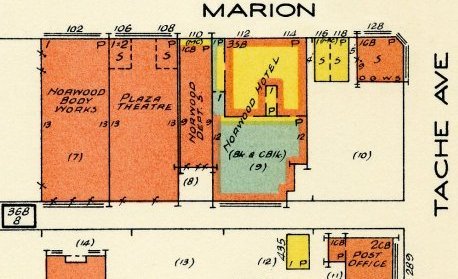 Lot Block & Plan from 1959 (1950) shows slightly different addresses.



Polo Park Cinema/Pace Theatre 1486 Portage Avenue (1962 - 1994)
renamed Polo Park Cinema in 1967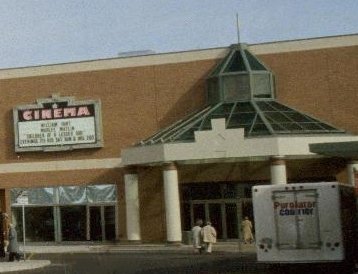 Queen's Theatre 239 Selkirk Avenue (1907 - ????) Gunn's Bakery is just to the west (left)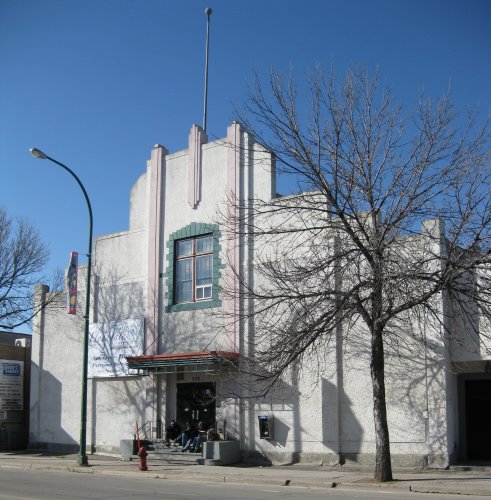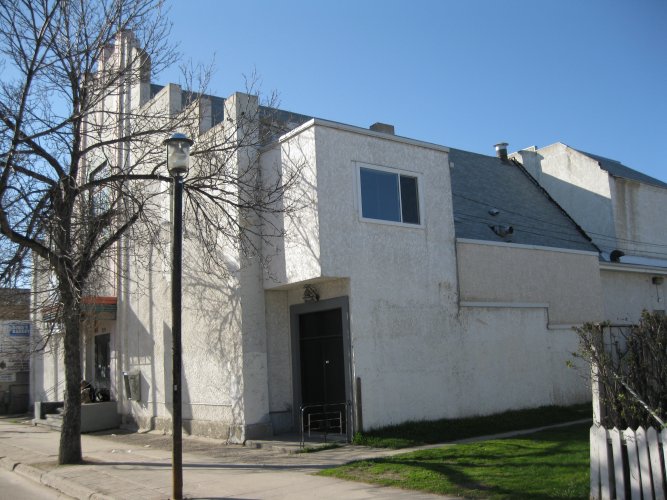 St. Giles Presbyterian Church had been sold in 1907 to the Hebrew Sick Benefit Society, and members of the Yiddish Dramatic Club, and was transformed into the Queen's Theatre.
Culturally one of the most important institutions in the area, the Queen's was, by 1912 home to a thriving Yiddish theatre presenting plays starring local actors and international stars.
The 1953 Henderson Directory shows it as the "Hebrew Sick Benefit Association" building. It is unclear if it ever showed movies.



Rex Theatre 322

Tache at Goulet (Norwood) (1945 - 1953)
This is the same address as "The Baddow" Theatre above.


1945 Ad



Roseland Theatre ??? Sargent near Arlington (1904 - ?)
This may in fact be a misnamed Rose/Towne/Venus/Festival at 801 Sargent at Arlington (1926-1983)
although it's date, pre-dates the Rose Theatre date of 1926, which appears below.




This is the only other "Roseland" I have encountered to have existed in Winnipeg.



Roxy Theatre 385 Henderson Hwy at Montrose (1929 - 1960) (Roxy Bowling Lanes)
The Roxy Theatre opened on December 24th, 1929 at cost of $150,000 and the Bowling Alley opened on December 24th, 1960. Copy of Roxy Original 1929 Flyer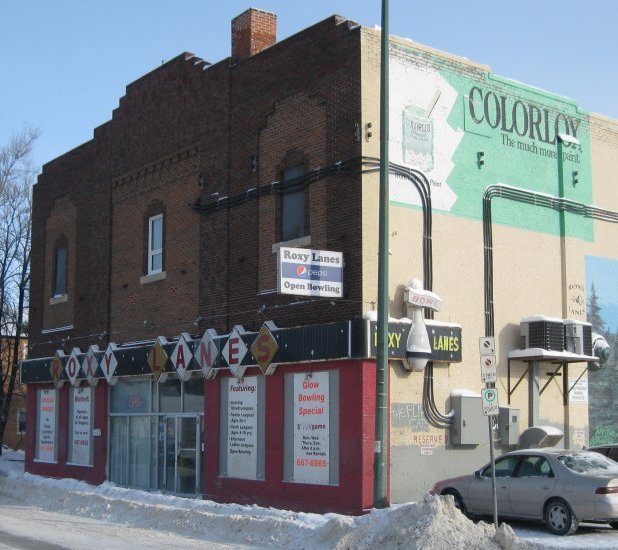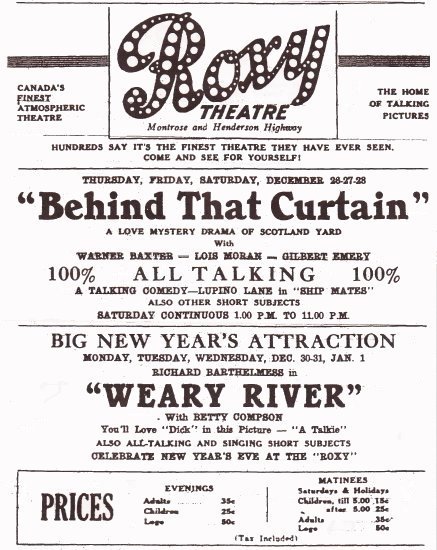 I recently went to the Roxy Bowling Lanes with my granddaughter for a kids birthday bowling party, and was lucky enough to meet one of the current owners
of the Roxy Lanes. Melissa Gauthier and her husband Robert Gauthier have owned the Bowling Alley since 2009, and Melissa was very accommodating in
giving me a brochure showing a collection of articles on the history of the theatre, and even took me downstairs into the basement to show me some of the very
interesting pieces salvaged from the theatre in 1960. (previous owner kept everything) Awesome ... Thanks Melissa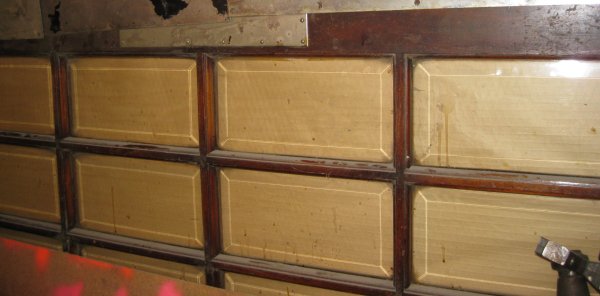 One of the original theatre doors ... the other ones are there, but in different locations.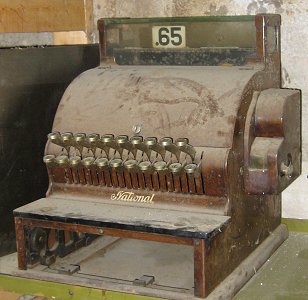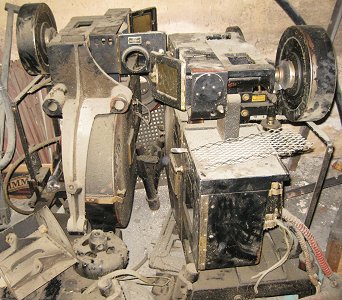 The Roxy Theatre's Original Cash Register - The Roxy Theatre's two projectors saved since 1960, although some components were removed for sale to other theatres.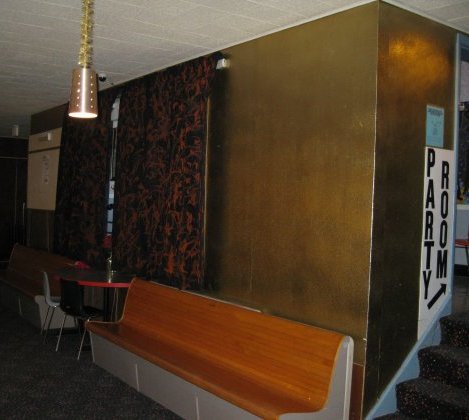 The Roxy's upstairs lanes in what used to be the balcony and behind this image and over on the right is a party room, which was the original projection booth.




Little Theatre / Sherbrook Theatre 627 Alexander Avenue & Sherbrooke Street (~1913 - 1921)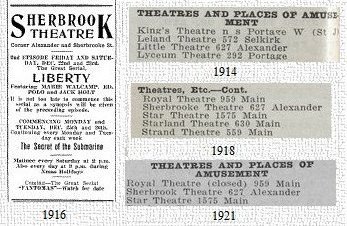 Silver City Theatres/St. Vital 6 1225 St. Mary's Road (1998 - present)





Silver City (IMAX) Theatres/Polo Park 814 St. James Street (1999 - present)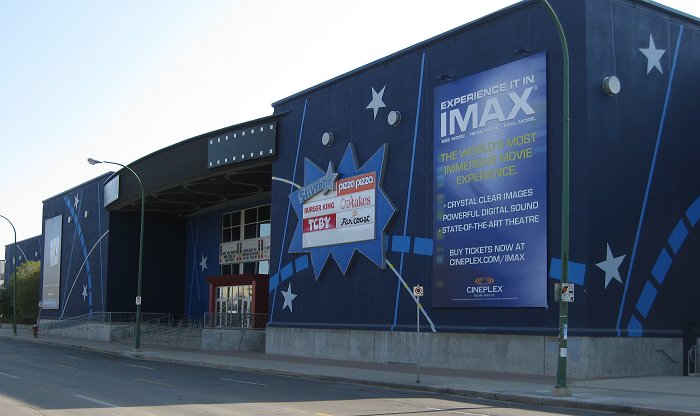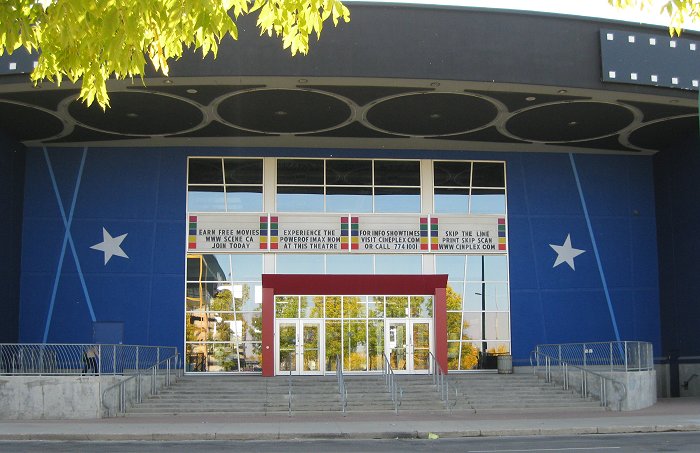 Towne Cinema 8 301 Notre Dame (1981 - present)





Rose/Towne/Venus/Festival 801 Sargent at Arlington (1926 - 1983)
Rose (1926-1964) - Towne (1964-1974) - Venus (1974-1979) - Festival (1979-1983)
(currently "Wild Strawberry)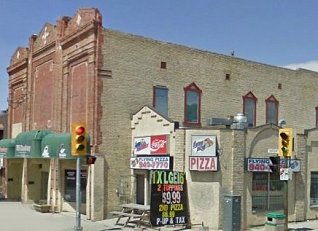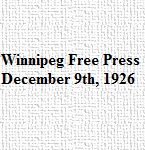 Tivoli 115 Maryland at Westminster (c. 1927 - 1958)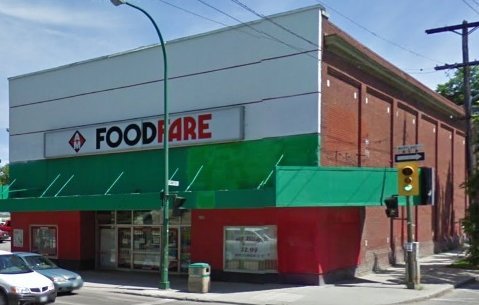 Tower Theatre 580 Mountain at McGregor (1937-1961)


Photo courtesy of Sheila Streifler via Kenneth George Godwin. Sheila's uncle, Sam Rosenblat,
built The Tower Theatre. The theatre was torn down to make room for the Safeway at this location.
Judging from the addresses across the street, it probably stood, right where the Safeway Sign is.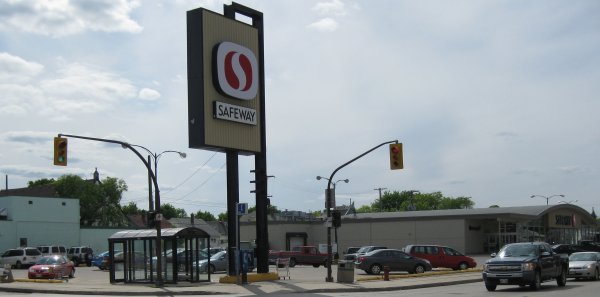 Transcona /Apollo Theatre 109 Regent Avenue W. (1912 - 1960)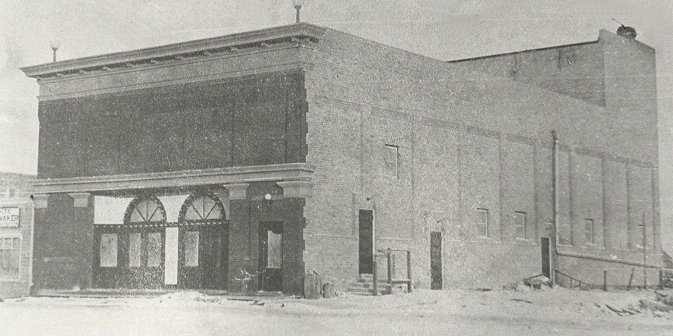 The Transcona Theatre (1911) later became the well-known Apollo Theatre.
This movie house was a Regent Avenue landmark from 1912 until 1960. Mr. Triller operated the theatre.
I found one report that it was supposed to be torn down in 1969. Another report said it burned down in 1969.
Following Info & Photos Courtesy of the Transcona Historical Museum:
Built in 1912 and originally named the Transcona Theatre, the building was located at 11 Regent Avenue.
The classically influenced building was renovated prior to the 1930s to reflect the Spanish Mission style. It was well known for the star painted ceiling inside.
Originally the theatre hosted vaudeville acts and plays but after the renovation found a new audience as a movie house.
Also sometime after the renovation, the name changed from the Transcona Theatre to the Apollo Theatre.
In 1958, when the town of Transcona changed their street numbering, the Apollo's address changed to 109 Regent Avenue West and by 1961, the Apollo ceased to exist.
From our records, the Apollo Theatre currently resides in the space used by Another Look Bridal Fashions and the River East Transcona School Division,
as well as half (cut vertically) of the Stone Elegance site.



Uptown Theatre 394 Academy Road at Ash (Dec. 24th, 1931 - 1960)
(Academy Uptown Bowling Lanes)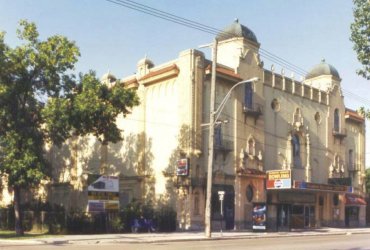 Onyx/Vogue 750 St. Mary's Road, St. Vital
Onyx (1939 - 1943) Vogue (1944 - 1957)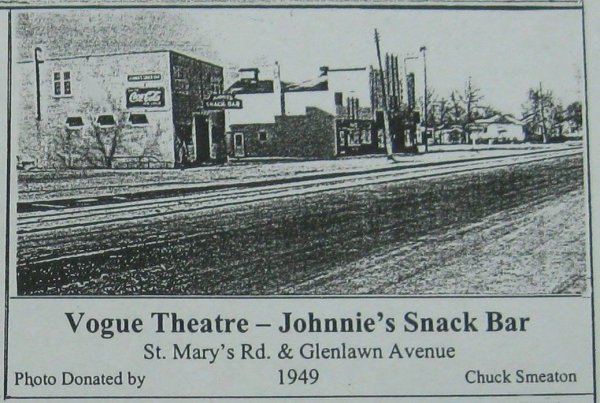 Photo courtesy St. Vital Museum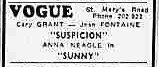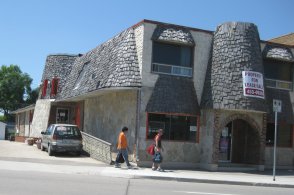 (Josie's Restaurant 60's -70's / Bobbie's Restaurant / Tio's Mexican Restaurant & Bar currently)
My Mom and Dad would walk down to this theatre, in late 1949 and early 1950, when my Mother was pregnant with me.



Windsor Theatre 592 St. Mary's Road at the St. Anne's Junction (1941 - 1976)

Owners were Mr. & Mrs. Johnson, who lived close by and were members of the St. Vital Legion.
This is the theatre that I went to from the age of six, for the Double Features on Saturday afternoons.
You needed 55 cents to go - 15 cents to get in - 10 cents for a drink - 10 cents for a popcorn -
- and 2 x 10 cents for the bus ride there and back. I think I used to bring 20 cents for popcorn.
We were all grieve stricken, when it went to 25 cents, and then very quickly to 35 cents.

Mr. Johnson would sell tickets, while his wife sold popcorn, drinks and candy, at the confectionary.
At 1:00 o'clock, Mr. Johnson would walk down the aisle, and open the curtain by hand, and then walk
back up to the projector room, and the movie would start. Mrs. Johnson would patrol the aisles, and if
anyone was being rowdy or too noisy, she would smack them with the giant ruler she carried.
Intermission brought weekly draws, for popcorn, drinks and free tickets to next week's matinee.
We had to hurry home, after the show, to watch "Wild Bill Hickok" at 4:30 on CBC Television.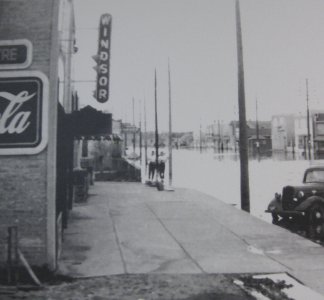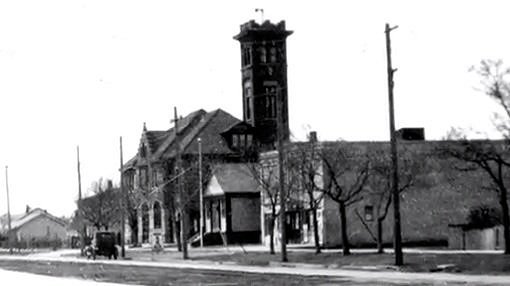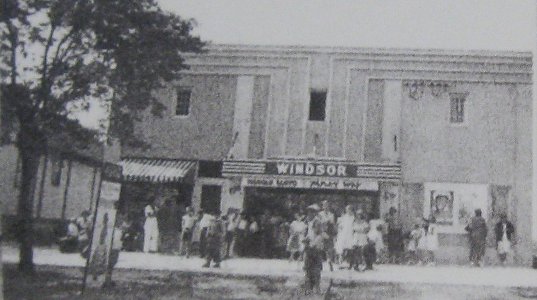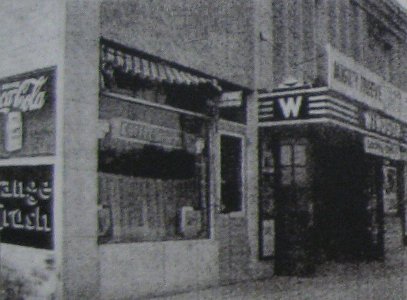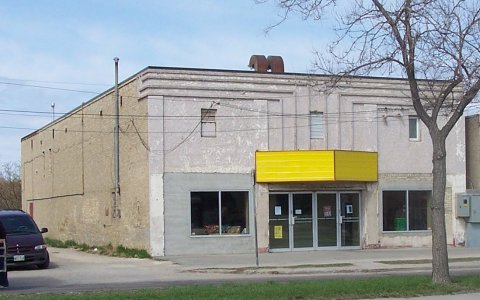 Wonderland 595 Sargent at Sherbrook (1912 - 1956)


1918 Henderson Directory



Valour Theatre 1302 Portage at Valour (1937 - 1960)






Base Theatre (CFB) (1955 - 2000)



Lyric Theatre - Assiniboine Park (1999 - present)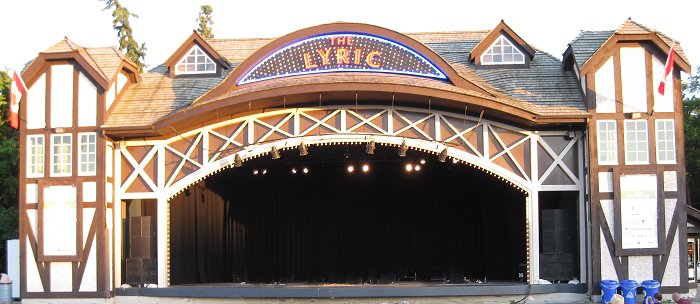 The Lyric Theatre is a large outdoor stage located next to the Pavilion. It opened in 1999.
It carries on the tradition of a bandshell near the Pavilion that started in the 1920s.

2014 SCHEDULE





Drive-In Theatres

Airport/Airliner s.s. Ellice at Madison (1952 - ????)
(became the Airliner c. 1964)
As a small child, in the 50's, when my Grandmother lived on Queen Street, we could walk to the end of her street, sit on
the grass and watch the movies. The hanging speakers in those days were easily heard from outside the fenced compound.


Northmain Drive-In Main Street North (May 3rd, 1951 - 1980) A Millionaire Drive-In is across the street.
The Drive-In is Lot 32 Main Street. Club Copacabana is Lot 35 ... so they are both between Red River Blvd. and Drury.





Pembina Drive-In 1994 Pembina Hwy (July 19, 1949 - c.1975)
This was the first drive-in theatres in the midwest and was built by Jack Miles in 1949, followed by the Eldorado Drive-In in 1950.

Jack Miles owned Allied Amusements Ltd., which later became Western Theatres Ltd. and at one time owned and operated
18 movie theatres in Winnipeg, which included, The Uptown, The Palace, The Plaza, The Rose and The Roxy Theatres.
Jack Miles died in 1951, but the family owned business continued for 2 decades and still owns the Uptown Bowling Lanes building.


Odeon Drive-In 4415 Portage Avenue (Sept. 20th, 1963 - Sept. 2007) (998 cars)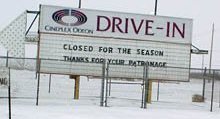 Starlite Drive-In 1300 Regent Avenue W. (c. 1954 - ????) (Transcona Hwy - another source)


Eldorado Drive-In Theatre 1001 Henderson Hwy at Eldorado St. (June 29th, 1950 - 1955)


Circus Drive-In n.s. Portage Avenue at Muriel (Kirkfield Park) (Aug. 14th, 1952 - 1955)


Lockport Drive-In Junction of Hwy. No. 1 & Hwy No. 9 (1954 - 1955)


Theatres Remaining In 2014



The content of this website is a research work in progress and is being provided to the public for informational purposes only.
As such, articles may contain errors, bias, duplication, and/or need to be cleaned up.
Some documents, images and logos contained in these documents belong to various organizations and corporations.
Their inclusion here is for the benefit of the reader and not for the benefit of the particular organization,
but they are, in fact, the copyrighted property of those organizations.
Their presence here does not imply any endorsement by this web site for those organizations.
This web site is not affiliated with any cinema or circuit.


Internet Credits & Links

All of the sites below provide great information and photos,
but in some cases their information is conflicting or lacking detail.
In appreciation of their effort, I have gleaned from all of them,
and tried to put it all on this single page. - Thanks, Bob




Going: Remembering Winnipeg Movie Theatres
my link about the documentary by Kenneth George Godwin

Cinema Treasures

Cinema Tour

Peel's Prairie Provinces

This Was Manitoba

Manitoba Historical Society

Rough Cut by George Godwin

Manitoba Photos

Manitoba Movie Theatres

Winnipeg Images - George Siamandas
Thrilling Days of Yesteryear

University of Manitoba Archives & Special Collections (flickr)
Movie Theatre.org

Skyscraper City - Winnipeg Developments

Google Maps - Street View
Manitoba - Digital Resources On Manitoba History (Tribune)


My Other Websites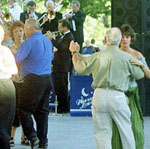 My Winnipeg Dance Pages
Dance Events in Winnipeg,
Manitoba, Canada



Jock Mahoney Tribute
The Range Rider
Yancy Derringer
Tarzan



My Mother's Tarzan
Tarzan Movie History


Horse Opera
Cowboys of the Silver Screen
and Television



Two Old Sisters On Main Street
The Union Bank Tower (1904)
The Confederation Life Bldg. (1912)
on Winnipeg's Main Street (history)




callag@email.com


~ ~ ~