"HORSE OPERA"

Cowboys, Cowboys, Cowboys ! ! ! ! !
Everywhere you looked in the 30's. 40's, 50's and early 60's, you found Cowboys.
---
When Television first came to Winnipeg, Manitoba, Canada it was about 1954.
We only had one channel and that was The Canadian Broadcasting Corporation.
Every Saturday morning for a least the next 10 years we had a program called
"Horse Opera"
note: CBWT Winnipeg went on the air May 31st, 1954
---
What this was is, the one hour "B" Westerns that some of you may
have gone to your Saturday afternoon matinee's to see, such greats as :

Tom Mix (& Tony) The Three Mesquiteers Roy Roger's (&Trigger)
Tim Holt Buck Jones Lash LaRue Monte Hale Alan Rocky Lane
"Wild" Bill Elliot (The Red Ryder) Tex Ritter Johnny Mack Brown
Ken Maynard (& Tarzan) Kermit Maynard Bob Steele Gene Autry
---
---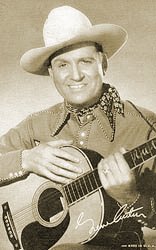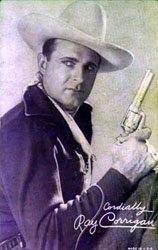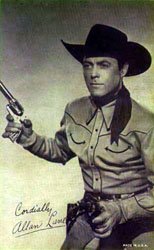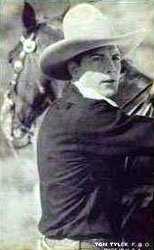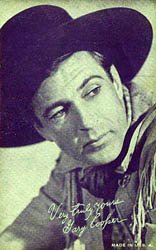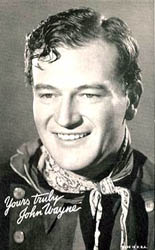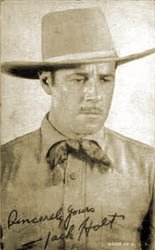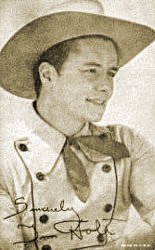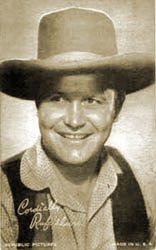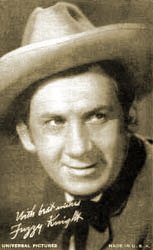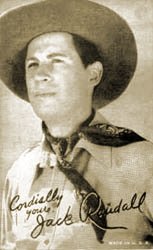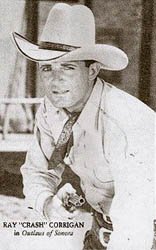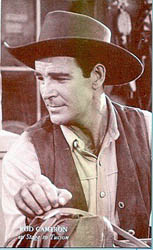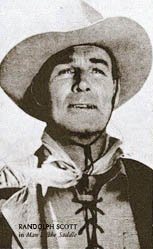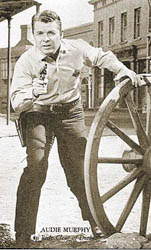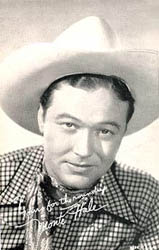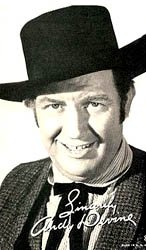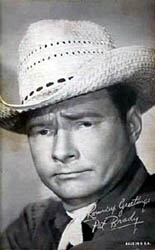 ---
---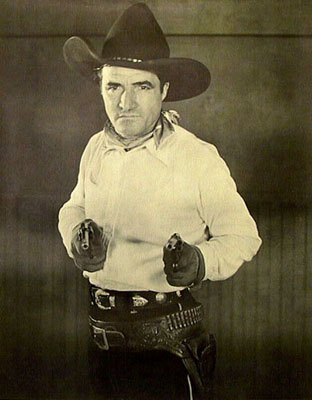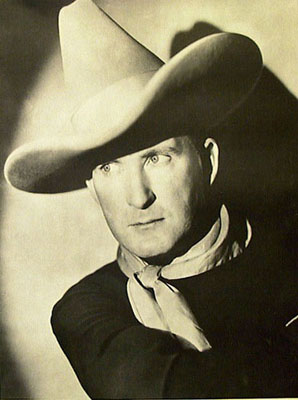 Tom Mix Col. Tim McCoy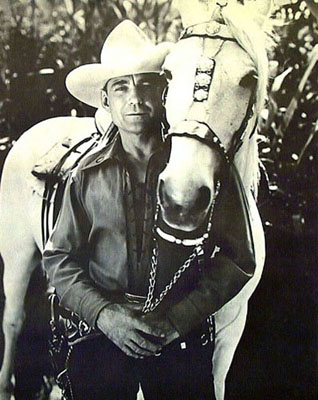 Buck Jones & Silver Buck Ken Maynard
---
---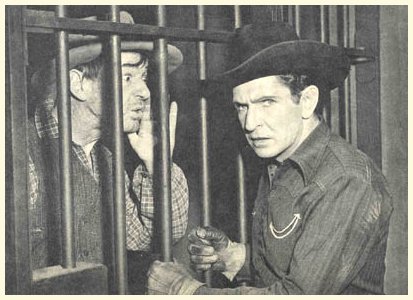 Syd Saylor and Bob Steele
---
Johnny Mack Brown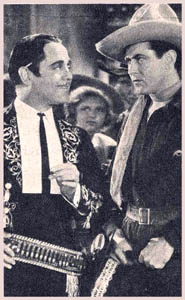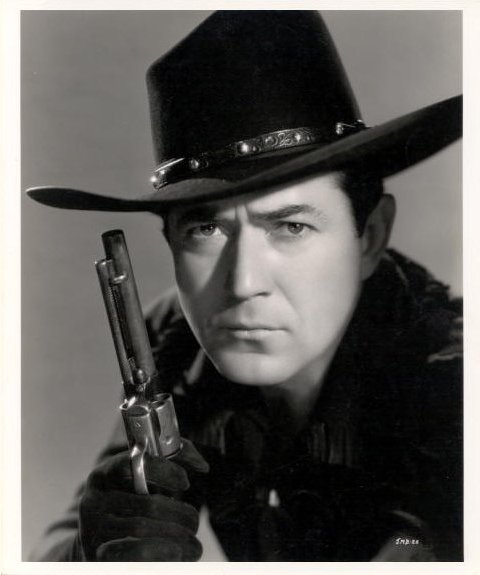 ---
Tex Ritter
---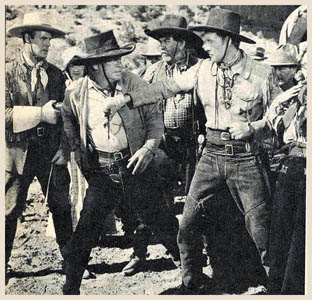 Gordon "Wild Bill" Elliott
("Wild Bill Hickok" and "The Red Ryder")
("I'm a peaceable man")
---
The Original Red Ryder - Don "Red" Barry & Tommy Cook
---
---
early ..... John Wayne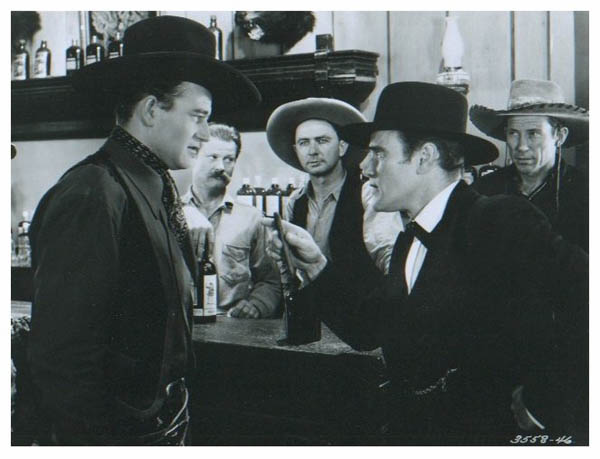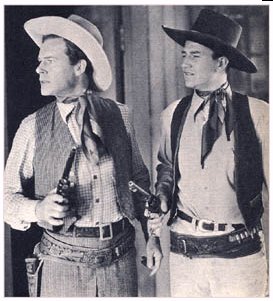 Lane Chandler w. John Wayne
"Duke" with George "Gabby" Hayes & Yakima Canutt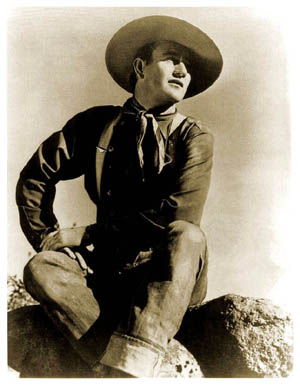 ---
---
THE LONE RANGER
was conceived by George W. Trendle, who was the owner of WXYZ in Detroit.
Trendle hired as chief writer for his idea, Francis H. (Fran) Striker,
and together the two created The Lone Ranger scenarios.

On January 20th, 1933, the "Ranger" hit the airwaves.

There were two short term Lone Rangers in the beginning,
a fellow named Deeds, and another who was George Stenious.
Brace Beemer finally got the part, but was
promoted to studio manager and was replaced by Earle W. Graser,
on April 16th, 1933. Beemer then became the shows narrator.

Graser, however, died in a Michigan car crash on April 8th, 1941
and Beemer was returned to the role.

Brace Beemer on his great horse "Silver".
With the huge success of the radio drama,
it wasn't long before Republic Pictures released
"THE LONE RANGER" in 1938, as a 15 chapter serial.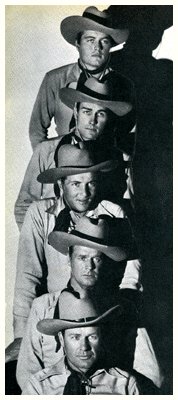 Republic's promotion wanted the man behind the mask to be a mystery man,
although they gave the public five possible choices who were from the top :
George Letz (later Montgomery), Lee Powell, Herman Brix (Bruce Bennett)
Hal Taliaferro (formerly Wally Wales) and Lane Chandler.
Lee Powell was actually the man behind the mask, but was in legal hot water
every time he tried to disclose that fact.
By the time THE LONE RANGER RIDES AGAIN (1939) was filmed,
Lee Powell was gone and the part went to Bob Livingston,
and this time there was no attempt to hide who was behind the mask.
This was another hugely successful serial.
Tonto was played in both serials by Chief Thundercloud. (Victor Daniels)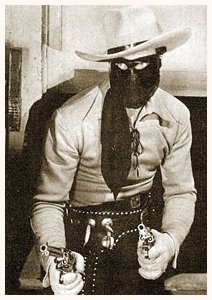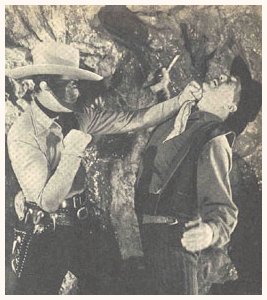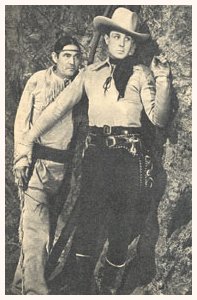 Bob Livingston as "The Masked Man"
---
---

..and speaking of masked men, here by some bizarre coincidence
is Clayton Moore getting the best of Roy Barcroft in Republics
"GHOST OF ZORRO" (1949).
---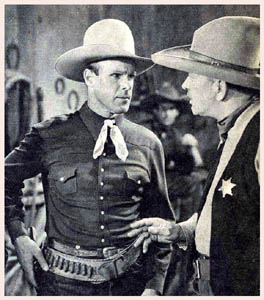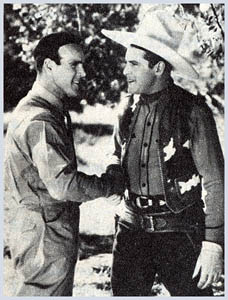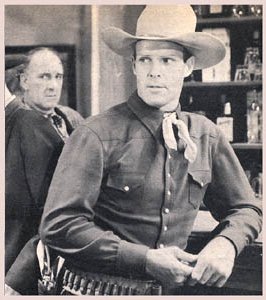 Kermit Maynard
(center photo shows him w. brother Ken Maynard)
---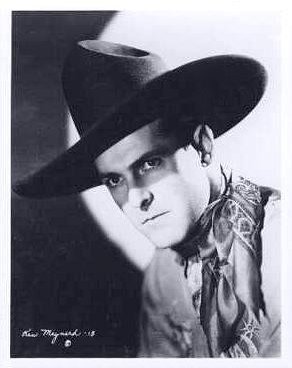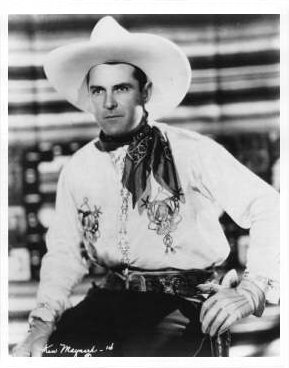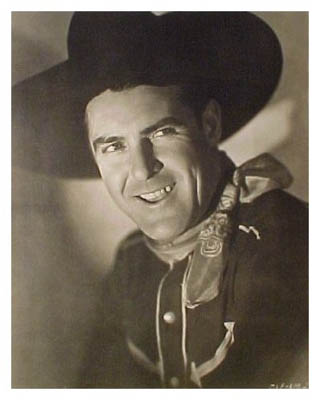 Ken Maynard
---

Bob Allen
---
---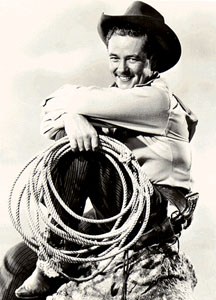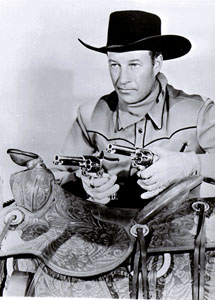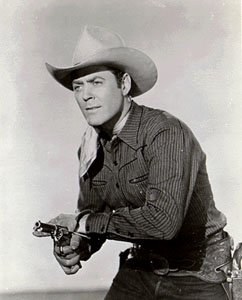 Tim Holt Wild Bill Elliot Allan "Rocky" Lane
---
---
The Three Mesquiteers

Bob Livingston takes a break w. the camera crew filming
"UNDER TEXAS SKIES" (1940).
---
---
Did You Know That

was Stony Brooke in the
Three Mesquiteers Series.

---
John Wayne appeared 4 times in 1938 & again 4 times in 1939,
replacing Bob Livingston for awhile, just prior to the release of
the movie that would make the "Duke" famous, which of course was
"STAGECOACH" (1939).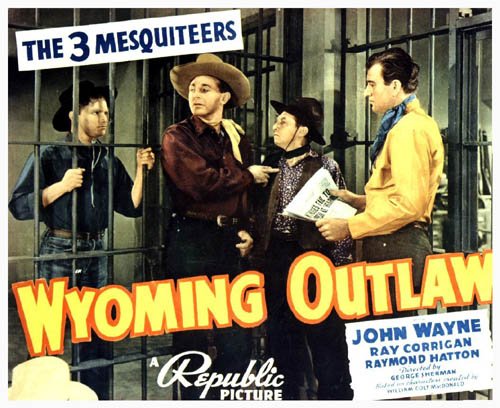 ---
"The Three Mesquiteers"
changed faces over the years, with Stony Brooke being played by
Bob Livingston, John Wayne and Tom Tyler.

Tucson Smith was played by Ray "Crash" Corrigan and Bob Steele.

"Lullaby Joslin" was played in various years by
Syd Saylor (only once in 1936), Max Terhune,
Rufe Davis and Jimmie Dodd.

Some episodes have totally different characters other than Stony,
except for "Trigger Trio" (1937) where Stony is missing,
(Livingston had been injured)
and replaced by Tucson's brother Larry, played by Ralph Byrd.

In late 1939 Max left the series, and was replaced
by Ray Hatton as "Rusty" Joslin for Wayne's last two as Stony.
Ray hung on for Wayne's last two, but now
Ray and Max were both gone for good.
The now "Robert Livingston" was back as Stony,
so, two new characters were installed,
with Duncan Renaldo (Cisco Kid, The) as Rico Rinaldo,
and
Ray Hatton as "Rusty" Joslin.
---
The first three movies prior to the THE THREE MESQUITEERS (1936)
with Bob, Ray and Syd and the other familiar trios to follow,
were all based on stories by William Colt MacDonald.

Number One
LAW OF THE .45 (1935)
Guinn "Big Boy" Williams as Tucson "Two-Gun" Smith
and Al St. John as Stony Martin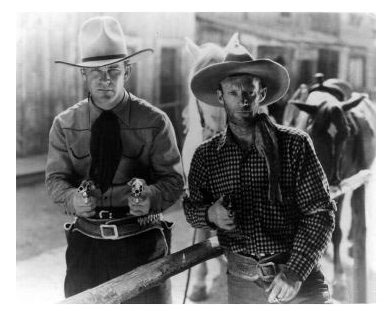 LAW OF THE .45 (1935)
Guinn "Big Boy" Williams & Al St. John
Number Two
POWDERSMOKE RANGE (1935)
Harry Carey Sr. as Tucson Smith, Hoot Gibson as Stony Brooke,
and Guinn "Big Boy" Williams as Lullaby Joslin.
Also in the cast were two future Mesquiteers - Bob Steele and Tom Tyler.

Number Three
TOO MUCH BEEF (1936)
REX BELL as Johnny Argyle alias Tucson Smith.
There was no trio, just Tucson going it alone in this MacDonald based story.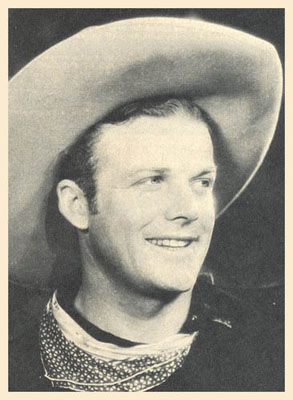 Rex Bell
Rex Bell would serve as the Lt. Governor for the
State of Nevada from 1954 until his death in 1962.
His wife was the famous Clara Bow.
---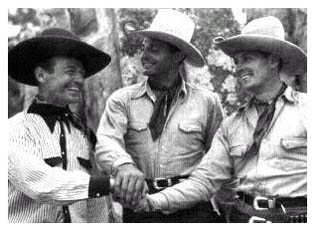 Syd Saylor was in the first trio story with Ray and Bob
as "Lullaby Joslin", in THE THREE MESQUITEERS" (1936).
He was replaced by Max Terhune, in the very next outing of this wonderful trio.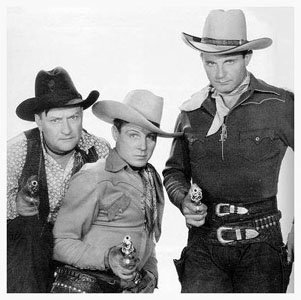 Ray, Max & Bob

Max, John & Ray

Rufe, Bob & Bob Duncan, Bob & Ray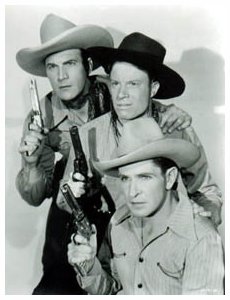 Tom, Jim & Bob
---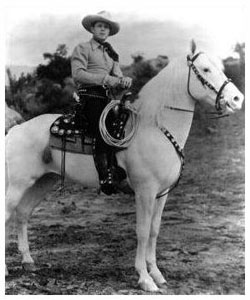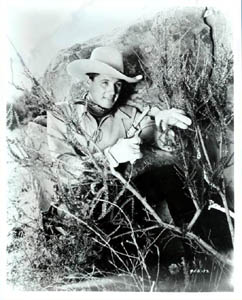 Bob Livingston

Bob Steele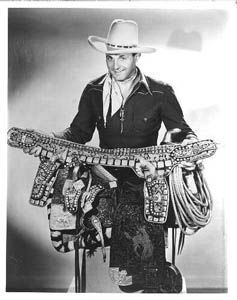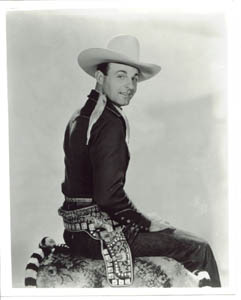 Ray "Crash" Corrigan

Tom Tyler
Click here to go to the "Three Mesquiteers" Movie List

---
---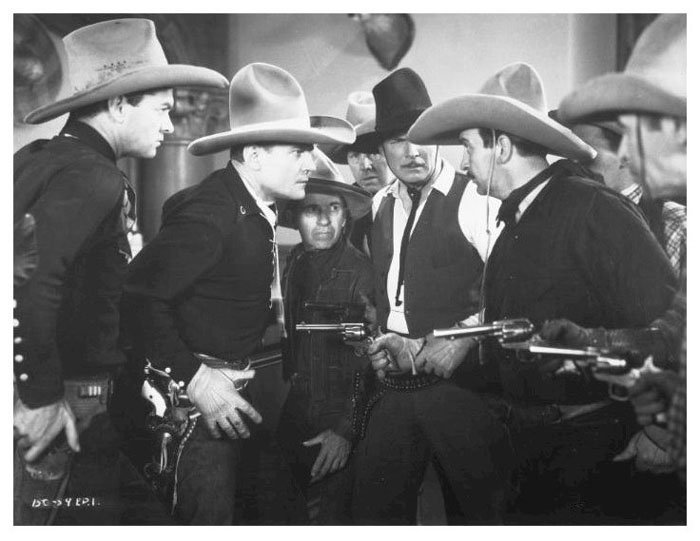 Buck Jones in a scene from "Roaring West" (1935)

---
---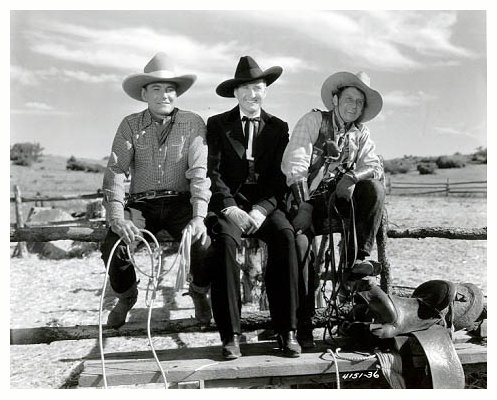 "The Roughriders"
Buck Jones, Colonel Tim McCoy & Ray Hatton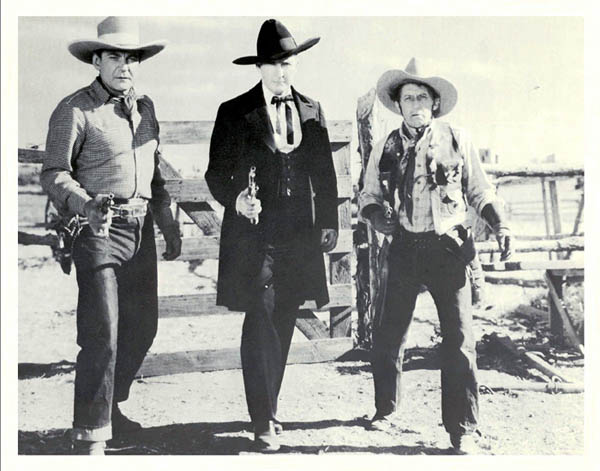 The Roughriders made 8 films in 1941 and 1942.
---
---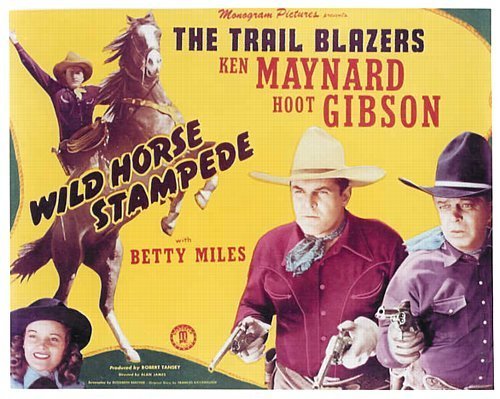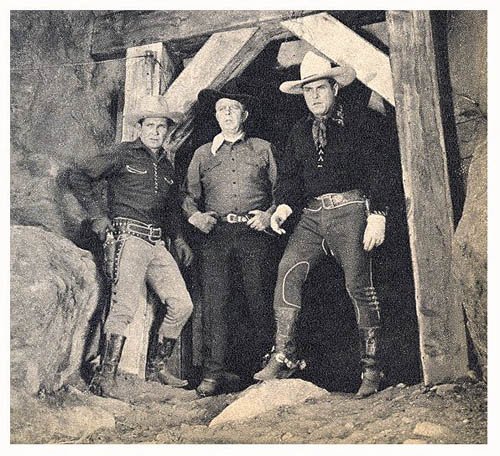 "The Trailblazers" - Bob, Hoot & Ken
The Trailblazers made 6 films in 1943 (4) and 1944 (2) for Monogram.
Ken and Hoot went it alone in the first three, but were joined by Bob Steele,
fresh out of the "Mesquiteers". Bob Baker (Universal Hero) was in the first
installment, Wild Horse Stampede (1943), but as the lobby card above shows,
was not given any billing. (that's Bob on the rearing horse)

---
---
early ... Roy Rogers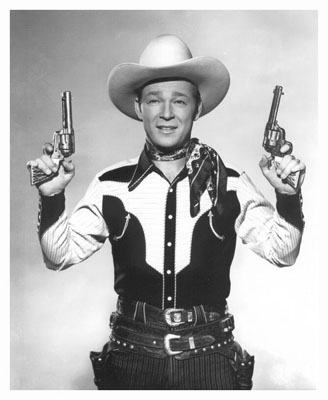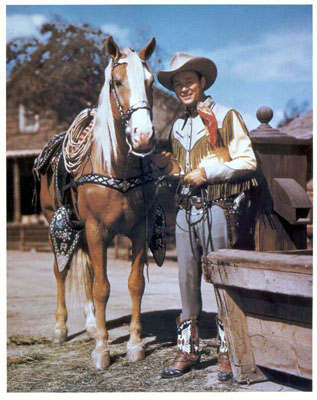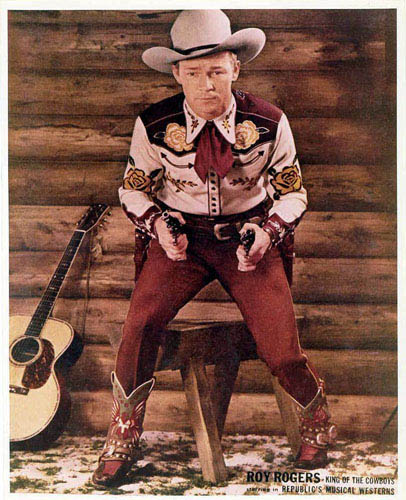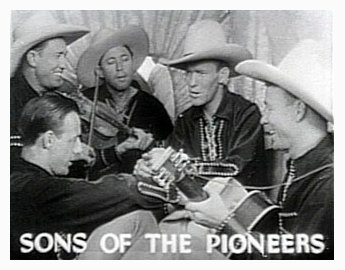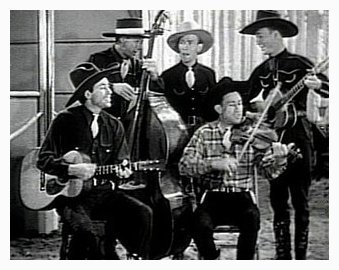 Hugh Farr (fiddle), Bob Nolan, Karl Farr (guitar), Tim Spenser & Leonard Slye
scenes from Gene Autry's - BIG SHOW (1936)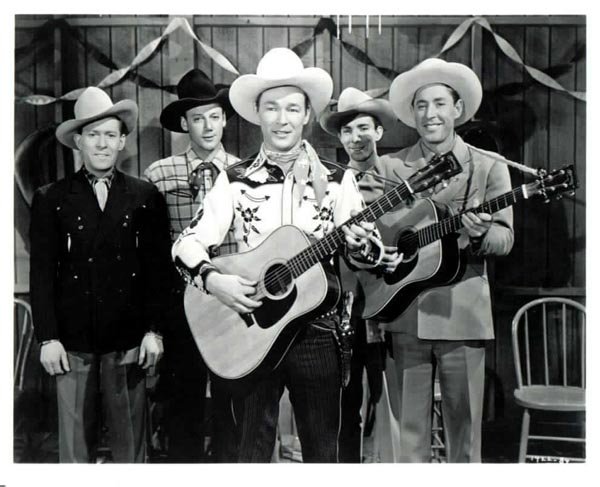 Tim Spenser, Bob Nolan, Roy Rogers, Ken Carson & Karl Farr
circa mid 40's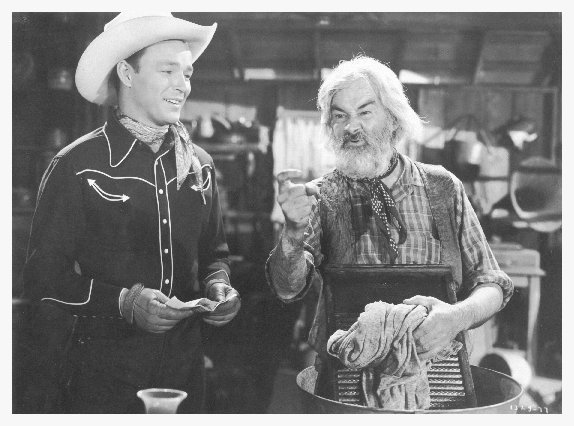 Roy & Gabby from UTAH (1947)



On The Old Spanish Trail (1947)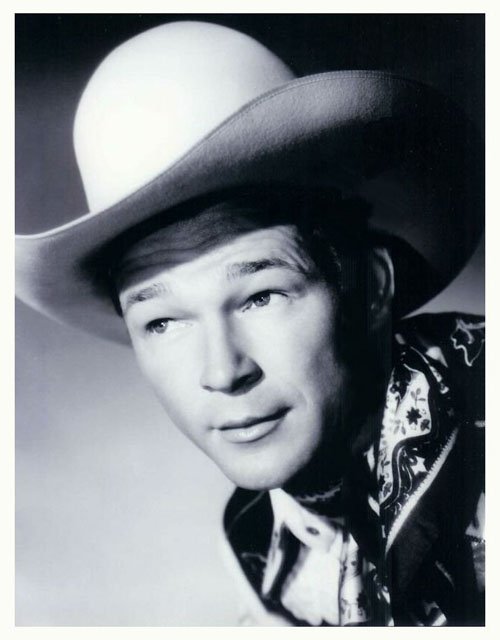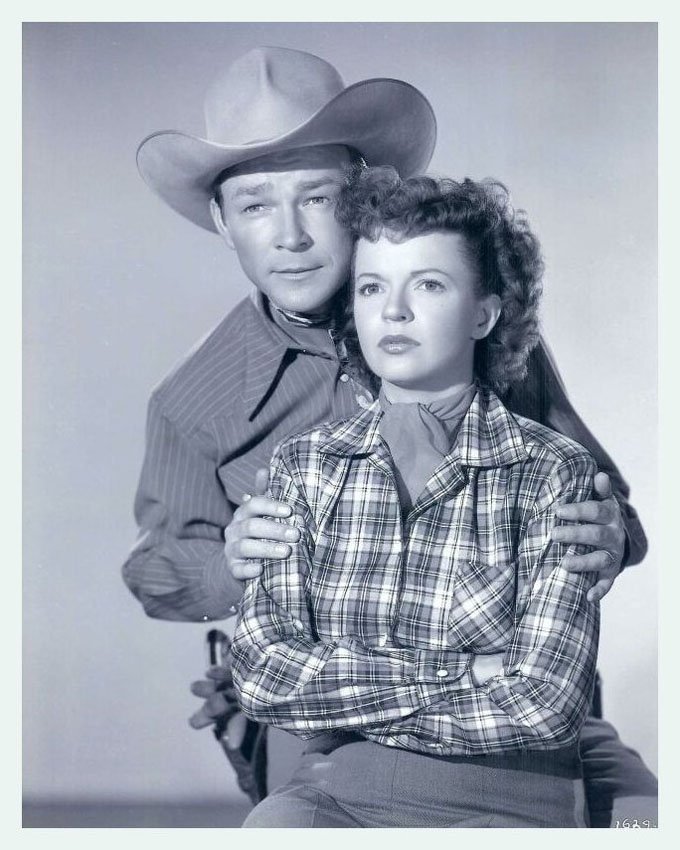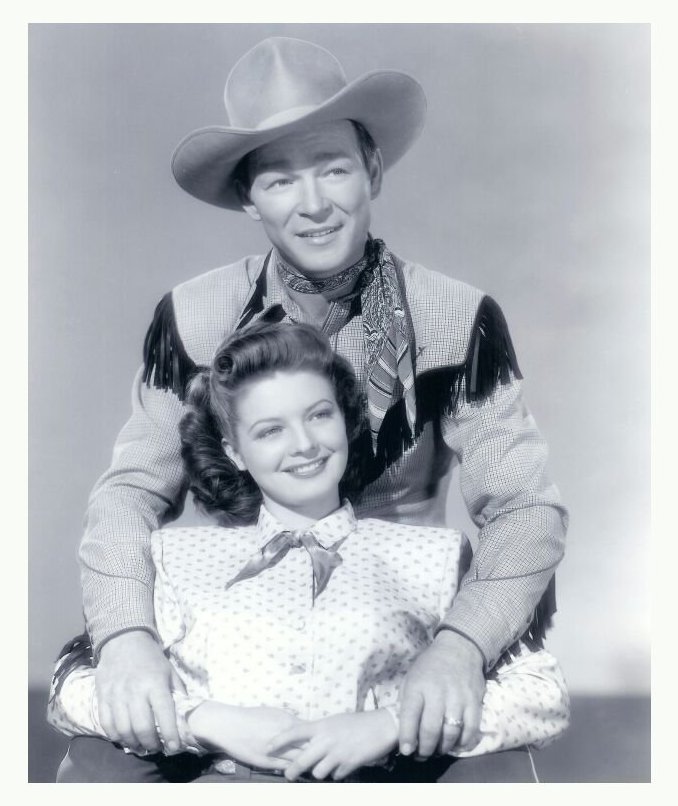 Publicity Still with Gail Davis - "The Far Frontier" (1948)
Gail Davis had co-starred with all the best including:
Alan Rocky Lane, Monte Hale, Jimmy Wakely, Charles Starrett,
Gene Autry and Johnny Mack Brown, in the late 40's & early 50's,
just before becoming "Annie Oakley" (1954-1956) [83 eps.] on TV.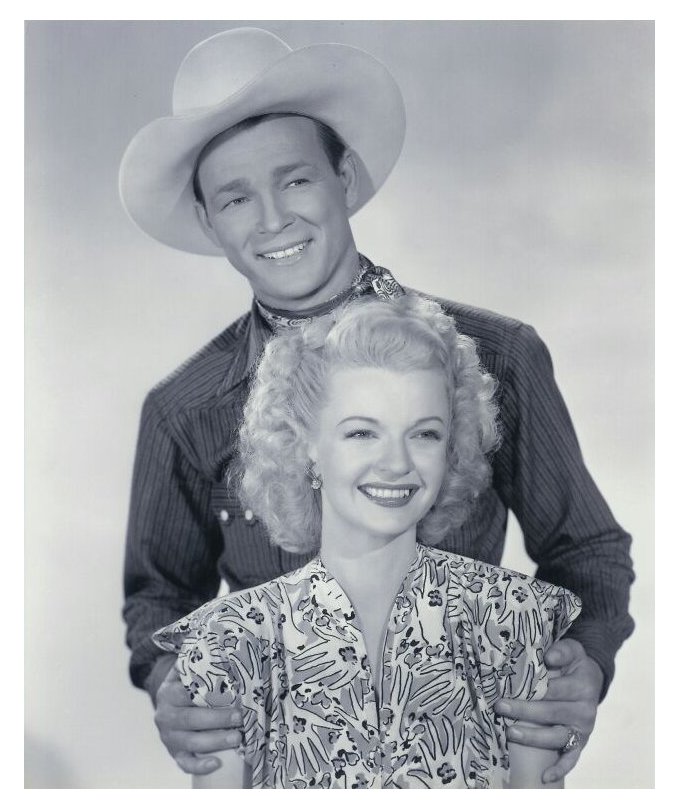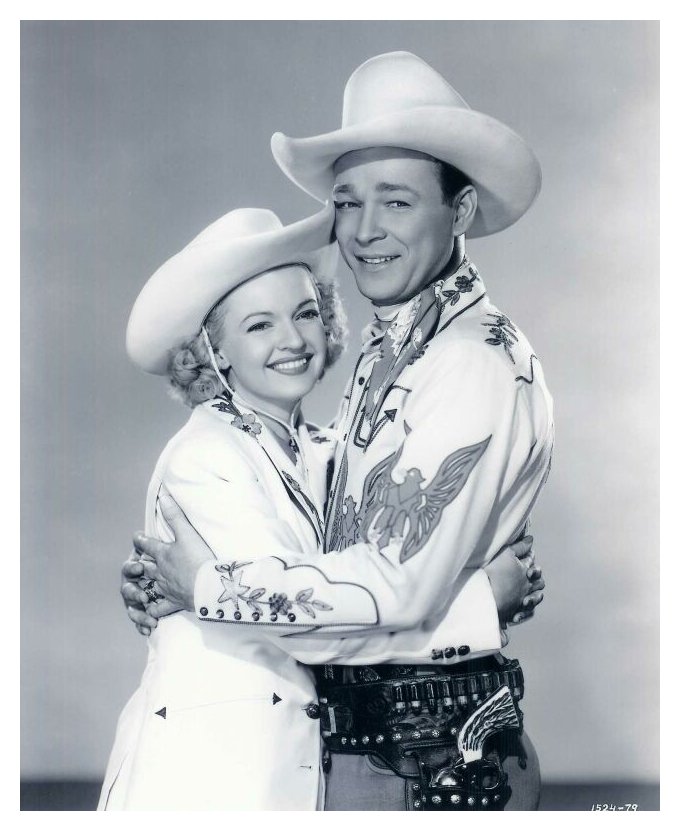 ---
---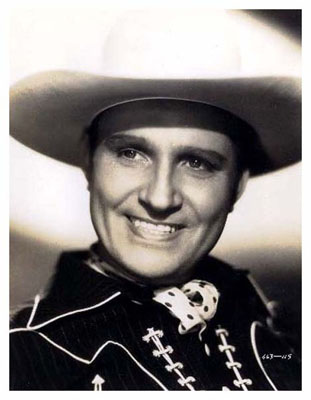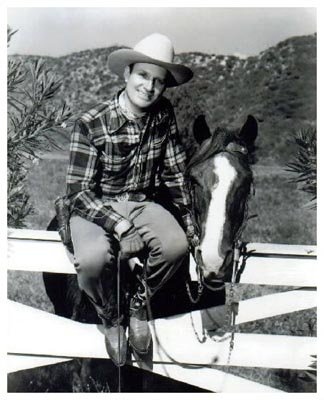 Gene Autry
---
---
---
Hopalong Cassidy
I never knew William Boyd from going to the movies, but I do remember watching
"Hopalong Cassidy Theatre" which was presented by one of our local channels.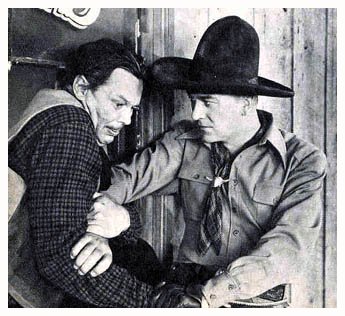 Boyd with baddie Boyd with James Ellison