Click Here If You Would Like To Go Back To Page One
"HORSE OPERA"
continues with Page 2
The TV COWBOYS
---
---
Television westerns took over the air waves in the fifties
and early sixties and it brought us such greats as :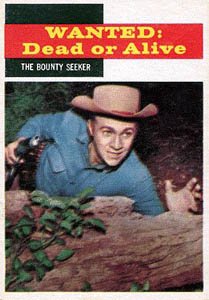 Steve McQueen James Arness Richard Boone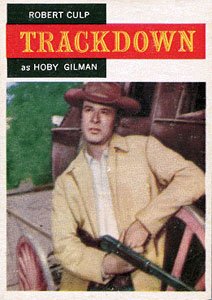 Robert Culp Dale Robertson Ward Bond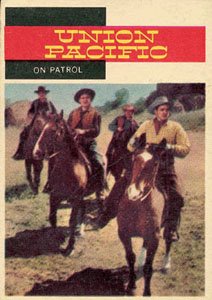 Dick Coogan John Payne Jeff Morrow
---
---

Josh Randall Roy Rogers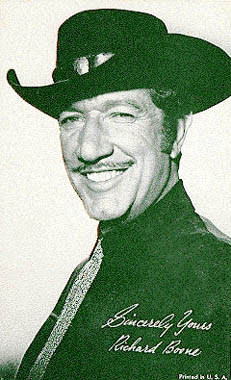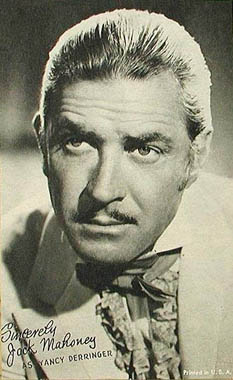 Paladin Yancy Derringer


Gunsmoke Zorro

---
---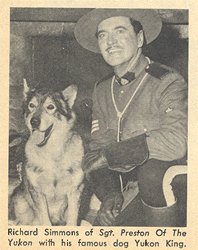 Yukon King Sky King
---
ZORRO
starring Guy Williams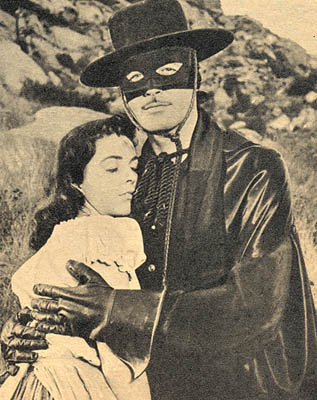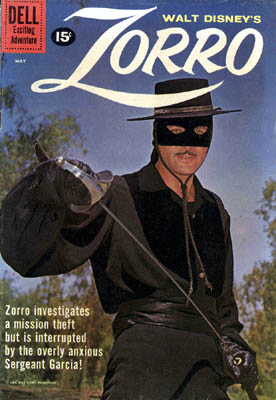 The Mark of "You Know Who" brought to you
each week by Disney and "Fresh-Up" Freddie.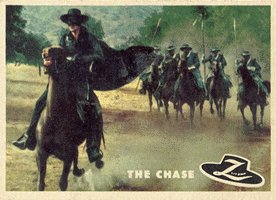 Guy Williams was Zorro/Don Diego
The original series was 78 half-hour episodes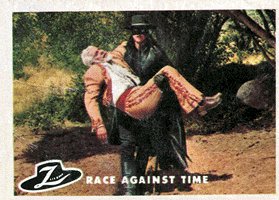 Britt Lomond as Capitain Monastario & Henry Calvin as Sgt. Garcia
George J. Lewis was Don Alejandro de la Vega (Don Diego's father)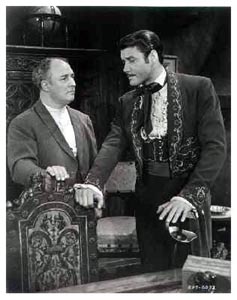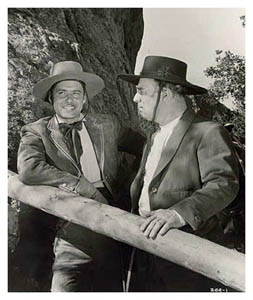 Don Diego's faithful mute (& deaf to everyone else) man-servant,
Bernardo was played by Gene Sheldon.
---
---
The Rifleman
This series ran from 1958-1963
with 169 b&w 30 minute episodes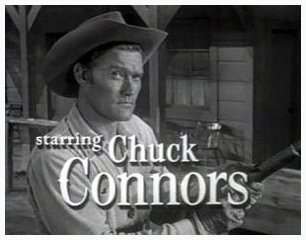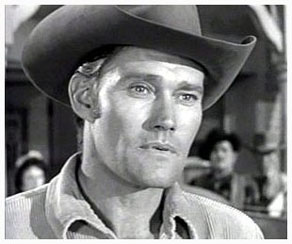 Chuck Conners as Lucas McCain Johnny Crawford as Mark McCain



Paul Fix as Marshal Micah Torrance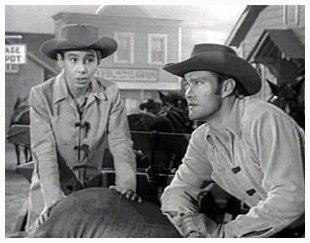 ---
---
The Deputy
This series ran from 1959 - 1961
with 76 b&w 30 minute episodes
Henry Fonda was Marshal Simon Fry
Alan Case was Deputy Clay McCord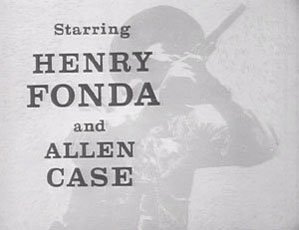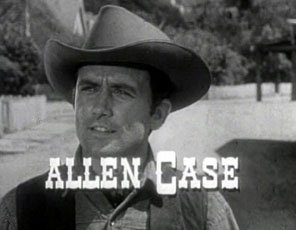 other semi-regular cast members:
Wallace Ford, Betty Lou Keim and Reed Morgan as "Sarge"
---
---
Wyatt Earp
this series ran from 1955-1961
with 266 b&w 30 minute episodes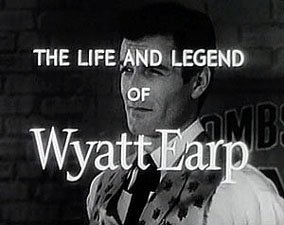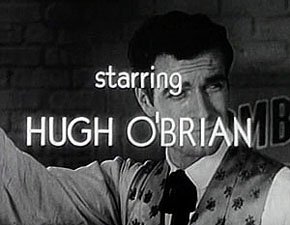 other semi-regular cast members:
Alan Dinehart III as Bat Masterson
Myron Healey as Dr. John "Doc" Holliday
Carol Stone as Kate Holliday
Dirk London as Morgan Earp
John Anderson as Virgil Earp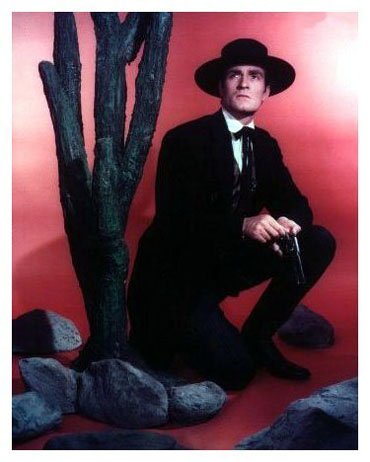 ---
---
Shotgun Slade
[1959-1960]
the western with the up beat jazz music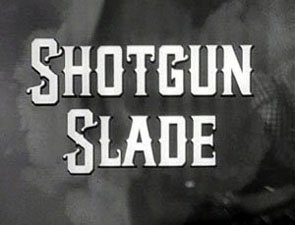 ---
---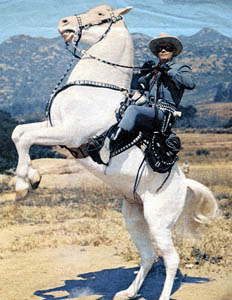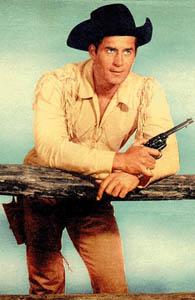 Clayton Moore Clint Walker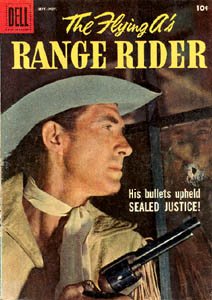 Jock Mahoney Mickey Dolenz

James Garner and Jack Kelly as Bret and Bart Maverick
They were joined periodically in the last year and a half
of production by Cousin Beauregarde who believe it or not
was Roger Moore. (Ivanhoe & The Saint & James Bond)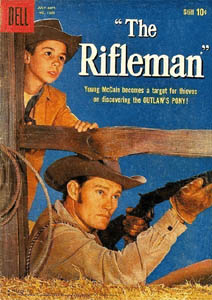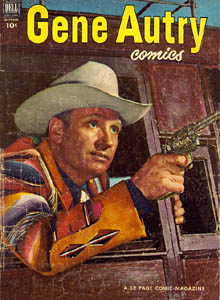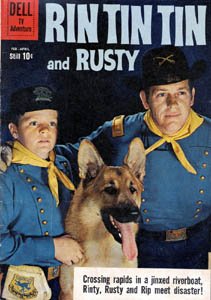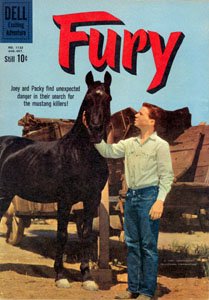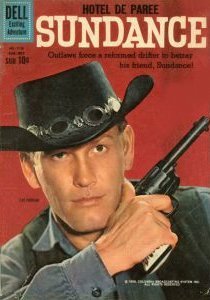 ---
---

THE LONE RANGER and TONTO
Clayton Moore and Jay Silverheels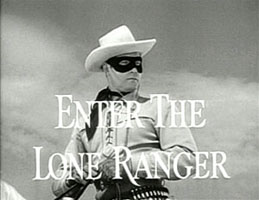 This is the story of one of the most mysterious characters
to appear in the early days of the West.
He was a fabulous individual.
A man whose presence brought fear to the lawless and
hope to those who wanted to make the frontier land their home.
He was known as "The Lone Ranger".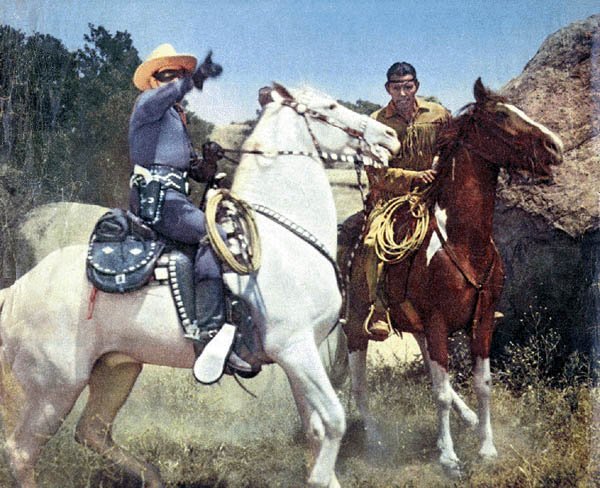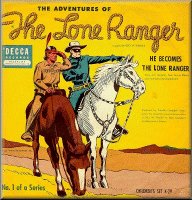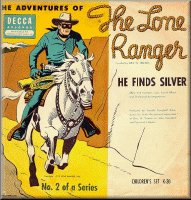 78 RPM records from pre 1960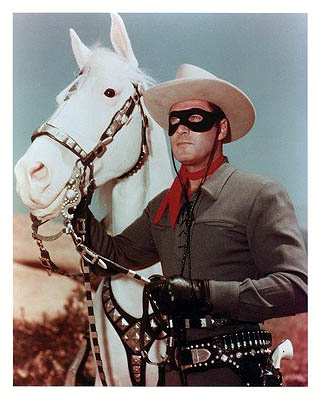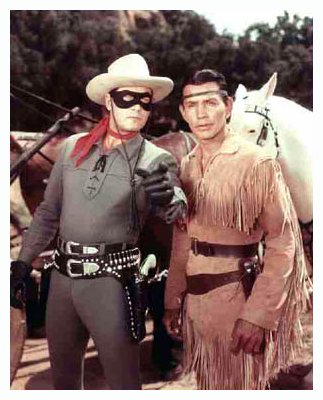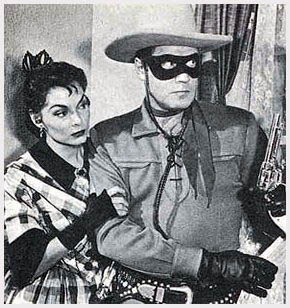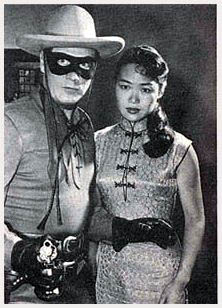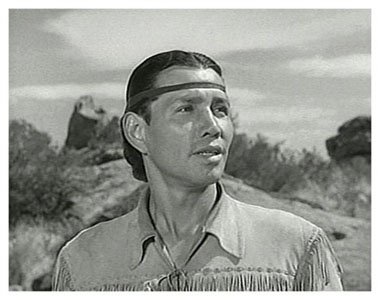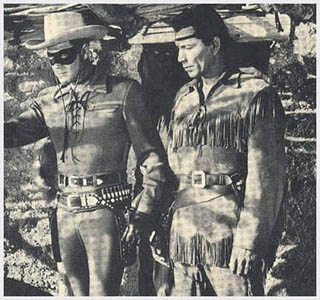 John Hart, (left) later famous for his role as "Hawkeye"
in the "Last of the Mohicians" series,
actually replaced Clayton Moore for the fourth season.


One story is that the sponsors wanted a taller, leaner more robust ranger,
but the public outcry was so great that they relented and returned Moore.
The other story is that Clayton was in a long contractual dispute.

The first episode of The Lone Ranger aired on September 15th, 1949.
The last episode (# 221) aired on June 5th, 1957.



Des Martin explains the seasons/episodes best at his
"THE CLASSIC TV ARCHIVE"

US western series 1949-57 221 episodes x 30 min
(182 bw + 39 color)

season 1 1949-50 (52 eps bw) Clayton Moore
season 2 1950-51 (26 eps bw) Clayton Moore
season 3 1951-52 (re-runs)
season 4 1952-53 (52 eps bw) John Hart
season 5 1953-54 (re-runs)
season 6 1954-55 (52 eps bw) Clayton Moore
season 7 1955-56 (re-runs)
season 8 1956-57 (39 eps color) Clayton Moore

John Hart was the Lone Ranger, in the fourth season,
from episode # 79, which aired on September 11th, 1952
until episode # 130 which aired on September 3rd, 1953.


Season six began with episode # 131 airing on
September 9th, 1954
with Clayton once more behind the mask.

---
---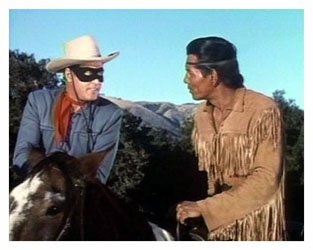 ---
---
Clayton and Jay also made two feature length movies:
The Lone Ranger (1956)
and
Lone Ranger and the Lost City of Gold, The (1958)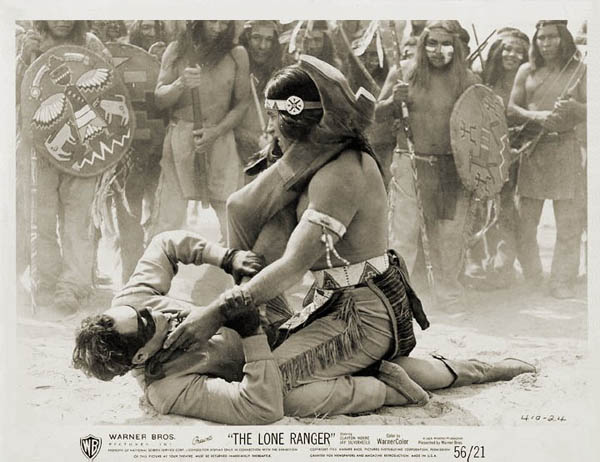 Clayton fights it out with Michael Ansara (Angry Horse).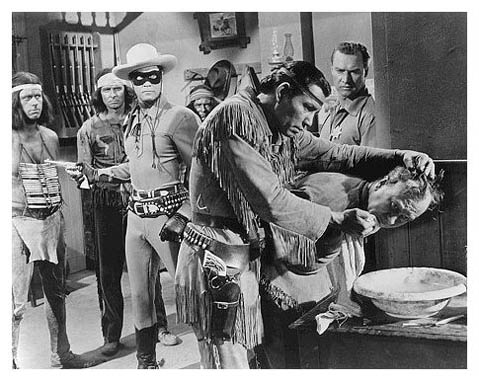 .. that's perennial bad guy, Robert J. Wilke getting the worst of it from
The Lone Ranger ..
---
---

THE ADVENTURES OF WILD BILL HICKOK
One of my favourite shows as a youngster was

"The Adventures Of Wild Bill Hickok"
starring
Guy Madison
as "Marshall James Butler Hickok"
and
Andy Devine
as sidekick "Jingles Jones".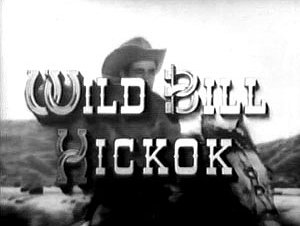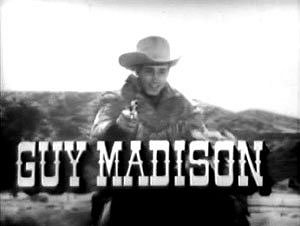 The series ran in half hour B & W episodes.



This article appeared in the Canadian Star Weekly in 1958.



Jingles rode Joker and Wild Bill rode Buckshot.
I still remember the opening of the show where
"Wild Bill" on Buckshot are outdistancing Jingles
on Joker and Andy yells out in his pleading raspy voice :
"Hey, Wild Bill. Wait for me."
---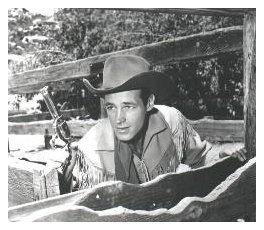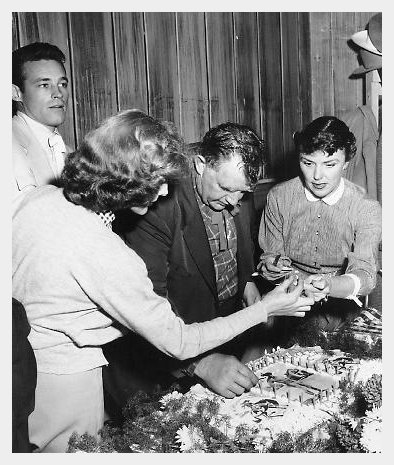 Andy's 50th Birthday - 1954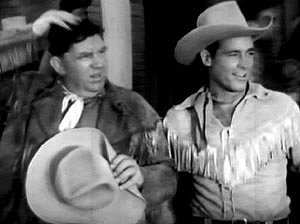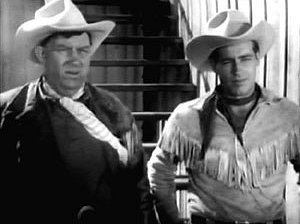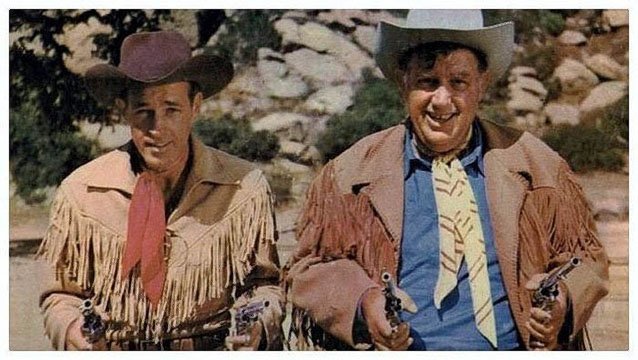 ---
I also remember having to choke down two boxes
of sugar pops so I could have the box tops and with
a little cash was able to order a "Wild Bill Hickok" shirt.
I remember being so disappointed when it came short sleeved.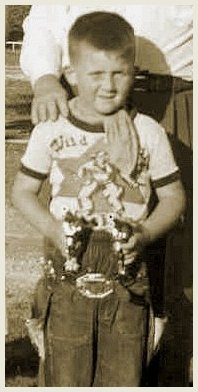 that's me (circa 1956) - cute eh !!!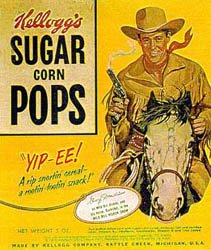 ---
---

THE ROY ROGERS' SHOW
starring
Roy Rogers, "King of the Cowboys",


Trigger, his Golden Palomino,



and
Dale Evans, "Queen of the West",


with
Pat Brady, his comical sidekick,


and
Roy's "Wonder Dog", Bullet.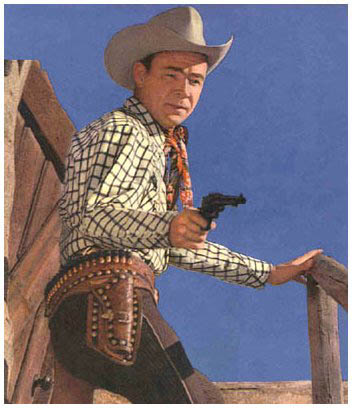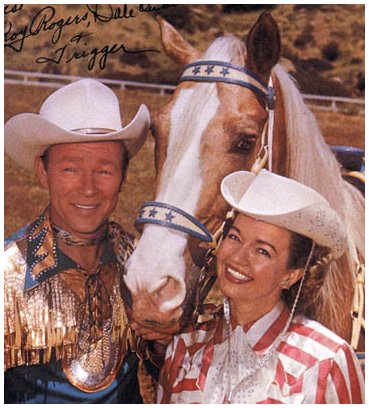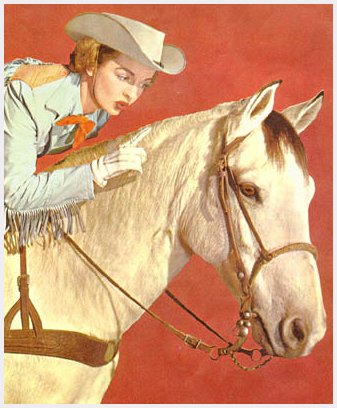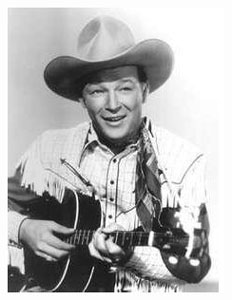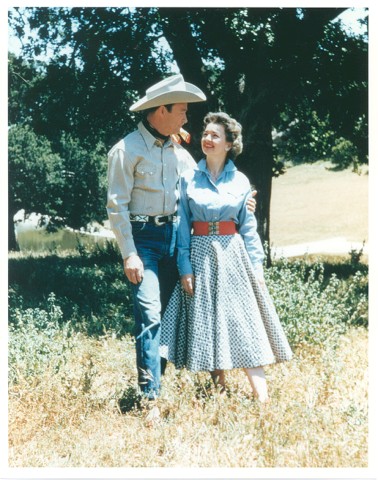 Sad to think they are both gone,
but will live in our memories forever.
---
---
Cowboys, Cowboys, Cowboys ! ! ! ! !
Everywhere you looked in the late 50's and early 60's,
you found Cowboys.
It was GREAT !!!
---
---
Des Martin's - The Classic TV Archive
http://ctva.biz/
click here
---
---
Go Back To The First Page of "HORSE OPERA"
---
Click Here To Go Back To Main Index Welcome Page
---