TARZAN 13 - RANGE RIDER - YANCY DERRINGER
ACE STUNTMAN - ACTOR
JOCK MAHONEY
Born Jacques O'Mahoney on February 7th, 1919 in Chicago, Illinois,
of French and Irish extraction, with some Cherokee thrown in.
Jock's birth certificate states he was born
Jack Joseph O'Mahoney.

To Vera from Cousin Jacques and to Bob (Vera's husband) from Jack.
Photo courtesy of Vera L. Warner, Jock's 1st cousin,
and her son, Thomas C. Warner, Jock's 1st Cousin, once removed.
Tom and his brother Jerry were surprised
to find this site dedicated to their Mother's cousin.
The Warner's all live in Kansas City, Missouri.
---

Ruth Regina (nee Miller) & Charles James O'Mahoney
Jack's parents
Photo courtesy of Vera L. Warner,
Jock's cousin on their Mother's sides.
Jock grew up in Davenport, Iowa and had planned to become a doctor.
He attended the University of Iowa where he excelled in swimming,
basketball and football.
---
During World War II he earned the rank of "flight instructor" in the Marine Corps.
---
After the war Jock moved to Hollywood, and in the following years,
earned his spurs as a top Hollywood stuntman, doubling for Jon Hall,
George MacCready, Gregory Peck, Errol Flynn and Randolph Scott.

At 6' 4" and normally around 220 lbs.,
Jock took to the back breaking work with a fever.

Errol Flynn's daring leap off the descending staircase in 1949's
THE ADVENTURES OF DON JUAN was actually Jocko.
Jock could apparently stand flat footed and leap over the small
of the back of a regular size horse.
---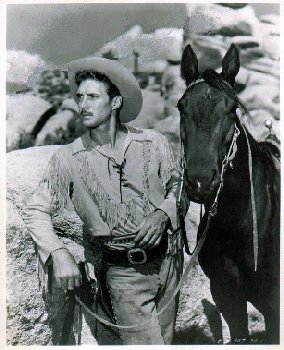 ---
Notable among his feats of stunt daring, was his work in
Columbia's Charles Starrett Westerns. When it was time
for Starrett as the masked black figure, "The Durango Kid"
to jump into the saddle, it was actually Jock getting all the
bumps, cuts, and bruises.

The movie public was always assured of hard fighting,
fast riding thrills in a Durango Kid movie.

Ted Mapes had been Starrett's double for sometime but when Jock
replaced Mapes, the stunts and action became even more furious.
Starrett was quoted as saying:
"I certainly had the best stuntmen."
"Jocko was just beautiful. He was like a cat."

At a western film festival in the eighties, Jocko recalled:
"Columbia left the stunts up to me."
"I'd walk around the location and find interesting things to do,
and then they would plain just write them into the script."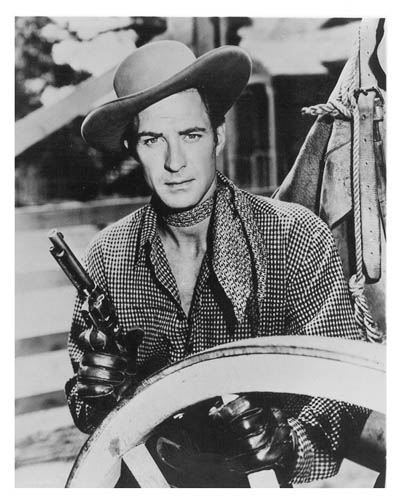 Someone at Columbia also noticed that Jock could act,
and he began receiving parts in the Starrett series :
ROARING RANGERS (1946),
THE FIGHTING FRONTIERSMAN (1946),
SOUTH OF THE CHISHOLM TRAIL (1947),
THE STRANGER FROM PONCA CITY (1947),
BLAZING ACROSS THE PECOS (1948),
TRAIL TO LAREDO (1948),
BLAZING TRAIL (1949),
HORSEMEN OF THE SIERRAS (1949),
BANDITS OF ELDORADO (1949),
RENEGADES OF THE SAGE (1949),
FRONTIER OUTPOST (1949),
LIGHTNING GUN (1950),
TEXAS DYNAMO (1950)

The Durango Kid - Charles Starrett
---
Jock also takes a credit from a 15 chapter serial
SON OF THE GUARDSMAN (1946) and in the musical western
SWING THE WESTERN WAY (1947) in which he was "Chief Iron Stomach".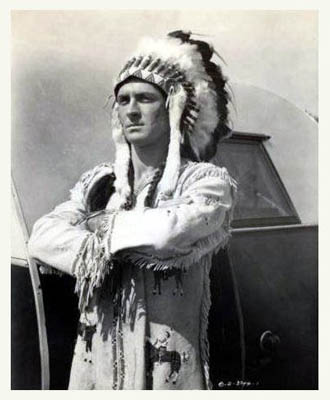 ---
In 1949 he was in THE DOOLINS OF OKLAHOMA with
Randolph Scott and RIM OF THE CANYON with Gene Autry
and SMOKY MOUNTAIN MELODY with Eddie and Roy Acuff.
---
Jock also gets a credit, although I have never been able to pick him out, in
JOLSON SINGS AGAIN (1949).
---
Other credits include acting roles in five of THE THREE STOOGES movies :
OUT WEST (1947); SQUARE HEADS OF THE ROUND TABLE (1948),
FUELIN' AROUND (1949), PUNCHY COWPUNCHERS (1950),
KNUTZY KNIGHTS (1954) and HOT STUFF (1956), which is
a remake of Fuelin' Around (1949) with some extra footage.
An endearing clumsily heroic "Arizona Kid"
was created here by Jock inside this series.

Photo courtesy of Thomas C. Warner, Jock's 1st Cousin, once removed.
---
Jock went through several name changes early in his career.
From his given name of Jacques O'Mahoney, to Jack Mahoney, Jock O'Mahoney,
and finally settling with Jock Mahoney.
---
Starring roles in serials followed bringing a new matinee idol
to the screen in :
CODY OF THE PONY EXPRESS (1950),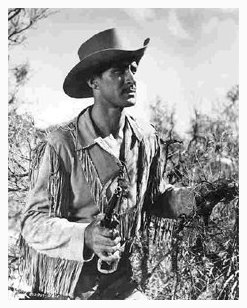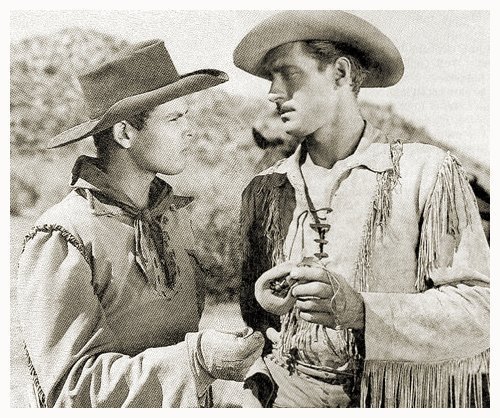 ROAR OF THE IRON HORSE (1950),
the Australian "Western" feature
"KANGAROO KID" (1950),
plus
GUNFIGHTERS OF THE NORTHWEST (1954)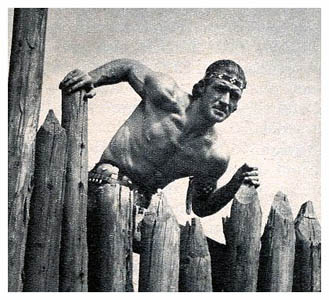 ---
---
1950 saw Jock in "THE NEVADAN" (1950) with Randolph Scott;
DAVID HARDING, COUNTERSPY (1950) and strangely enough
another cowboy musical HOEDOWN (1950) with Eddie Arnold.

In 1951, apart from being in THE TEXAS RANGERS (1951)
and in Randy Scott's SANTA FE (1951),
Jock again re-joined Charles Starrett and Smiley Burnette
to do stunts for Starrett in Columbia's CYCLONE FURY(1951).
It is here that Mahoney does an awesome stunt as the
"Durango Kid", leaping over two horses and onto his own.

Jock also takes a starring role with Starrett and Burnette in PECOS RIVER (1951).
---
---
Funny Note :
During the filming of Santa Fe (1951), besides
playing a villain, Jock was also doubling for Randolph Scott.
Jock was having a fight scene as Scott with another stuntman
on a moving flatbed train car.
After a brief fight Mahoney as Scott is to throw the other double
off the moving train.
The other double was fearful of injury or he just couldn't pull it off.
Jock agreed to go off the train.
For the final shot they switched clothes and the other double threw
Jocko off the moving train.

In essence Jocko threw himself off the train.
---
---
By this time television had gained momentum and Gene Autry's
Flying "A" Productions cast Jock in the role of the popular

Jock on "Rawhide" and Dick on "Lucky"
Teamed with former child star Dick Jones
(the voice of Pinnochio)
as "Dick West - All American Boy".
"THE RANGE RIDER" first aired on April 26th, 1951,
and went on to make 78 half hour episodes.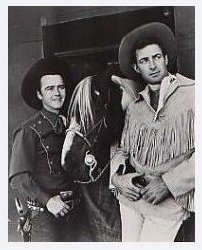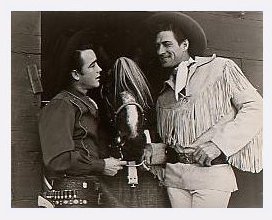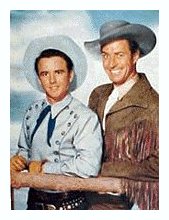 Dick Jones as "Dick West" & Jock Mahoney as the "Range Rider"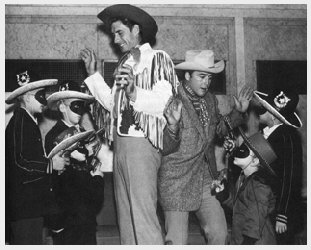 Jones, Autry & Mahoney "sticken' em' up" for the kids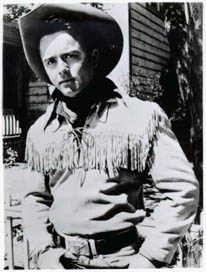 ---
---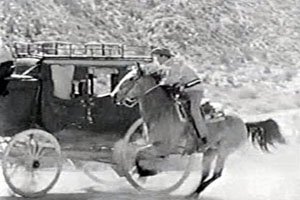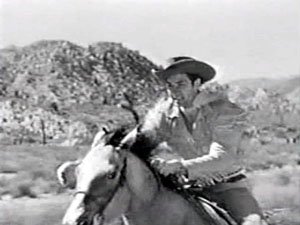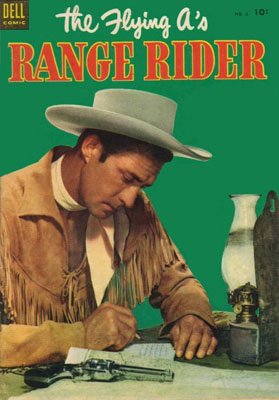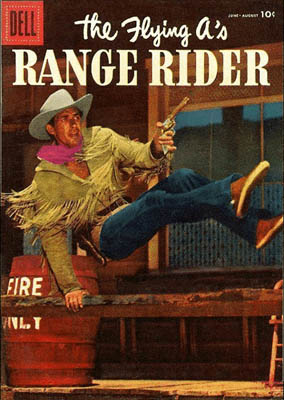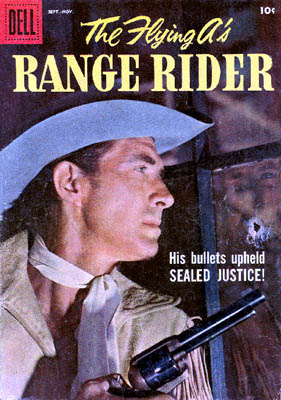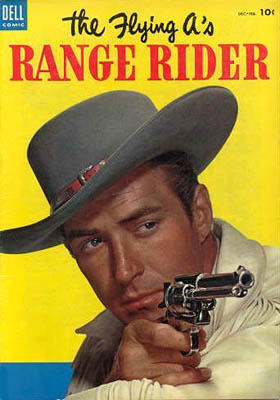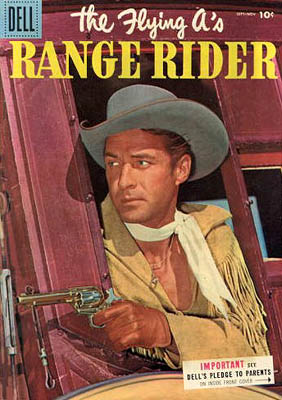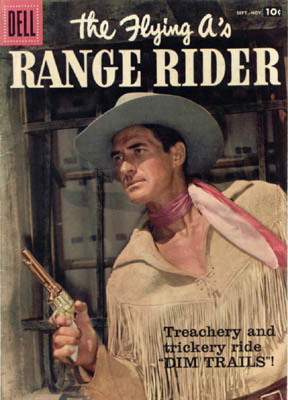 ---
click here to go to the Des Martin
awesome episode guide for
"The Range Rider"
---
---
---
---
---
Dick(ie) Jones went on in 1955 to make another television
western series for Autry's "Flying A Productions",
"Buffalo Bill Jr.".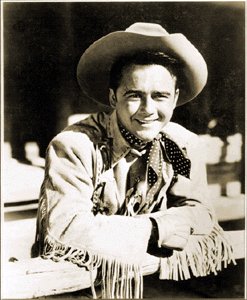 ---
---
It was about this time in that Jocko met actress Margaret Field
(aka Maggie Mahoney).
She appeared several times on The Range Rider series and
on the later Yancy Derringer television series.
Maggie had a daughter from a previous marriage and her name was
Sally, more like SALLY FIELD, who went on to become "Gidget"
and the "Flying Nun" and became one the finest actresses in this century.
I believe Sally's first screen appearance was sitting (no lines)
on the back of a settler's wagon on the "Range Rider".
Jock and Maggie were married in Mexico.
---
A&E's Biography along with Margaret O'Mahoney gave the following info :
Richard and Margaret Field divorced on August 25th, 1951, leaving Margaret,
a contract player for Paramount struggling to survive with two young children,
Richard and Sally. They lived at Margaret's mother's house for two years while
she took parts in "B" films. In 1953 Margaret married her tall handsome suitor Jock.
Things improved for Mararet's family as they moved into a sprawling Hollywood home.
Margaret described Jock as being a very erratic husband and father.
From A&E Margaret said: "One moment he was sweet, loving and warm,
and the next, mean, ugly and there was just no pleasing him.
Jock and Sally locked horns many times as the defiant teenager rebelled against
her overbearing step-father. One thing Jock and Sally did share was a love of acting.
Sally was a head cheerleader at school and a star in the school's drama club.
In the summer of 1964 Jock suggested Sally enroll in the
"Summer Acting Workshop" at Columbia.
Sally had done an audition which was attended by some casting agents.
They stopped Sally and her mother on the way out of the building and
told her they wanted to offer her a part in a television series.
On September 15th, 1965 ABC's "Gidget" made it's one season debut with
Sally Field as the star..........and as they say : " the rest is history ".

---
Jock still had time in '52 to return again to
Starrett's westerns in :

SMOKY CANYON (1952);
THE ROUGH TOUGH WEST (1952);
LARAMIE MOUNTAINS (1952);
THE KID FROM BROKEN GUN (1952);
JUNCTION CITY (1952);
and
HAWK OF THE WILD RIVER (1952)
---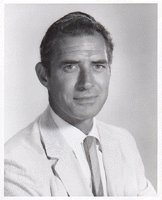 Universal-International Pictures picked up
Jock's option and he starred in :

OVERLAND PACIFIC (1954);
SHOWDOWN AT ABILENE (1956);



Jock with Martha Hyer

I'VE LIVED BEFORE (1956);
A DAY OF FURY (1956);
scene from DAY OF FURY (1956)
AWAY ALL BOATS (1956);
a scene from AWAY ALL BOATS (1956) with Jeff Chandler, and former Tarzan Lex Barker (far right).
The seaman with the headset (talker) is David Janssen.
Jock portrayed seaman Alvick, the sharpshooter who blows up the mine.
The story of the USS "Belinda".
JOE DAKOTA (1957);
BATTLE HYMN (1957);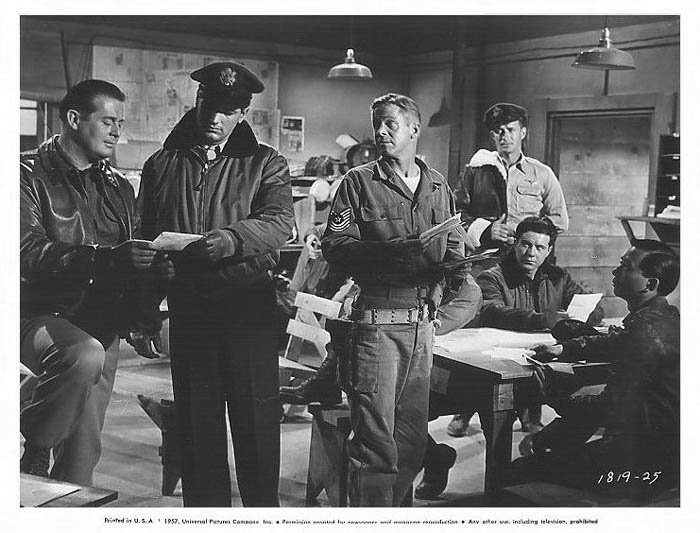 Jock as Major Moore, is in some awesome company in BATTLE HYMN (1957)
SLIM CARTER (1957);





Jock and child actor Tim Hovey from SLIM CARTER (1957)

A reader of these pages, who I only know so far as GNDZERO
sent me these great scans of a 45 promo, that was released
with SLIM CARTER (Jock sang in this movie).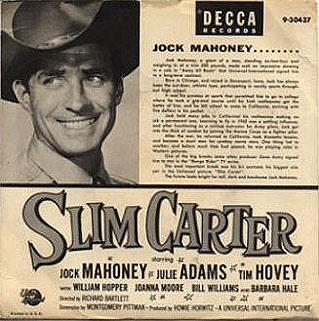 ---
---
THE LAND UNKNOWN (1957);
Shawn Smith & Jock in a scene from THE LAND UNKNOWN (1957)

Shawn Smith whose real name was Shirley Patterson was actually born, on Dec. 26th, 1922,
in my hometown of Winnipeg, Manitoba, Canada.
LAST OF THE FAST GUNS (1958);


Linda Cristal, Lorne Greene and Jock in a scene from
LAST OF THE FAST GUNS (1958)
only a year before Canadian Lorne Greene
takes over control of the Ponderosa on "Bonanza"

A TIME TO LOVE AND A TIME TO DIE (1958);
MONEY, WOMEN AND GUNS (1958);
THREE BLONDES IN HIS LIFE (1960)
a scene from "Three Blondes In His Life" (1960)
---
Jock always did his own stunts and in 1958 our man of action
landed another TV Series in CBS's
"YANCY DERRINGER"
with X Brands, as his faithful Indian Companion Pahoo-Ka-Ta-Wah.
The show was not your regular style western and came off a little bit
too sophisticated, and was dropped after 34 episodes.

The series ran during the 1958-59 season in 30 minute b&w episodes

The series regular co-stars were Kevin Hagen as John Colton,
and Julie Adams as Amanda Eaton.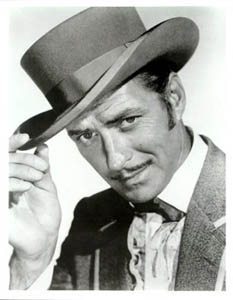 Other recurring cast members were :
Frances Bergen as Madame Francine
Lisa Liu as Miss Mandarin
Richard Devon as Jody Barker
Bill Walker as Obadiah
Robert McCord III as Capt. Fry

CBS Thursdays 8:30 pm Eastern Time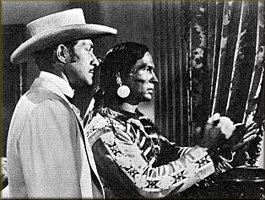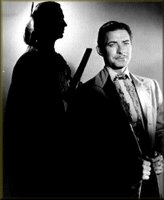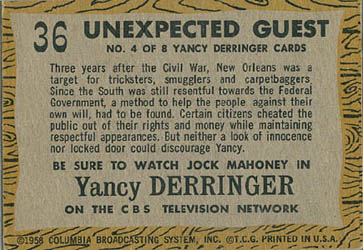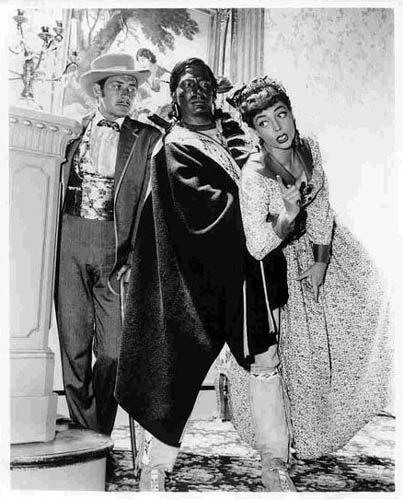 ---
---
click here to go to the Des Martin
awesome episode guide for
"Yancy Derringer"
---
---
click here to go to page 2
of the
Jock Mahoney Tribute
---
---
Click Here To Go Back To The Main Index Welcome Page
---
---