---
---
Page Two of Jock's Story
---
---
Now for a little Tarzan Trivia :
In 1949 when Weissmuller was finally ready to give up the role,
after 12 movies, Jock tried out for the casting call for a new Tarzan,
but lost out to Lex Barker.
In 1959 for "TARZAN'S GREATEST ADVENTURE" there was with
Gordon Scott a team of relative unknowns.
The cast included Anthony Quayle, and Sean Connery as villains.
Tarzan spoke normal english, for only the 2nd time since Herman Brix's
12 chapter serial "THE NEW ADVENTURES OF TARZAN" (1935).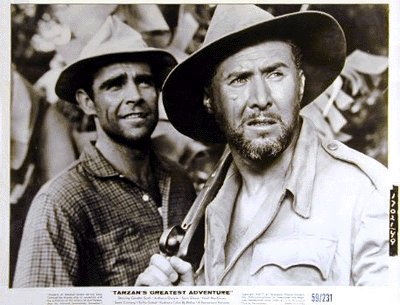 Sean Connery & Anthony Quayle
"TARZAN'S GREATEST ADVENTURE" was fairly
successful which led Sy Weintraub to make another.
Weintraub called Connery to see if he wanted to play
a villain again in "TARZAN THE MAGNIFICENT".
Connery replied that he was sorry, but "no, two blokes" had just exercised
an option on him for $75,000.00 to play in some kind of a spy movie.
(Sean also hated the location shooting in Africa)
(and Weintraub had only reportedly paid him $6500 previously.)
---


Weintraub found Mahoney available and signed him
to play one of the lead villains "Coy Banton".

The other main lead went to veteran actor John Carradine
as the grizzled father of the Banton Clan, "Able Banton".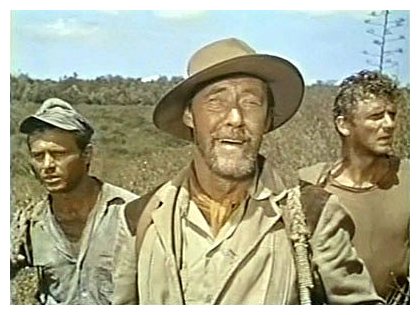 The Banton Clan
Gary Cockrell as Johnny, John Carradine as Abel, Al Mulock as Martin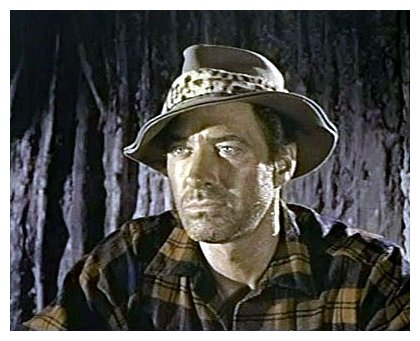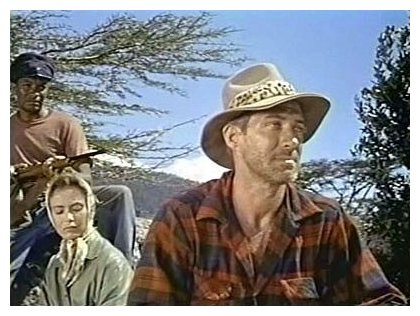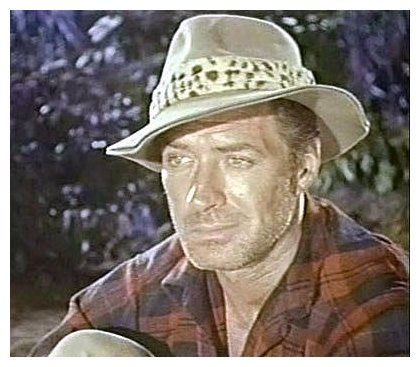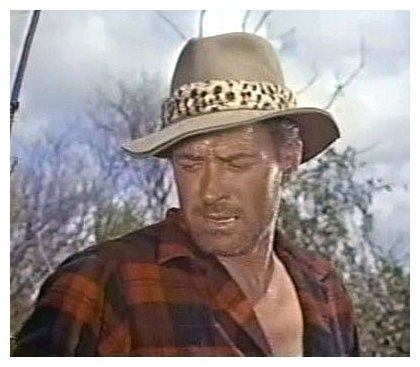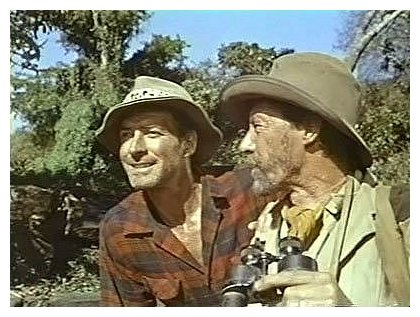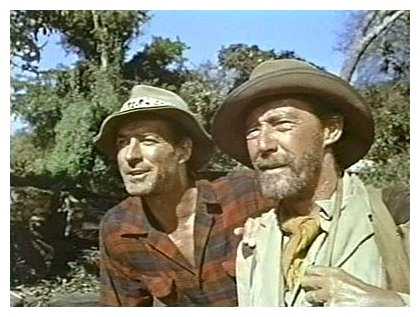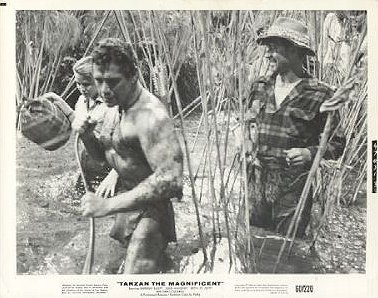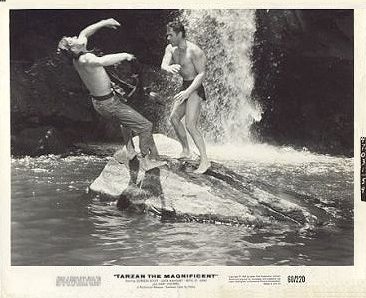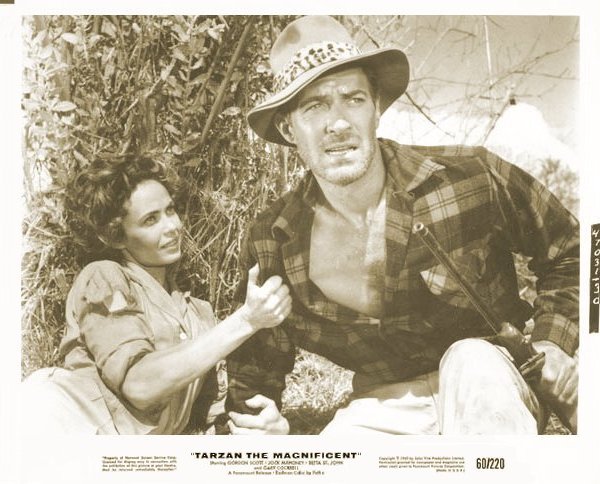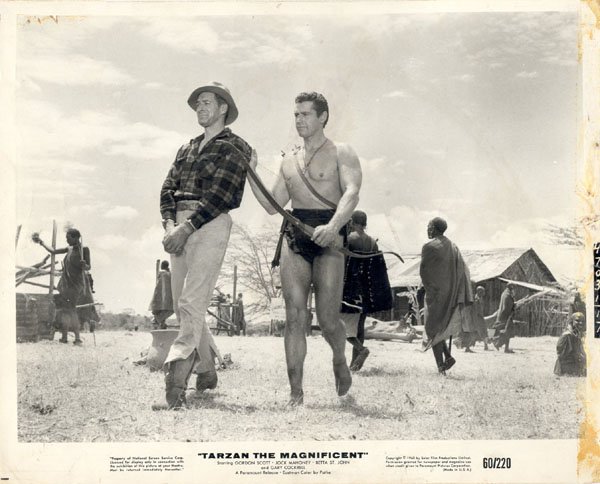 ---

Al Mulock, Gary Cockrell & John Carradine
The Banton's search for Coy and his captor Tarzan in the Bantu Village
---
Note: Character Actor Al Mulock was the only baddie from "TGA"
to take on another role in this movie, at Weintraub's request,
as Coy's brother Martin Banton.
Mulock apparently committed suicide in 1969,
while acting uncredited as "Knuckles" in
"Once Upon A Time In The West".
---
"TARZAN THE MAGNIFICENT" (1960)
in my opinion is the best Tarzan movie ever made.
The plot is fast paced and the acting by all superb.
Tarzan The Magnificent was the first Tarzan "sound" movie
to eliminate Tarzan's victory yell.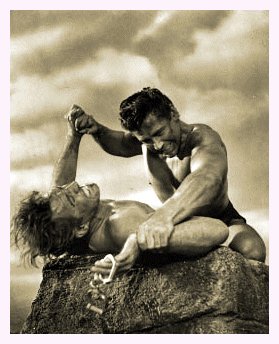 Coy Banton and Tarzan fight it out.


---
Also in 1960, Jock was set to star in another television series,
"Simon Lash", but alas, the pilot failed to attract the networks.
"Simon Lash" was a character created by Frank Gruber in the
late forties, about a cynical ex-soldier, ex-lawyer, turned P.I..
---
In 1962 Jock also starred in RUNAWAY GIRL.
---
Gordon Scott was done with being Tarzan,
and Weintraub knew he had to look around for a replacement.
He realized he had had a popular replacement before him all along in
Jocko,
after watching the rushes from Tarzan The Magnificent.
---



Jock was thrilled to play a boyhood favourite, and in 1962 at the age of 42,
Jock Mahoney became Tarzan No. 13
in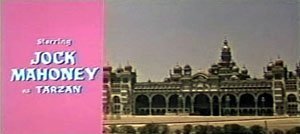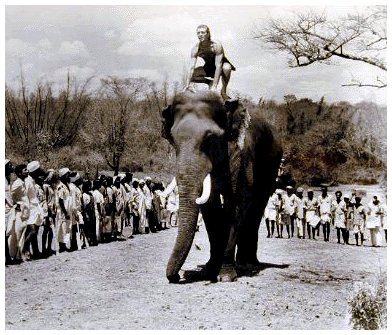 The movie was shot on location and the script was fashioned after a real life
situation, where a valley was being flooded by the construction of a dam.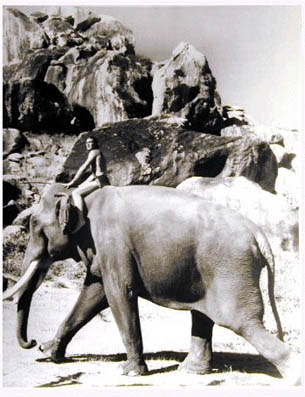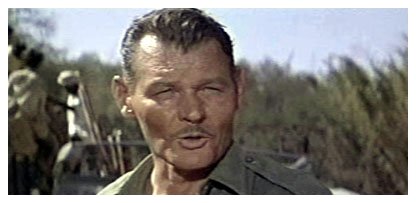 Leo Gordon as Bryce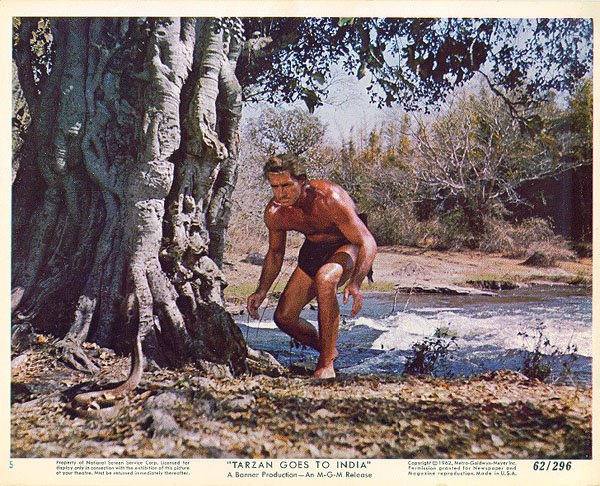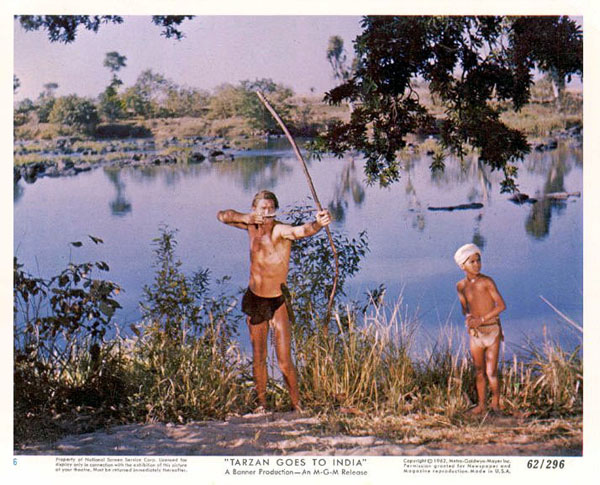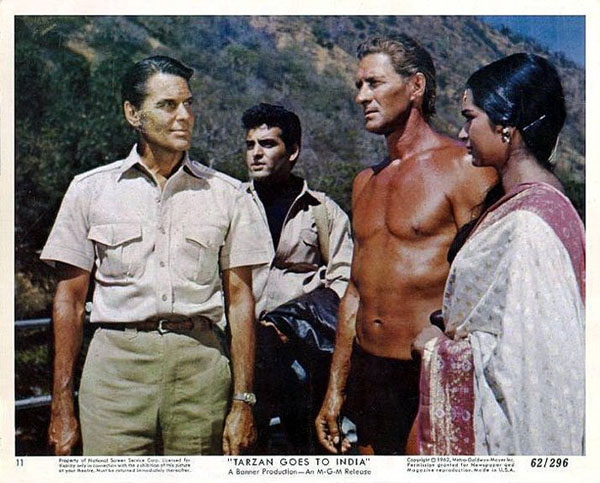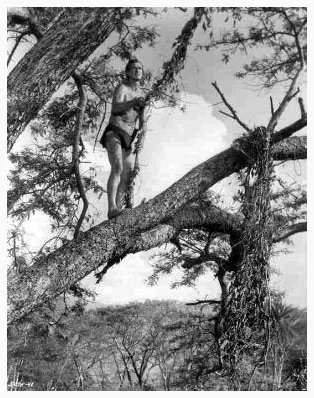 I believe that "TARZAN GOES TO INDIA" was the first
Tarzan Movie to gross over one million dollars, for the
distributor alone, Metro-Goldwyn-Mayer, in it's initial run.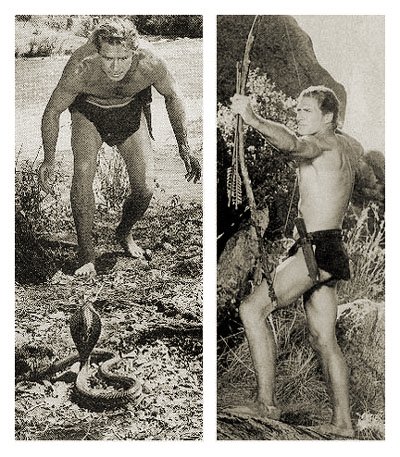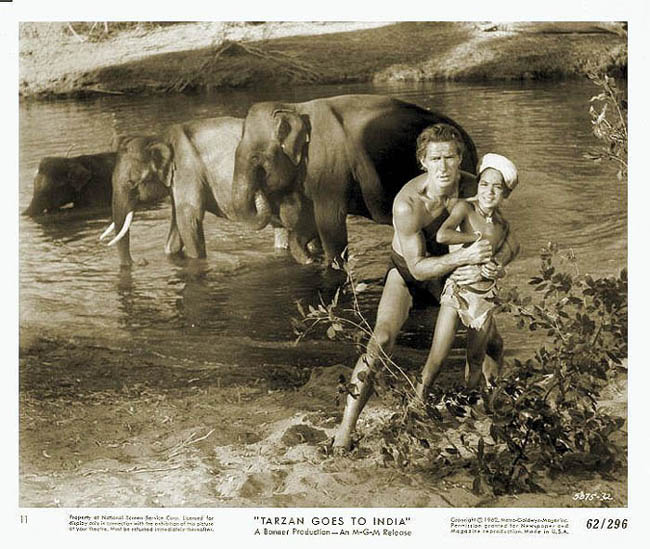 ---
Weintraub had a winner and set about to star Jock in another epic.
This time he set the location in Thailand and 1963 saw the release of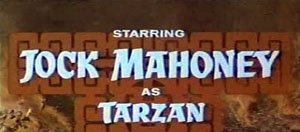 which co-starred Woody Strode.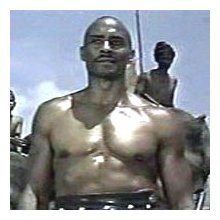 ---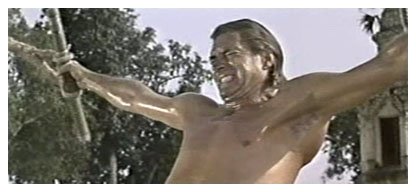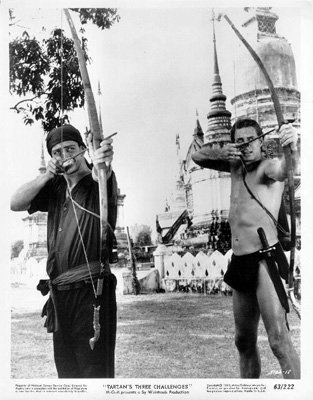 Misfortune befell Mahoney, as during filming he contracted
"dengue fever", "dysentery" and finally "pneumonia".
Mahoney kept shooting, but lost a great deal of weight and strength,
falling to 175 lbs. from his normal 220 lbs., which became evident
throughout the movie, especially when matched against the bulky Strode.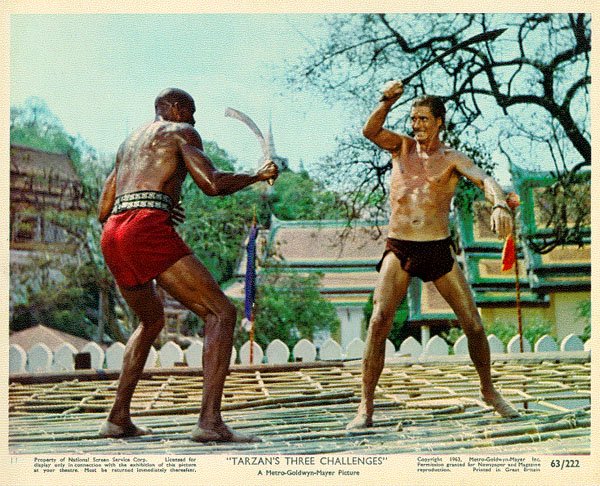 A sacred Thai Shrine's interior, "The Temple of Buddha's Footprint",
was photographed for the first time ever, during this movie's filming,
and the crew worked without shoes and in near complete silence.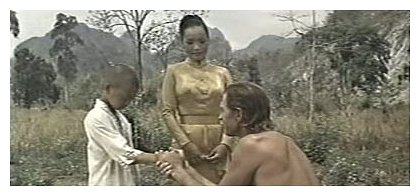 Tarzan bids farewell to Kashi and Cho San

Jock takes a break during filming.
---
Weintraub still had his eye on a possible television series for Tarzan
and probably felt Mahoney was too old and settled to keep audiences
attention, and they came to an agreement that Jock would relinquish
his role as "Lord of the Jungle".

I believe this could have been a fatal mistake for Weintraub and Mahoney.
I'm sure Jocko would have appealed to older and younger viewers, as a more
mature Tarzan, and still capable of doing his own stunts once his health returned,
and would not have been so injury prone as subsequent Tarzan actors such a
Mike Henry and Ron Ely.
---

Oliver Drake (dir. & prod.), Jock,
Dorthy Gibson (Hoot's wife) and Chill Wills
at a Vegas Land Promotion in 1963.
---
Some more movie parts :
CALIFORNIA (1963), MORO WITCH DOCTOR (1964),
THE WALLS OF HELL (1964), ONCE BEFORE I DIE (1965),
MARINE BATTLEGROUND (1966), THE GLORY STOMPERS (1967),
BANDOLERO (1968), PORTRAIT OF VIOLENCE (1968),
and THE LOVE BUG (1969).(uncredited)

Jock readies himself in "The Walls Of Hell" (1964)
Mahoney began making guest appearances on television shows such as
Banacek, Emergency, and Batman where he was Catwoman, Julie Newmar's
henchman Leo in a two part episode.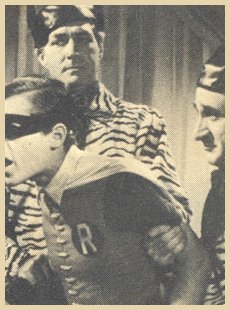 ---
In 1966 along came Tarzan for television and Ron Ely
(former late arrival "Aquanaut") was the new "Lord".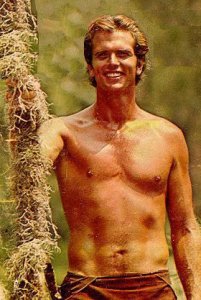 In the second episode, titled "The Ultimate Weapon",
guess who's playing stricken game warden Hoby Wallington.
Right On.
Our man JOCKO.
(eps. 1-2 - The Ultimate Weapon)
Jock appeared twice more on the first year of the series.
The most notable was a double episode, where Jock plays an evil colonel.
(eps. 1-7 & 8 - The Deadly Silence)
Jock and Woody Strode are together again, with Strode playing Sgt. Marshak.

This is later edited and released as a movie titled
"TARZAN'S DEADLY SILENCE". (1970)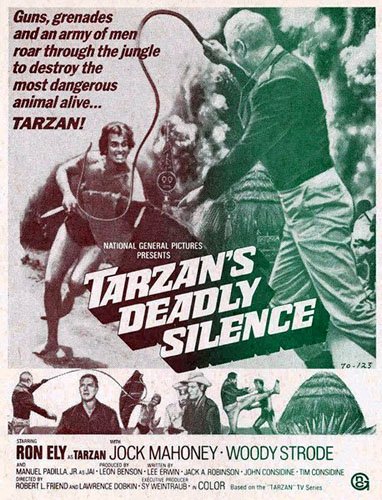 Jock's other guest appearance on TV's "Tarzan"
as Chambers in an episode titled "Mask of Rona".
(eps. 1-23 - Mask of Rona)
---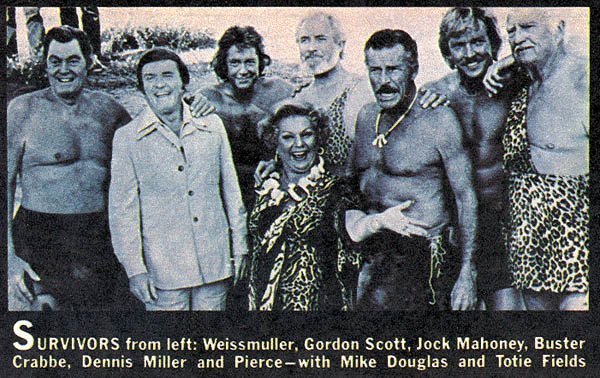 1975
---
In 1973 Jock was in THE BAD BUNCH (1973) and that was
the same year, while filming a television episode ("THE HOOTS")
of the original "Kung Fu" series with David Carradine,
Jock suffered a stroke.
Several years of recovery were required, but he managed to pull
through it and went back to guest appearances and training horses.
More guest spots on Hawaii Five-O, The Streets of San Francisco (2),
The Master, BJ and the Bear, and the Fall Guy (3) followed.
In 1975 he also starred in THEIR ONLY CHANCE (1975).
By this time Sally Field's boyfriend was Burt Reynolds and in Jock's
final movie appearance he starred with his famous step-daughter briefly
as the old man in the wheelchair who goes sailing off the chinese style
bridge in "THE END" (1978).
Reynolds, based the story line of HOOPER (1978)
on Jocko's life, in recognition of his stuntman-actor career.
Brian Keith played the aging stuntman who's character name was
"Jocko Doyle".
Jock's daughter Princess (O'Mahoney)
was also in this movie as "Wanda".
---
More Tarzan Trivia
The Derek's, John and Bo were remaking, for the third time,
"TARZAN THE APE MAN" (1981) in Sri Lanka.
John wanted some of the stunt players and hired locals to do
an ascent up a sheer rock face, without much regard for safety.
The stunt co-ordinator, who refused, was fired on the spot.
Miles O'Keefe (Tarzan), who had already been to see Mahoney,
before leaving the states, to learn some tree swinging techniques,
suggested they hire Jocko.
When Mahoney arrived and evaluated the stunt the Derek's wanted
to do, he also told them flatly to "forget it - much too dangerous".
The Derek's finally agreed and Jock remained on as the stunt
co-ordinator for the balance of the movie, for which he took film credit.
---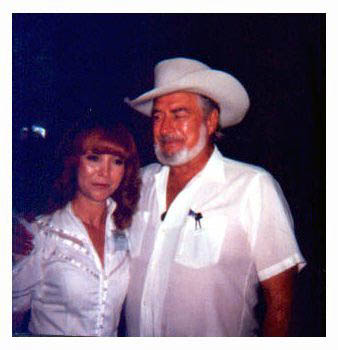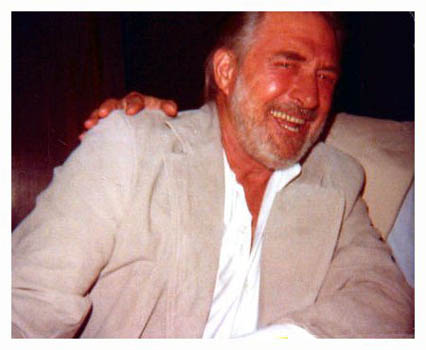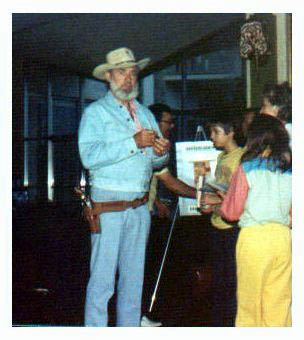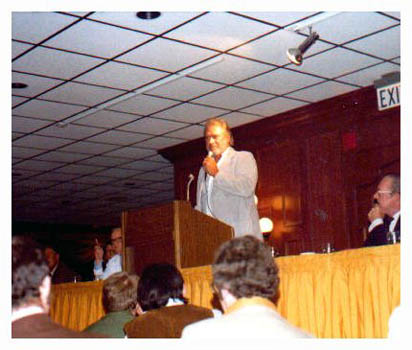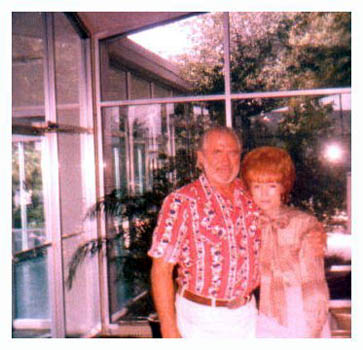 In the late 70's and in the 80's Jock attended many film festivals,
as is evident from the above photos.
Photos courtesy of Marie from Knoxville, TN.
Marie says: "I first met Jocko in Memphis in 1975 and
saw him twice more in Knoxville in 1983 and 1986."
Thanks, Marie
---
---
---
This site went down in the summer of 2008, because I was switching
ISP providers, and shortly after I got it back up, I received these
email replies, from Gene Ryals of Burbank, California.
Thanks Gene
---
~ ~ ~ ~ ~ ~ ~ ~ ~ ~ ~ ~ ~ ~ ~ ~ ~ ~ ~ ~
Bob,
Thanks for your reply.
I haven't had any contact with Autumn since the memorial we had for Jocko
at the Sportsman's Lodge in L.A. shortly after he died.
I ran into Princess a couple of years ago at CBS Studio Center (The old Republic Studios)
where I used to work in secuity.
She is still doing A.D. work on films and t.v. shows. Don't know if Dick has seen your website.
I'll ask him the next time I talk to him.
Will scan those pictures for you and send them.
Gene
~ ~ ~ ~ ~ ~ ~ ~ ~ ~ ~ ~ ~ ~ ~ ~ ~ ~ ~ ~
Bob,
Here are the images.
The picture IMG 0007 with me, Jock and Dick was taken in 1978
by Joe Bowman at the ABC special "When the West was Fun".

The other picture is me, my wife, Sherri Ryals (blue dress), Dick Jones, my Mom, Mert Ryals and Jock Mahoney
taken in August 1989 by Rob Word at the Golden Boot awards, 4 months before Jocko passed away.
My Mom passed away in October 1993. She used to love the Golden Boot awards.
The second one IMG 0005 is me, doing my John Wayne thing,
just before I left for the Golden Boot awards in August 2007.
Feel free to use all pictures and the belt buckle image on your web site.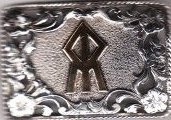 Thanks,
Gene
My Internet Friend
Gene Ryals
passed away on May 23rd, 2014 at 70 years of age.

---
---
---
I don't remember the exact year but, about 1984 or 1985,
on one of those popular stuntman shows Jocko was awarded
"Stuntman of the Year",
for his memorable work of the past.
---

Jock Mahoney passed away, December 14th, 1989


in Bremerton, Washington.

He died of an apparent stroke.
He had been hospitalized as the result of an auto
accident that had occurred two days earlier,
just north of Poulsbo, Washington, which is about
15-20 miles north of Bremerton.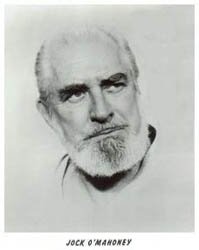 Jock was 70 years of age

---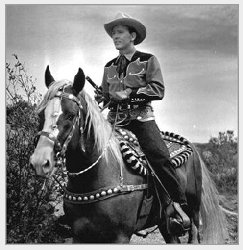 Jimmy Wakely on Sonny

Jimmy Wakely, singing cowboy of the 40's & 50's
and Jock were good friends as is substantiated by
a letter I received from Jimmy's son Johnny.

Johnny wrote :
" I have known Jocko for many years and felt very close to him.
When my father was ill Jocko found out and would visit two to
three times a week for most of the last two years of my dad's life.
Even when he was sick he would stop by dad's hospital room and
stand in the door with a mask on his mouth and say,
"Hi Jimmy, hi Johnny, I can't come in as I have a cold but I just
wanted to say I love you Jimmy....get well!". I moved here to Seattle
and never knew Jock had moved to Bremerton until I read his obit.
I felt so bad that I didn't know he was 45 minutes away and in the hospital. "

Sadly Johnny Wakely (born Jan.29th, 1944) passed away on Dec. 22nd, 2001.

---
---
IMDb reports the following people in Jock's personal life :
Spouse : Lorraine O'Donnell (1940's)
2 children, Kathleen & Jim
Spouse : Margaret Field (1952-mid 1960's);
1 daughter, Princess (O'Mahoney)
& 2 step-children, Richard & Sally
Spouse : Autumn (Patricia); ? (c. 1967 until his death)
---
---
Not a huge superstar, but a great action hero from my childhood.
I am always amazed by how many people know who he was.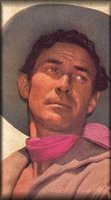 ---
---
Click Here To Go To The Internet Movie database (imdB) for an accurate
and up-to-date movie & television listings for Jock Mahoney
---
---
Click Here To Go Back To The Main Index Welcome Page
---
---