"My Mother's Tarzan"
---
---
To my mother Florence and most others,
Johnny Weissmuller, Maureen O'Sullivan, and Johnny Sheffield
were the most famous "Treesome" of all.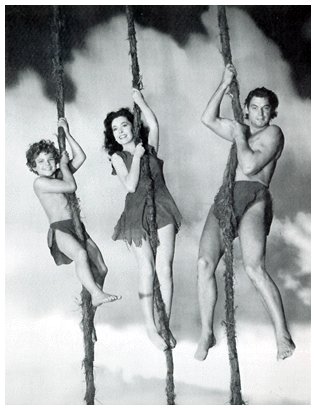 However, Mom did remember the insertions of Brix, Crabbe and Morris.
---
Do You Remember
---
Screen Tarzan No. 1 was Elmo Lincoln and his film was
TARZAN OF THE APES, released in 1918 by National Film Corp.
It followed Burroughs original story up to Tarzan meeting and
falling in love with Jane.
The first Jane was Enid Markey
and
Gordon Griffith played Tarzan as a boy.
TARZAN OF THE APES was so successful, it inspired a sequel,
ROMANCE OF TARZAN, issued the same year.
---
---
From Ed Stephan's "Tarzan of the Internet" comes the following:
Stellan Windrow was actually signed as the first Tarzan.
He began shooting on August 14th, 1917 and had wrapped up nearly
5 weeks of treetop work, when his country called him to war,
where he served as an ensign in the Navy.
National Film paid him $1000 for his film rights,
meaning he would not be credited in the film.
A frantic search for his replacement ended a few weeks later when
D.W. Griffith's discovery, Elmo Lincoln arrived from Los Angeles.
His stocky five foot, eleven inch, 200 pound frame, together
with his fear of heights, kept Lincoln from doing any tree work.
As a result, the final movie shows the limber athletic Stellan-Tarzan
flying through the jungle canopy and the barrel chested (52 inch)
Elmo-Tarzan fighting lions and other hostiles on solid ground.
---
---
However, if you really really really think about it,
Gordon Griffith
was actually the first actor to appear as Tarzan on celluloid.
As Ed Stephan put it to me: "I don't think we need to renumber the canon."
---
---
The third film , featuring the second Tarzan actor,
started out as RETURN OF TARZAN with Gene Pollar in 1920,
who although he was 6 foot-2 1/2 inches had a 38 inch waist.
This production was sold by Numa Productions to
Goldwyn Distribution Corporation who cut the nine reels
to seven and retitled it to
THE REVENGE OF TARZAN (1920)
just two weeks prior to it's opening on July 20th, 1920.
"Revenge" was well received and on that strength, Universal Studios,
offered Pollar a two year contract at $350 a week to make a series
of Tarzan Pictures, but Numa pictures which already owned Pollar
would not release him unless Universal paid $800 a week, a $100,
of which Numa was willing to pass onto Pollar.
Disillusioned at being so close to fortune and being denied it
Pollar abandoned acting and returned to his former profession
as a New York City fireman.
---
1920 also saw the release of the first of six Tarzan serials,
SON OF TARZAN, in 15 episodes, concerning Korak more
than Tarzan himself who was played by P. Dempsey Tabler.
Perce Dempsey Tabler was 41 years old when he got the part of the
apeman in this movie. He had no qualifications for the role of Tarzan,
with absolutely no chest or arm development and a sagging midsection.
(Gordon Griffith as young Korak, Kamuela Searle as Korak,)
Kamuela Searle was injured during the filming,
when the elephant who was to rescue him picked him and
the post he was tied to, and slammed him to the ground.
A stand-in, shot from behind, finished the shooting.

This film is noteworthy of the fact in that it is the first time
that Tarzan and Jane are shown getting married.
---
The following year Elmo Lincoln gave his final performance
as the jungle king in a 15 chapter serial,
THE ADVENTURES OF TARZAN (1921).
(loosely based on Burrough's "Jewels Of Opar")

"Adventures" was recut and re-released in 1928 in a shortened
feature version, with sound effects and scored another success.
---
Tarzan came to life again in 1927 when F.B.O., reactivated the character in
TARZAN AND THE GOLDEN LION.
James Pierce, a football player who played the lead, apparently thought
he had the secret to Tarzan success, he married Burrough's daughter, Joan.
This didn't work very well however, because this was his only time out as Tarzan.
At 6 foot-4 inches and 225 lbs., Pierce drifted into smaller roles in movies and serials.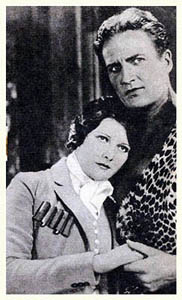 However, Jim Pierce and wife Joan were Tarzan and Jane on the
radio waves for many years after his one shot. They made over
over 500 radio shows together, that were written and produced by ERB.
Pierce also owned a successful real estate business.
---
Universal was the first major motion picture company to
produce a Tarzan movie.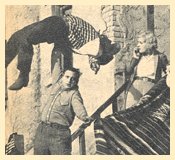 Famous strongman Joe Bonomo was signed to the lead in
TARZAN THE MIGHTY (1928),
but on the third day of shooting he fractured his left
leg in tree swinging stunt and had to be replaced by
Frank Merrill,
(6 foot and an even 200 lbs)
who had also been Elmo Lincoln's stunt double.
Merrill had also appeared as an Arab in
THE ADVENTURES OF TARZAN. (1921)

TARZAN THE MIGHTY with Merrill as Tarzan
had Natalie Kingston as Mary Trevor, who Tarzan
marries at the end of this 15 chapter serial.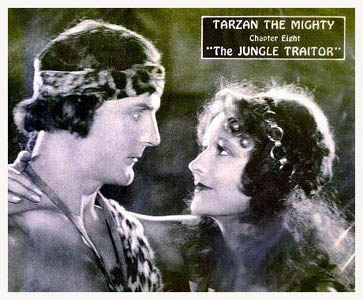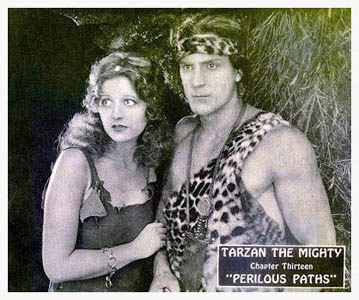 Merrill was a national gymnastics champion from 1916 to 1918 and had won
58 national, Southern California and Los Angeles Metropolitan championships
for rope climbing and on the Roman rings and the high bar.


A sequel, TARZAN THE TIGER (1929), also with
Merrill and Kingston was released in 1930 in both silent,
and sound versions and was a 15 chapter serial as well.
The sound consisted of music and special effects sound.
It was also here that Merrill invented the vine swinging
technique, which has stuck for the duration.

This time round Kingston was Tarzan's Jane.


---
---

Click Here To Go On To
PAGE TWO
of
"MY MOTHER'S TARZAN"
---
---
Click Here To Go Back To The Main Index Welcome Page
---
---