---
Click Here To Go Back To The Main Index Welcome Page
---
"My Mother's Tarzan"

continues with page 3
---
Through some legal wrangling in the early 30's there were two "Tarzan"
rights available and Sol Lesser, an independent producer, obtained rights
to the Tarzan character, and in 1933 made his first of 16 Tarzan movies.

TARZAN THE FEARLESS (1933)
starred another Olympic Gold Medallist swimmer,
Clarence Linden "Buster" Crabbe.
(Crabbe had even competed against Weissmuller in the water)

Crabbe had already made a jungle film of his own as
"Kasta the Lion Man"
in
KING OF THE JUNGLE (1932).
TARZAN THE FEARLESS was a 12 chapter serial.
Tarzan didn't have a Jane, but a Mary Brooks,
played by Julie Bishop, who was in search of her father.
Tarzan saves them all from the people of Zar.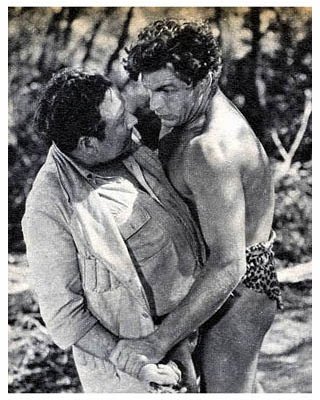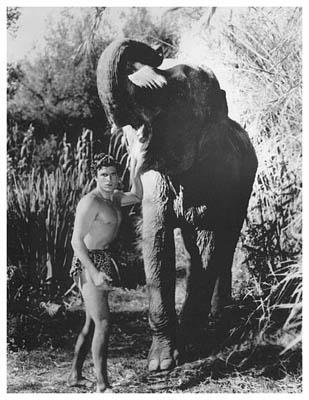 Olympic swimming star and later "Flash Gordon" Buster Crabbe
Buster Crabbe (Born:2/7/1910 - Died:4/23/1983)
Attended the University of southern California in Los Angeles,
and while a first year law student, earned a place on the
1932 Olympic Swim Team and won the gold in the 400m freestyle,
and was the only U.S. gold medallist in men's swimming.
He set 16 world and 35 national records during his swimming career.
Larry "Buster" Crabbe is probably just as famous for his
"Billy The Kid" and "Billy Carson "B" western series' of the 40's,
and on TV as Captain Michael Gallant in
"Captain Gallant of the Foreign Legion" (1955-57).

---
MGM produced TARZAN AND HIS MATE in 1934,
again with the successful combination of Weissmuller and O'Sullivan.
Many critics and public alike consider this to be
the best Tarzan film of all time.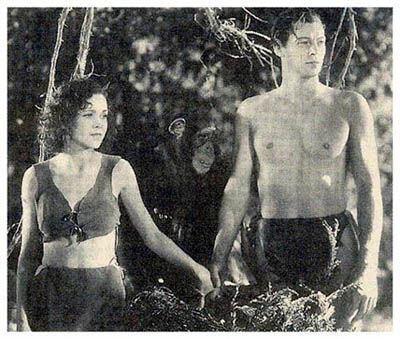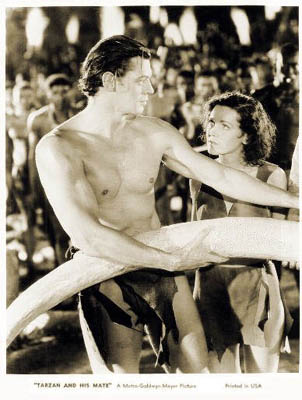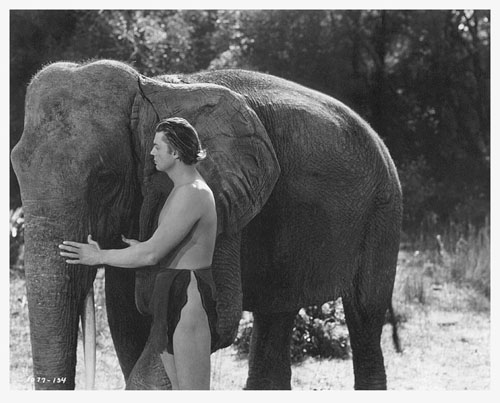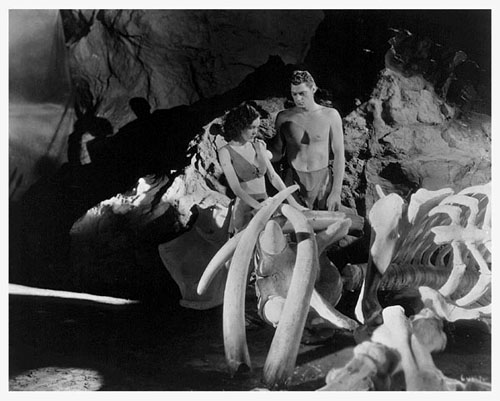 ---
---
Edgar Rice Burroughs wasn't happy with the way his ape man
was being treated, so he created his own production company,
Burroughs-Tarzan Enterprises, to create
THE NEW ADVENTURES OF TARZAN (1935).
This was the first Tarzan film to have authentic locales,
in the jungles of Guatemala, and was filmed by the
Ashton Dearholt Expedition. The film even hired local
natives to star in their real day to day life roles.
A 12 chapter serial, a shot put Silver Medallist from the 32' Olympics,
and an All-American football star from the University of Washington,
Herman Brix
(later known as Bruce Bennett)
was chosen as Tarzan.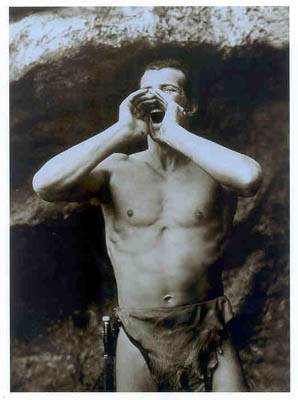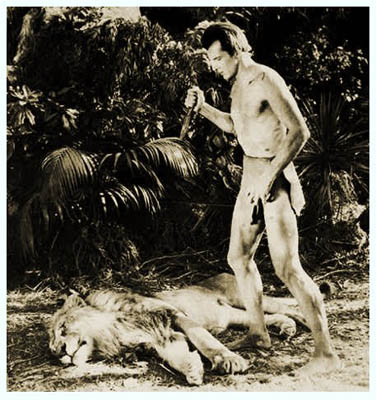 Brix's athletic feats were unparalleled in this feature,
and some are beyond belief.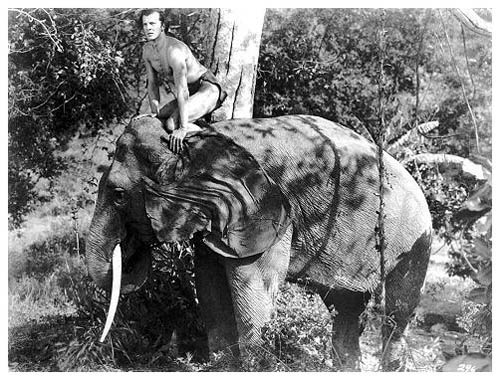 This film was later edited into two feature films:
THE NEW ADVENTURES OF TARZAN (1935)
and
TARZAN AND THE GREEN GODDESS (1938).

Herman Brix, later known as Bruce Bennett,
portrayed an educated, normal english speaking Tarzan,
in this original 15 chapter serial, "The New Adventures of Tarzan".
Brix had already been picked to play the lead in Tarzan The Apeman (1932),
but had sustained a shoulder injury while making his first movie,
TOUCHDOWN (1931) and MGM refused to wait for him to heal,
which eventually gave Weissmuller the part.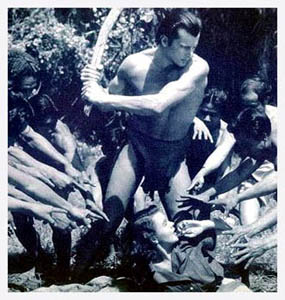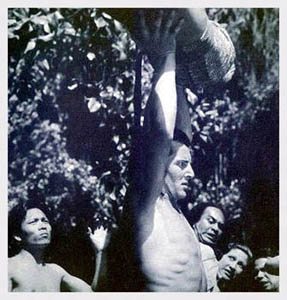 ---
---
Weissmuller's & O'Sullivan's third MGM film,
TARZAN ESCAPES (1936),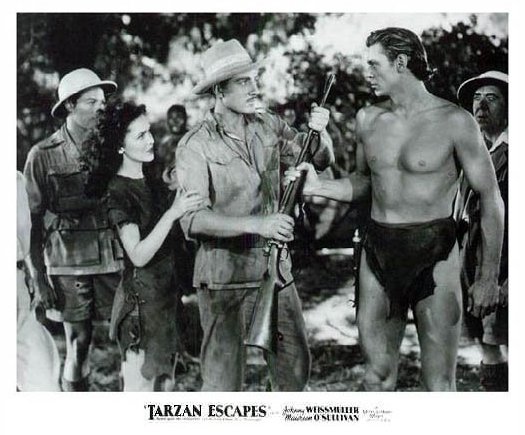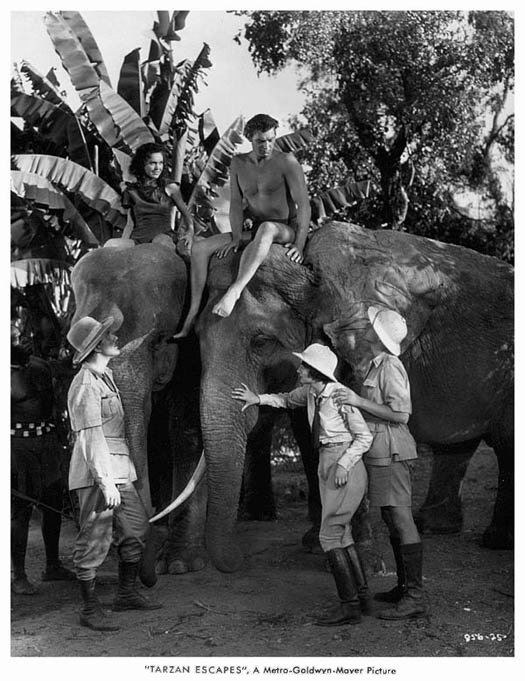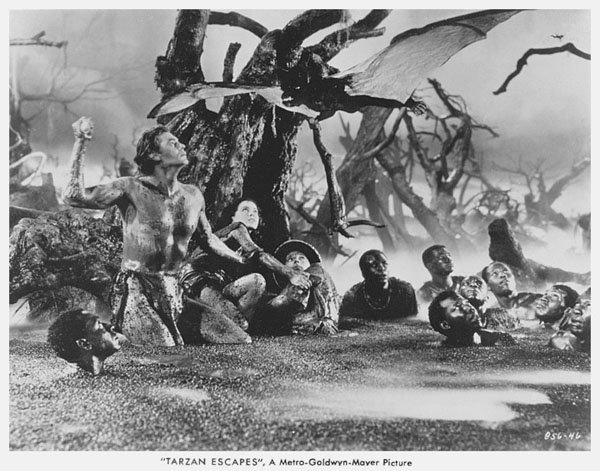 ... this vampire bat scene was cut from the final version,
and appears to have been lost forever ...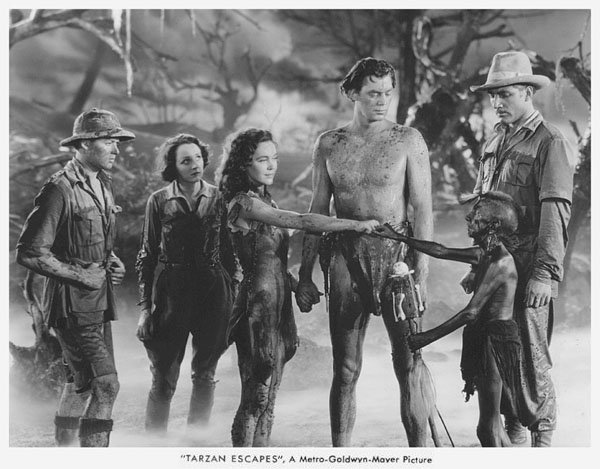 ---
was followed by
Sol Lesser's second Tarzan film,

TARZAN'S REVENGE (1938).
Looking for the key to success Lesser hired two more athletes in the key roles.
1936 Olympic Decathlon Champion and Sullivan Award Winner
(He beat out Jesse Owens for the Sullivan Award)
Glenn Morris was selected to be Tarzan.


and Olympic Gold Medal Swimmer
Eleanor Holm was picked to be Jane.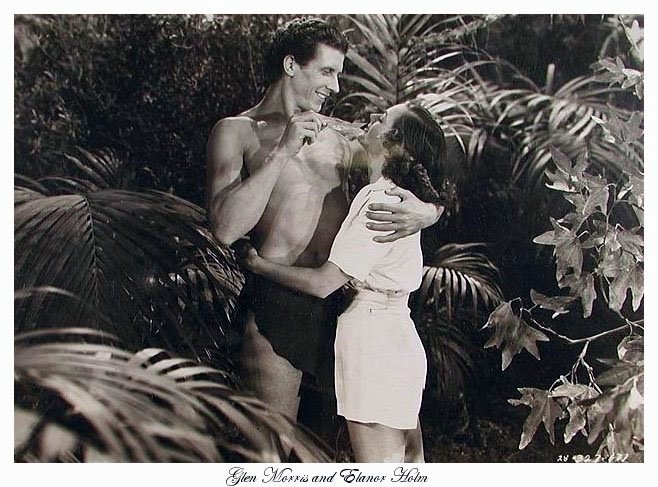 Elanor Holm (Born:12/06/1913 - Died:01/31/2004)
Won 29 National Championships.
In 1927 she won nine National golds in the individual medley.
She held six world records in the backstroke and her 100y backstroke time
held up for 16 years in the U.S.
She was a member of the 1928 Olympic team and won a gold medal
in the backstroke at the 1932 Olympic Games.
She was expected to do well in the 1936 Olympics,
but was disqualified for sipping champagne with officials on the boat to
Germany while still in training. She became the swimming correspondent
in Germany for those Olympics.
She later married noted band leader Billy Rose.
---
---
In 1938 Burrough's personal life took a turn for the worse when he and his
wife Emma divorced after 34 years of marriage. However, 4 months later
he married actress Florence Gilbert, who was 30 years younger than he and
had been the wife of one of his partners from the Ashton Dearholt Expedition.
---
---
Click here to view my Tarzan Movie Guide & Plot Summaries
(only the ones I've seen or have on tape and or dvd)
---
---


Click Here To Go To Page Four
of
"My Mother's Tarzan"
---
---
---
---